Vaccination Availability in the North Shore Area for Students
Where students 16 and older can get the COVID-19 vaccine.
With more than 209 million doses of the COVID-19 vaccine administered to US residents, it is now making headlines towards restoring the everyday lives of families pre-COVID. 
As new scientific discoveries are being made about the virus every day, updates and information about the vaccine have turned into a guessing game. Health officials released the COVID-19 vaccine back in December, slowly becoming available to a wider range of the population as time progresses. With the pace of widespread vaccinations rapidly increasing, patients are frantically searching for a way to find their first doses.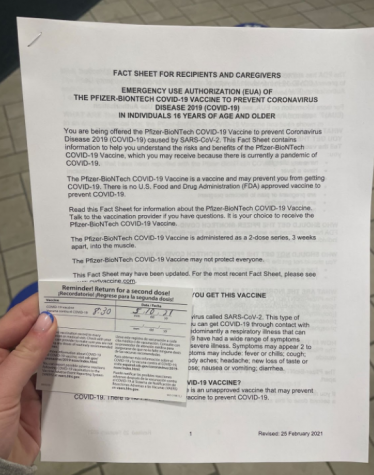 "Both Illinois and Chicago, are collaborating to ensure that vaccines are delivered and available in accordance with the CDC guidelines and recommendations of the Advisory Committee on Immunization Practices (ACIP)." said the Illinois Department of Public Health.
According to The City of Chicago, Phase 2 for vaccinations started on April 19, with all Chicagoans 16 and older are eligible to get the vaccine. Prior to April 19, Phase 1B and 1C allowed residents in the same age group to be eligible to get the vaccine based on underlying health conditions and essential worker requirements.  With this in mind, the age of residents receiving the vaccine also alters which one they can receive. For people under the age of 18, only Pfizer is available for them.
When discussing the process of signing up to receive the vaccination, rumors have categorized it as being overcomplicated. Previously, people could only receive their vaccination by joining a waitlist run through certain organizations. Now, with vaccinations speeding up, students can sign up at their local Walgreens or CVS and search for nearby appointments.
PLACES YOU CAN SIGN UP FOR YOUR VACCINATION: 
The CDC offers a Vaccine Finder on their website, locating nearby availability based on community area codes: 

In terms of a more personalized discovery of vaccine appointments, the website Sign Up Genius has developed a more private option to receive the vaccine:

A more publicized and local facility is the nearly by Walgreens and CVS:
With vaccines being limited, appointments can be hard to find. The determining factor in finding an appointment is often linked with your community area code, where some website limits availability to a 25-mile surrounding radius. 
In terms of requirements, the bar is low. The requirements needed to receive your vaccination are as simple as signing up, disregarding the Phase implications and availability in the surrounding areas. When arriving at vaccination facilities, health workers will ask for an ID as well as your insurance provider to sign you in. Insurance companies have agreed to waive all vaccination charges, which takes out cost from being a barrier to get the vaccine. Then, they will proceed to give you a date and time for your second dose of the vaccination. Despite there being no mandatory requirements in needing the vaccine, health officials all over the world still highly recommend getting it. 
"This is a day where I have some hope," said Dr. Taison Bell, a physician at the University of Virginia, in a video posted by UVA Health on Facebook.  "It's the first day where we can turn the tide on this pandemic, and instead of talking about the lives lost, we can talk about the lives that we've saved."
Update on the Johnson & Johnson Vaccine:
Newly released information about the certain type of vaccinations available was just published from the CDC, and was re-published on the Walgreen Vaccination Schedule. 
"We're pausing use of the Johnson & Johnson vaccine based on the FDA and CDC's recommendation, and rescheduling appointments as supply allows with Pfizer-BioNTech and Moderna vaccines. Your health is our priority," said the CDC. 
Serious symptoms such as blood clots have occurred in women between the ages of 18-48 after being vaccinated with the Johnson and Johnson vaccine. This pause on the Johnson & Johnson vaccine is supposed to be lifted on April 23 according to Anthony S. Fauci, one of the nation's top infectious disease experts.