TFS Person of the Year: Alia Attar
At around the age of seven, senior Alia Attar was lying down on Lake Shore Drive participating in a protest after the Baniyas Massacre in Syria. 
Everyone there poured blood in what was called a die-in demonstration. 
"That's a really pivotal moment in my life where I just saw all these cars driving by, and some of them were honking, and people were just walking by and giving us looks," Attar said. "I remember this one guy, a Syrian man, he had an ice cream truck, and he just started crying."
Attar's passion for social justice only grew from there. From organizing a school walk out to standing up for the Human Rights window paintings, Attar spent their time at LFHS fighting for the causes they believed in. This courage is part of the reason Attar was named this year's Forest Scout Person of the Year.
"They are an agent of change. They're someone who is able to see things that if they see it as being injustice or inequality they don't just complain about it," Human Rights Club sponsor Mrs. Kelly McKee said. "They're a problem solver. They're someone who can assess a situation however good or bad and they're able to walk through it."
Growing up, Attar was surrounded by role models who taught them what it's like to take action.
"My mom has a nonprofit for Syrian refugees, and I think that's where a lot of my own activism started by being influenced by her and seeing what she did. I used to go to protests all the time when I was a child," Attar said.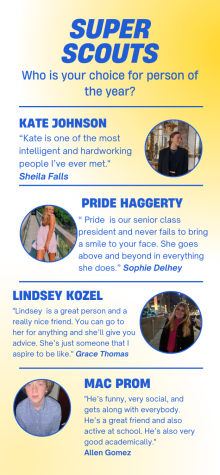 With influence from their mother, Attar found their own path in using their voice. Speaking their mind was something that Attar never shied away from.
"I would always stand my ground even in the smallest things like a fight with my sister," they said.
Even when faced with criticism from peers, Attar stood their ground. 
"I never really cared about what people thought. Especially in this town," Attar said. "When I was in elementary school, people would make comments about me being Arab or my race or religion, so I think that was what drew me to separate myself from these people and where I found my own voice."
Attar found a way to use negativity as fuel to motivate them.
"Do not worry about what other people would say. That's just such a limitation on your entire life," Attar said. 
At LFHS, Attar joined Human Rights Club freshman year and stuck with it, eventually becoming the president of the club. 
"Alia is driven. They work tirelessly for what they want, very rarely asking others to take on something they have committed to," junior Sofia Zar said. "Under Alia's management, I don't think the Human Rights Club has missed a single deadline. Sometimes it can be difficult to find tasks for our exec board members to take on because Alia simply does everything without being asked."
After working side by side with Attar for four years,  McKee has seen their perseverance in all types of situations.
"They're really able to adapt to any situation however challenging that situation might be. They are highly dedicated and highly motivated. They're not willing to accept no for an answer," McKee said.
Attar not only found a way to use their voice to make a difference in Human Rights Club but also by working to start Students Demand Action and enrolling in an AP Research class.
"I think they're an individual who, in many ways, is really courageous," Mr. Stephen Dunn said. "Courage isn't just throwing yourself at anything to a challenging situation without consideration of just what that challenge is. Courage is understanding a situation is challenging, understanding the potential pitfalls and obstacles, and still throwing yourself into the situation because you think it's important."
Dunn and Attar met when they signed up for the AP Research class in their junior year. Rather than just take the class and move on, Attar took the time to TA for the class throughout their senior year. They even went as in-depth to give a TEDxLFHS talk on their research project on beauty standards: "Measuring Perceptions of Beauty at a Predominantly White High School."
They conducted interviews and coded them to find patterns and themes, and used survey data to answer whether there were differences in how people from different cultures perceived beauty. 
"They're incredibly thoughtful. They're thoughtful in the sense that they care and think deeply about others and their community and the larger society," Dunn said. "And that was visible in all the care they put into making sure this project reflected her research."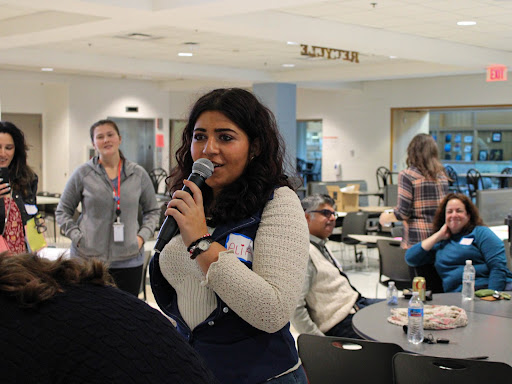 Beyond the classroom, Attar is a co-leader of Students Demand Action, a student organization working to control gun violence. 
"I knew a lot about gun violence from the news like every high schooler, but I didn't really know what to do with that," Attar said.
Nonetheless, Attar saw an issue that needed action, and they immediately wanted to help.
"I didn't have any experience with activism in the area of gun violence prevention, but I learned along the way," Attar said. 
Even when they did not have any prior experience in the area, they were able to find a way to use their voice to help. 
"They really are interested in ideas, developing their knowledge and perspectives, and doing something. It's not just a bunch of ideas, and they want to put it into action," Dunn said.
As a co-leader of SDA alongside Zar, they work together to reach out to the community to get others involved. This year, organizing a school walkout in protest of gun violence and creating the Secure Storage Resolution plan, written by Attar and Zar, which was recently passed by the D115 Board of Education. This plan will then be implemented next year. 
"We're very excited because they're going to implement that next year and it's been a really cool process to see what we did from scratch now that it's passed," Attar said. 
So far, SDA has spoken at the past three public comments and maintained a board presence to ensure their plan is implemented into action.
"They have a way of bringing people together that's so important for the work they do," Zar said.
One way to create change is to "just get involved," Attar said.
Attar's passion for many things makes it easy for them to work with others. One of these passions includes music. 
"I was in choir for four years, and I think that COVID kind of disengaged me in that," they said. "But then this year and last, I became more involved in everything. I did the musical, even though it's not something I would ever do before, but I really enjoy music. I did music theory last year too, I think it's a great outlet, and I like the social part of it too–that was a big highlight of high school."
"
Courage is understanding a situation is challenging, understanding the potential pitfalls and obstacles, and still throwing yourself into the situation because you think it's important.
— Stephen Dunn
In college and going forward Attar wants to continue to expand their interests. They plan to attend college in the fall at NYU and hope to study on topics such as sociology, history, journalism, and fashion/art.
"I want to pursue more artistic things too because that's what I didn't really get to do here," Attar said. 
As a determined young student, Attar has found many ways to implement change. 
Throughout everything they have been a part of, Attar has made a difference by standing up for what they believe in. 
"Bigger things will happen if you put yourself out there, and it's a very scary thing to do, but at the same time, in the world, they need people like that," Attar said. 
Editor Vivi Hirschfield contributed to this story.