Fall Activity Guide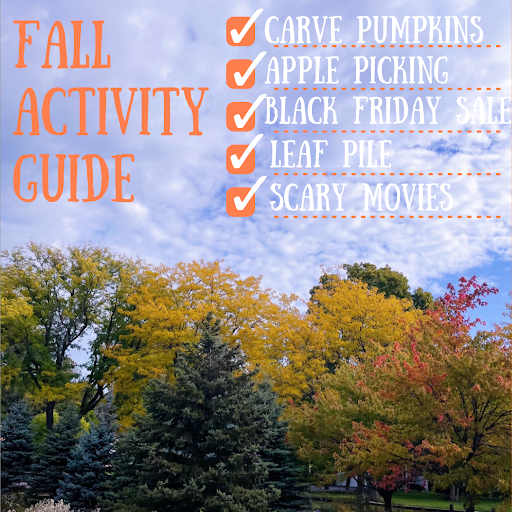 September flew by, which means it's completely appropriate to start fall activities. Celebrating seasons can be difficult to remember or even find time for. But it's important to remember that cozy, crisp air, warm feeling of fall. There's nothing better than taking advantage of your free time to indulge in new and traditional fall activities. 
Excursions 
Some classic activities include taking a trip to the rural areas of Illinois and Wisconsin to partake in pumpkin patches, corn mazes, and apple picking spots to complete the reliable and timeless activities. Didier Farms is the perfect place to check off half your fall bucket list in one day. They have a corn maze, pumpkin patch, and endless small activities to partake in on a 50-60 degree sunny day. Not to mention their excellent food choices including to die for apple cider donuts. 
Now that Halloween is coming up it is important to indulge in spooky activities. While Fright Fest is always a classic mix of a scary environment and thrilling rides, a haunted house is the perfect place to leave petrified. 
For less of a hands on activity, you can always attend a classic Scouts football game. There's nothing better than the crisp air and smell of grilled food on Friday night lights. This Friday the scouts take on Warren for their last game at home. Be sure to wear your pink gear and go cheer on the scouts! 
Food/Cooking 
Fall cooking is unbeatable. The abundance of spices to use, the baked goods, the warm soup, the sweet treats. Don't you just love it? Everyone has their favorite seasonal recipes, but finding 
One of my favorite easy to make fall treats is spider cookies. All you need is chocolate chips, butterscotch chips, and crunchy chow mein noodles. You melt and mix your butterscotch and chocolate chips together, and then pour them over small piles of the crunchy noodles. You can add edible eyes to add to the spider effect, but it's not necessary. Then put them in the fridge for an hour or two and ENJOY! I love these because you can really choose what size and shape you want them to look like and it's not a big mess in the kitchen. 
If you're looking for something to do with friends, I would 100% recommend a baking competition. If you're not an avid baker, a cookie competition is probably the best because it's more on the easy side. But for a challenge, my favorite thing to do is pick a spice or food item that you have to include in your dish, for example like apple or cinnamon. Then you have a judge decide who wins within different categories, like presentation, creativity, taste, and overall dish. 
If you want to wake up a household with a sweet warm smelling dish, you have to make monkey bread. Monkey bread is such a delicious, gooey, cinnamon sugar filled breakfast treat. It's more of a tedious item to make but it is so worth it in the end. Grab some apple cider and a plate of monkey bread, and that's one way to start a good fall day. 
Lastly, the classic pumpkin seeds. Pumpkin seeds are the best second hand snack to carving pumpkins. There are many different seasonings you can try, and if you carve enough pumpkins, they will probably last you the rest of fall!   
At Home 
Not everyone likes to go on fall adventures, or have to leave the house to partake in fall activities. Sometimes putting something together at home is the best way to feel the most festive.  
Carving pumpkins is just a must for fall. I feel incomplete the years I don't partake. There's something so satisfying about scooping out all the seeds, and then carving a fun design. But obviously pumpkin carving can get a little boring after doing it year after year. So challenging yourself with an abstract design or even making a pattern instead of a face never fails to spice things up for me. 
There is absolutely nothing better than taking a day or even afternoon to get cozy on your couch and watch a halloween movie. Personally I'm not a huge scary movie person, so I love the classics like Halloween Town and Hocus Pocus. But I also like to consider some regular classic movies like Clueless or Legally Blonde to fit into a fall category just because it feels right. As long as you have a comfortable outfit, the leaves outside are orange and red, and there's a movie on, I'd consider it to be festive. 
If you're a tv show kind of person, Gilmore Girls, Gossip Girl, and Pretty Little Liars have to be my top three choices during fall. Gilmore Girls gives you that small town charm that makes you feel smiley when you watch. Gossip Girl is full of twists and drama, most of the show is based during the colder seasons of New York which makes you want to go on an absolute shopping spree after watching. Pretty Little Liars is perfect for a bit of scare mixed with drama, I recommend watching in daylight. 
Lastly, personally one of the most important activities for me is decorating. Yes, it can be so tedious sometimes, or you're just too in love with your decor already. Even a small candle will do the trick. Decorating for fall is easier than it sounds. Grab a gourd at the grocery store and put it on the kitchen table. Anything works, but it always helps to wake up in the morning or come home from a long day, and remember its fall!