In Honor of the Marine Corps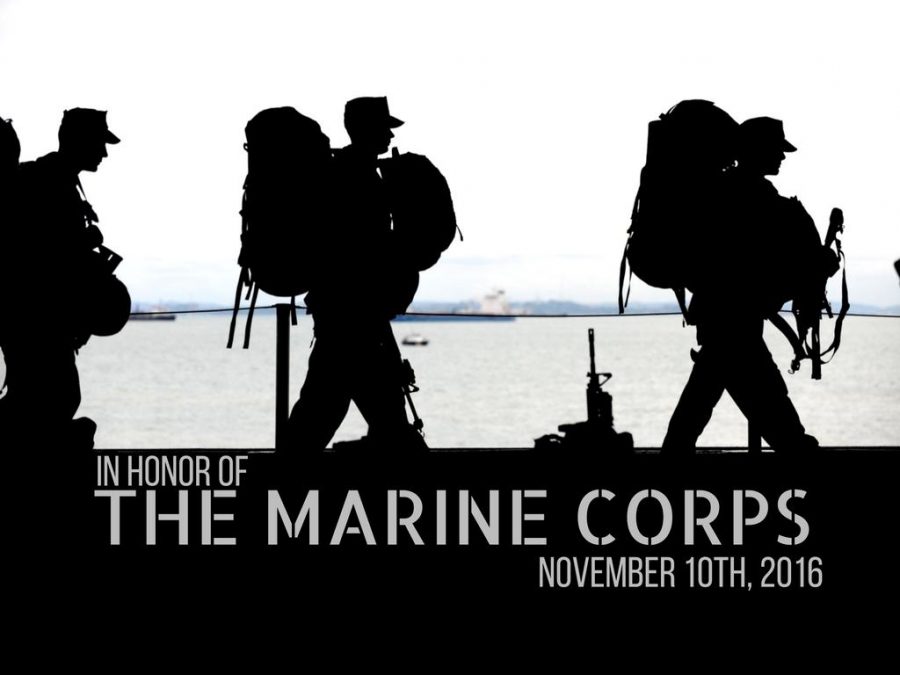 November 10th, 2016 is the National Marine Corps Birthday.
Today, the United States Marine Corps celebrates 41 years since its establishment in the Tun Tavern on Water Street in Philadelphia by Captain Samuel Nicholas. Since its origin on November 10, 1775 (before our nation had even officially existed!), when the group was created in order to supplement naval forces during America's Revolutionary War, the "USMC" has played a vital role as the first force on the ground in most conflicts. Having been proudly involved in every war that has involved the United States since then, The Marine Corps has maintained its reputation as one of the most elite fighting forces on Earth.
Being a part of the Department of the Navy and operating in close cooperation with the U.S. Naval forces, this elect selection of over 184,249 American men and women abide by a strict moral code, as well as holding to high standards of character and physical requirements. The core values of "Honor, Courage and Commitment" regulate the lives of those in the Marine Corps. Whether they be serving on naval ships, protecting bases and posts, guarding our country's embassies, or providing their ever-ready quick strike force, the USMC is ready (24/7!) to act as America's "ready-reaction force".
As put by Todaysmilitary.com, the commitment of someone participating in the Marine Corps "ranges from three to five years of service. But as the saying goes, 'there are no ex-Marines or former Marines, simply Marines in different uniforms and in different phases of life.'" Being the nation's 911 force, members of the USMC are readily prepared to assume hundreds of challenging jobs. Flying planes and helicopters, operating radar equipment, driving armored vehicles, gathering intelligence, surveying and mapping territory, maintaining and repairing radios, computers, jeeps, trucks, tanks, and aircraft– you name it, they can do it.
In observing the 41st birthday of the United States Marine Corps, if you happen to cross paths with a Marine today, be sure to thank them for protecting our country. Their courage and bravery deserve our recognition and appreciation!
In conclusion, an excerpt from last year's birthday message delivered to the Marine Corps by Semper Fidelis, General of the U.S. Marine Corps, and Robert B. Neller, Commandant of the Marine Corps:
"Marines, we are part of something bigger than any of us could imagine. Whether you fought in the battles of World War I, in the Pacific during World War II, in Korea or Vietnam, in Desert Shield or Desert Storm, or in the streets of Iraq and Afghanistan—or you are just starting out on your Marine Corps journey—we are all part of an elite family of warriors. For the rest of your life, the first term people use to describe you will be "Marine."

When the Continental Congress stood up two battalions of Marines in 1775, a culture of discipline, vigilance, professionalism, and military excellence was born that has characterized our Corps for nearly two and a half centuries. As Marines, we have a profound respect for our traditions and heritage, and for taking care of each other. We know we're strongest when we're together as a team. Wherever you are celebrating our Corps' birthday this year, look around at the Marines beside you and remember the bonds forged in training, in garrison, and in combat. Take this time to reconnect.

We are Marines for life. It's our responsibility, our duty, to maintain and build upon the legacy of those who have gone before us. What we do today, guided by what we've learned from past generations, will determine the future of our Corps. So as we celebrate this anniversary of our Corps, we also look ahead and prepare for our next success. Take pride in carrying our legacy forward.

Happy Birthday, Marines!"
About the Writer
Erika Marchant, Author
Erika Marchant is a senior at Lake Forest High School, participating actively in the school's orchestra, as well as the cross country and track teams.