In Honor of Saint Nicholas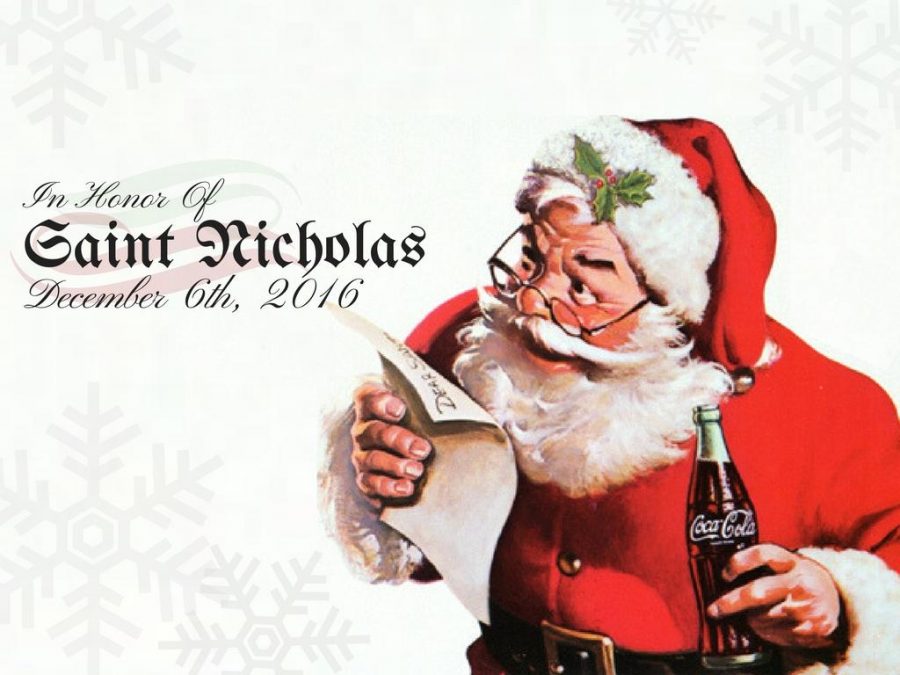 December 6th, 2016 is National Saint Nicholas Day.
Sure, you know Dasher and Dancer, and Prancer and Vixen, Comet and Cupid, and Donner and Blitzen– likely Rudolph, too. But, do you recall that certain jolly man, that red-suit clad, rotund fellow squarely plopped on the sleigh dragged behind them? Of course, you tell yourself. Who else could it be but Santa Claus? Though, yes, it is true that alongside Frosty and Rudolph, Ebenezer Scrooge and Dominick the (lesser known) Christmas Donkey, Old Saint Nick is truly a holiday staple. But do we really know Father Christmas so well as we like to believe?
The origins of Saint Nicholas, AKA Santa Claus, trace not to the frigid ice caps of the     North Pole, but instead back to the third century (c. 280 CE) in Patara of modern day Turkey. Before having been dubbed "old Saint Nick," a younger Nicholas was a devout Christian bishop that dedicated his life to serving God. Using the inheritance he  received after the death of his parents, Saint Nicholas would ceaselessly assist the  needy, the sick, and the suffering.
One of the most famous accounts of his generosity known (from biography.com) goes as follows:
"One story tells how he helped three poor sisters. Their father did not have enough money to pay their dowries and thought of selling them into servitude. Three times, St. Nicholas secretly went to their house at night and put a bag of money inside. The man used the money so that one of his daughters could marry. On the third visit, the man saw St. Nicholas and thanked him for his kindness."
December 6th marks the supposed anniversary of his death in Myra, 343 CE. Though Saint Nicholas died hundreds of years ago, his legacy has been carried on through countless stories and festive practices; a tribute to his generous character, Christmas traditions surrounding Saint Nick are not confined to our country alone. Around the world, Christmas celebrations and customs go beyond America's commercialized snowmen and fluorescent Christmas lights.
"Widely celebrated in Europe, St. Nicholas' feast day, December 6th, kept alive the stories of his goodness and generosity. In Germany and Poland, boys dressed as bishops begged alms for the poor—and sometimes for themselves! In the Netherlands and Belgium, St. Nicholas arrived on a steamship from Spain to ride a white horse on his gift-giving rounds. December 6th is still the main day for gift giving and merrymaking in much of Europe. For example, in the Netherlands St. Nicholas is celebrated on the 5th, the eve of the day, by sharing candies (thrown in the door), chocolate initial letters, small gifts, and riddles. Dutch children leave carrots and hay in their shoes for the saint's horse, hoping St. Nicholas will exchange them for small gifts. Simple gift-giving in early Advent helps preserve a Christmas Day focus on the Christ Child." -St. Nicholas Center (stnicholascenter.org)
About the Writer
Erika Marchant, Author
Erika Marchant is a senior at Lake Forest High School, participating actively in the school's orchestra, as well as the cross country and track teams.