In Honor of Pie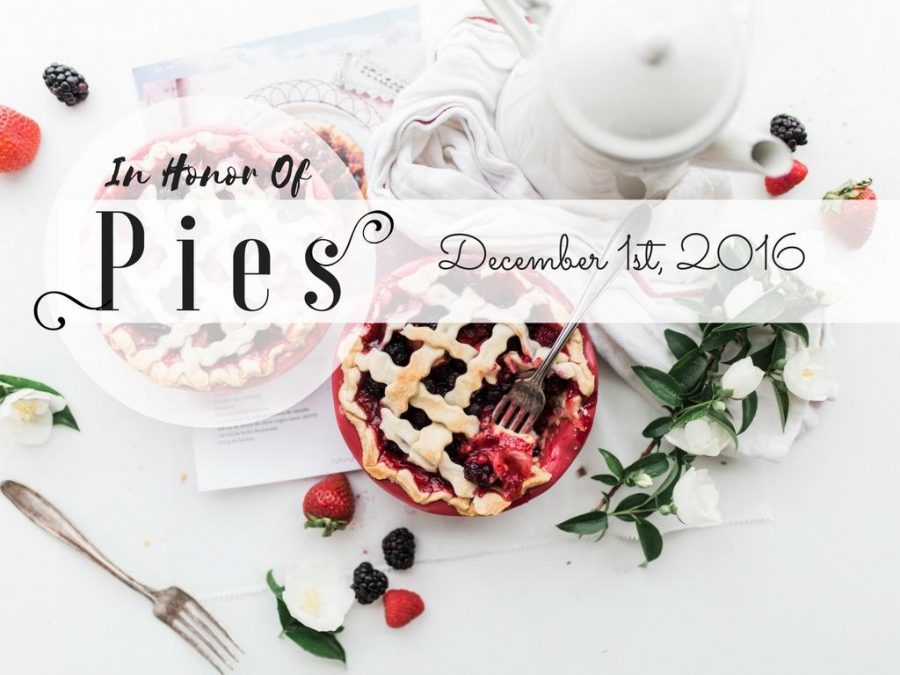 December 1st, 2016 is National Pie Day.
And, we aren't talking pie charts. Not Don McLean's American Pie, or even a certain circle-related irrational number beginning with a famous 3.14. No such Indian man stranded in the middle of an ocean with a tiger (a reference to Piscine Molitor Patel of Life of Pi, for all the less-than avid, scarce book-readers)– no, friends. On this most tasty and tart of national holidays, we find ourselves so fortunate to elevate this timeless treat: pie!
A desert predating even some of the most famous relics and civilizations of the ancient world (though not quite challenging the pyramids in age), pies originated in early Rome at the time of the Egyptians. Inspired by the Greeks (a group which, as we learned in World Civ 1H, was not an uncommon source to draw inspiration from), these early "pies" were made in reeds in order to keep the filling in place. After the word got out from Rome of the delectable treat, its popularity spread quickly, as 14th century was a popular time for the term "pie". The first pie recipe was published by the Romans– a rye-crusted goat cheese and honey pie!
Early pies were not always so sweet as we enjoy them now. Sugar-encrusted crumblings glistening with blueberry juice and jams were not so frequently found in the oldest pie recipes as were meats. Meat "pyes," made of meat from fowls, were the pie-favorite up until the sweeter variation gained traction in the 16th century– English tradition even credits the making of the first cherry pie to Queen Elizabeth I!
Though perhaps not as much of an everyday addition in America (in the way that ice cream and cookies have made themselves), the pie has climbed the sugary food pyramid to attain the title of one of the most classically "American" desserts today (though oddly, it was at one time illegal in Kansas to serve ice cream on cherry pie).
So timely appropriate with it being the first day of December (it's Christmas day one, people!), pies are famously recognized for their appeal in the holiday season! Make sure to celebrate this festive date by baking yourself a Christmas apple pie, chocolate eggnog swirl pie, pumpkin chiffon pie, peppermint brownie pie, spiced cherry pie, or chocolate cream pie! Bon ap(pie)tit, and happy snacking, folks!
About the Writer
Erika Marchant, Author
Erika Marchant is a senior at Lake Forest High School, participating actively in the school's orchestra, as well as the cross country and track teams.