Boys Volleyball misses Lamp, struggles at Northside Classic
With the playoffs lurking around the corner, the Boys Volleyball team (20-10) geared up for yet another packed week. Eight games in the past eight days, coming out with a win in only three of them. Many would blame the absence of Standford Commit Kevin Lamp, who has been playing for Team USA at the National Junior Championships (https://www.teamusa.org/USA-Volleyball/Features/2019/May/08/Mens-Junior-Team-Succumbs-to-Chile). But with sectional seeding already unveiled, the Scouts have their eyes set for a deep state run.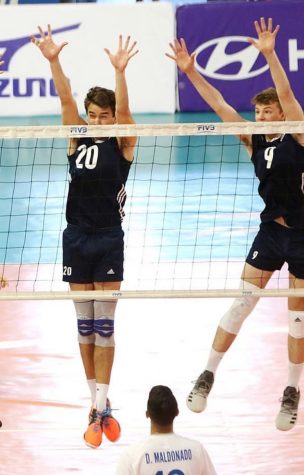 The Scouts have struggled to maintain their outside presence with the missing Lamp. The offense is built around him, and it's clear they have missed his this past week. The boys participated in the Northside Classic, an annual tournament hosted by New Trier and Glenbrook North, and also played a number of conference games.
Here are the scores from this week's events:
LF def. Zion-Benton (9-17) 25-19, 28-26
Northside Classic (1-4):
New Trier (21-6) def. LF 25-13, 25-15
LF def. Libertyville (5-27) 11-25, 25-23, 15-13
Hersey (26-7) def. LF 25-14, 25-10
Stevenson (25-6) def. LF 25-9, 25-17
Warren (11-22) def. LF 25-22, 25-5
Lakes (18-10) def. LF 18-25, 25-17, 34-32, Capps 17 kills, Tustison 16 kills, McCartney 26 assists
LF def. Libertyville (5-27) 27-25, 25-22
Additionally, Boys sectional seeds were revealed earlier this week. Lake Forest earned themselves the 3rd seed out of 13 behind #2 Barrington and #1
 Deerfield. With a Regional championship from last year, a 3-seed puts the team in a great position to repeat this year.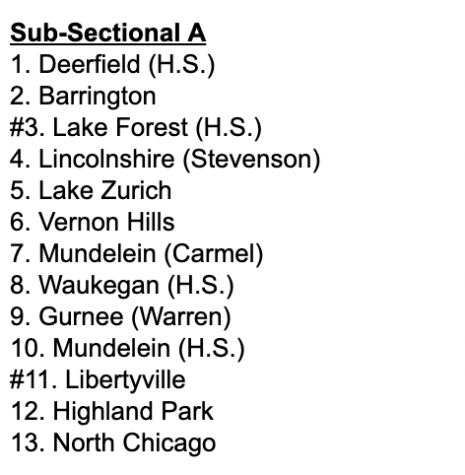 Tomorrow, the Scouts look to get back on track against Niles West (21-10) in Skokie. With only three regular-season games left and Lamp returning soon, now is the perfect time for the Scouts to get hot.