Boys Volleyball wins Libertyville Invitational for second straight year
With two big wins just a week ago, the Boys Volleyball team (17-5) looked to continue their hot streak in the Libertyville Invitational. A tournament they won a year ago, the Scouts wanted to defend their title and solidify their dominance in the North Suburban Conference. The Scouts played four long preliminary matches before beating Palantine (24-3) in the championship. And just two days later the boys returned to non-conference action, losing a heartbreaker to the Deerfield Warriors (16-3).
The Libertyville Invitational was loaded with talent and the Scouts didn't disappoint. In the preliminary round, the Scouts dropped their first match to Palatine (26-27, 25-23). Two close games against an evenly matched team. But, the Scouts didn't back down. They bounced back to get W's over both Oak Forest (26-22, 25-16) and Elk Grove (25-21, 25-16) in straight sets. Taking on Rockford Jefferson (9-4-1) in the semi-finals, Stanford-bound Kevin Lamp did all he could to send his team to the championship. Lamp led with 8 kills while Spencer Capps did the dirty work on both ends, finishing with 4 kills, 2 aces, and 7 digs. The Scouts defeated Rockford (25-13, 25-20).
To finish the tournament, the Scouts took on Palatine (24-3) in the championship — a rematch from the opening round. Forcing three nail-biting sets, the Scouts took home the championship trophy (23-25, 25-23, 25-22). Justin McCartney controlled the ball with 47 assists and 0 errors, Kevin Lamp set the tone with 20 kills and 6 digs, and Thomas Tustison added 15 kills.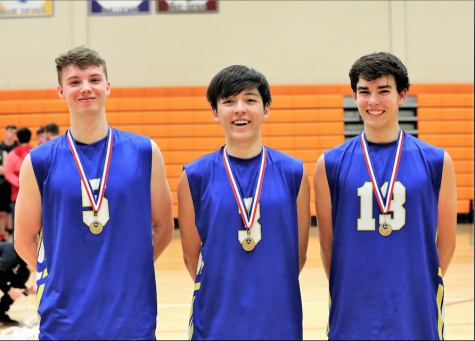 Just last night, the Scouts headed South on Waukegan road to take on the Deerfield Warriors  (16-3). An experienced group led by 6'9" Jackson Kenyon and 6'2" Kelan Burns, Deerfield gave the Scouts once of their biggest challenges. Deerfield is currently ranked 10th in the state according to MaxPreps, and they lived up the hype. After winning the first game in dramatic fashion, the Scouts dropped the following two, earning their 5th loss of the season (25-22, 26-28, 19-25).
I spoke with Thomas Tustison about what's it like playing Varsity as a Sophomore:
"My teammates have been really welcoming, which makes it easier to do my part, and be part of the team."
The Boys Varsity Volleyball team returns to action Wednesday, May 1st against Zion-Benton (9-14) at 6:00 in the Competition Gym at LFHS. Stay up-to-date on TFS for all your Boys Volleyball news.