The Forest Scout Friday Five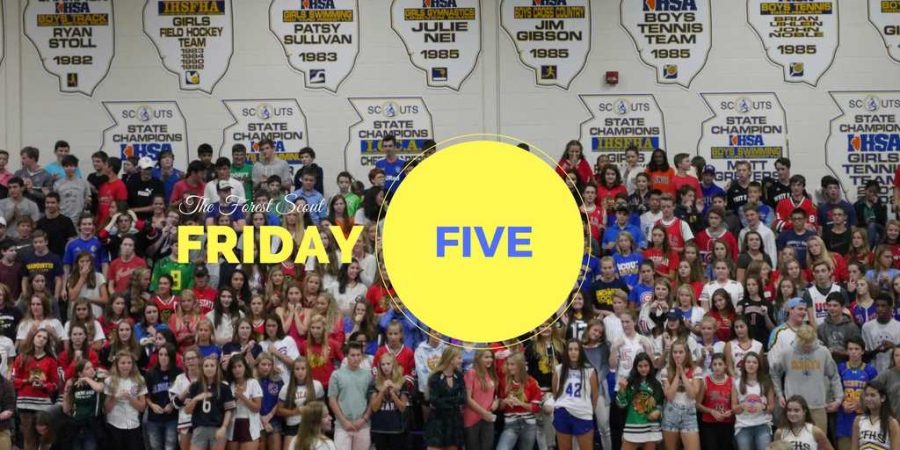 The Forest Scout Friday Five is a weekly segment that celebrates five people making a distinct, profound, and positive difference in the Lake Forest High School community. To visit our most recent installment, click here. To recommend a student, teacher, support staff, or community member for inclusion in The Forest Scout Friday Five, please email [email protected]ols.net.
Morgan Kamholz: Though simply being her kind, compassionate, outgoing self could certainly earn her a Friday Five nod in its own right, senior Morgan Kamholz is an above-and-beyond type of girl. In fact, it's that attention to detail and willingness to throw herself into numerous leadership positions–including many at once–that has gained Morgan widespread acclaim as one of LFHS' most distinguished young adults.
As the leader of the Women's Club and one highly involved in Student Council and NHS, Kamholz, a kindhearted, levelheaded leader would be the last  to tell you about all that she has done in the past four years to push the school forward. However, the combination of accountability and grace in which Kamholz leads is truly a marvel for someone so young. "She is so responsible and manages so much," shared one senior. " But she never seems stressed. She just takes it all in stride with a smile on her face." Though many of us take Morgan's positivity and optimism for granted, she would assure you that she's not putting on any airs to come off as calm–that's just who she is.
The truth of the matter is, Kamholz balances multiple AP classes, a variety of leadership opportunities, and an outgoing social calendar like a pro. Perhaps she is. "I can definitely see Morgan Kamholz being a female leader in whatever field she decides to pursue," shared one of her many proud teachers. "She's one that we're lucky to teach. And the college that she decides on will certainly be lucky to have her." Evidenced by the words of others, Lake Forest High School has grown as an institution because of people like Morgan Kamholz. She redefines normal with her own expectations, and has taken those mature and responsible enough to carry the load with her in making LFHS a better place than when she found it.
Mr. Nitin Patel: For a lot of kids, Chemistry can be a great struggle that causes daily hardship and yearlong pain. Among the great Chemistry teachers at LFHS, however, Nitin Patel stands with his colleagues firmly, guiding students to tackle the difficulties of the subject as well as the grievances that many students face on a daily basis.
Mr. Patel stands out as a phenomenal teacher and person. Students find him easy to interact with and one that is masterful at creating connections, which makes every day easier and more enjoyable. Christophe Wettermann, who had Mr. Patel as a junior, mentioned, "He always knows when to be a student's friend, and when to be a teacher."
There is a tough balance for teachers between making students feel comfortable and safe, and creating an environment that best facilitates learning. Mr. Patel has dutifully mastered that balance. He always makes chemistry more fun and interesting, and encourages students to be their best. A positive atmosphere is crucial to learning. Focusing in class is much easier when everyone is engaged; Mr. Patel helps to foster this environment among students and his investment in their success pays off in the form of their investment in their own success. His influence on students goes beyond his own classroom. Michael Rourke, who also had Mr. Patel as an AP Chemistry teacher junior year said, "Mr. Patel inspired me to strive to be the best I can be in every aspect of school." Clearly, all students benefit from the positive demeanor of this great professor of chemistry.
Not only does Mr. Patel make students' days better, but he has a great impact on his peers as well. He brings his outgoing attitude and sense of humor to school everyday, where people enjoy being around him and want to work with him. Ms. Sorenson, who started teaching AP Chemistry after Mr. Patel said, "He's a team player. He shares his ideas and he made the transition for me into teaching AP Chemistry very smooth and easy." Evidenced by the words of his colleagues, Patel looks out for other people and brings his many strengths to Lake Forest High School on a daily basis to help his students and his fellow faculty members. I guess you could say he has good chemistry with everyone around him.
Ella Marquart: Ella Marquart is widely known as one of the sweetest girls to walk the halls of Lake Forest High School. "Everytime I see her she has a smile on her face," shared Caroline Murphy. "She never fails to light up any room she walks into and is constantly making everyone around her happy." Ella is somehow always in a good mood. Even after tearing her ACL, she was constantly smiling and being her happy-go-lucky self throughout both the school day and during her after school activities. As some of her friends shared, "her energy and laugh is contagious. I can always count on her to smile and cheer me up when I see her in the halls." Even early in the morning or late at night during a soccer practice, she is constantly bubbly and happy.
Ella is both an incredible teammate and friend. As Kate Reinhardt said, "She's always smiling and has such a genuinely kind personality." Whether she is training hard during practice or studying for a test, Ella is constantly upbeat and always relays positive vibes. Ella made varsity soccer her freshman year and has become a key member of the team. She is also a member of Women's Club at LFHS. As a young sophomore, she is already immersing herself within leadership roles throughout her extracurricular activities and sports.
Much more than just cheerful smile, Ella has grown into an incredible role model to those around her. She is constantly there for everyone if you ever need cheering up, and is always to be counted on as a reliable friend. Next time you are walking the halls of Lake Forest High School, be sure to keep an eye out for Ella's contagious smile.
Trisha Bhagat: Considering her stature (and workload) as one of the most influential students at LFHS as the Student Body President, senior Trisha Bhagat is still happier than most. Perhaps it is Trisha's ceaseless energy and optimism that keeps her churning towards success in all that she does, bouncing from role to role and activity to opportunity within the school.
"Not a day goes by in which Trisha doesn't bring the energy," shared one of her teachers. "She truly embodies everything that you would want in a woman of leadership in this school." Aside from attending school board meetings and helping to plan and decorate dances–not to mention orchestrating charity drives and humanitarian work–Trisha Bhagat excels by exuding self-confidence that is authentically genuine. Drew Arnson, the Student Body Vice President who works closely with Trisha on Student Council and other school leadership endeavors, remarked, "Her enthusiasm for everything she participates in is infectious. People get excited about working on something if she's going to be on their team." Whether it is in the classroom, in the community, or in a social situation, if Trisha Bhagat is involved, the job won't end up half-done.
"Everything she does, she attacks with a full head of steam– she's just so upbeat," shared one of her closest friends. If TB's schedule wasn't daunting enough, she throws in some badminton, Foresters, and Madrigals for fun, and also sprinkles in, you know, the casual four AP classes.
Come June, Lake Forest High School is going to have to look hard to replace the affable, bubbly, kind-hearted Bhagat, who has given so much of herself to this school in her tenure as a student. "I can certainly see her doing something that causes her to interact with people in her future," shared Mr. Scott, Trisha's English teacher last year. "She's just too good with people to not have her interact with as many as possible on a daily basis."
Emma Milburn: Whether you see her running down Green Bay Rd. with the cross country team, hustling around the track, or working hard in school every day, senior Emma Milburn is sure to be giving 110% effort and succeeding in each endeavor she pursues with flying colors. She is one of the hardest working people at LFHS and one of the kindest, most cheerful people around. 
Everyone loves the company of Emma. She goes out of her way to make others feel comfortable and is always ready to put her peers in a good mood. The bright smile she brings into every room alone is enough to make everyone around her happier. Emmet Brady said of Emma, "Burn's a really great gal. She's always radiating good vibes and what have you. Total day brightener." Being willing to put others ahead of yourself is a trait that not many high schoolers can claim. Emma goes above and beyond in that respect, though; her closest friends know that she is always there for them and anyone that needs a helping hand or a boost in mood can count on Emma. She pushes others to strive for their best, both in school and athletics. Teachers notice her work ethic and appreciate the presence she brings to class. She has a way about her that helps others feel comfortable and engaged. Mrs. Van Skyock, her junior year English teacher, said, "Emma is incredibly insightful and detail-oriented, but I am most impressed with how her effervescent personality brightens up the classroom. In fact, she was nicknamed "Daisy" in my 8th period class last year because her presence is literally as refreshing as a spring flower. She is an absolute joy!" Many of her friends share these sentiments focusing on her ability to lift their spirits.
Mary Gregg, a close friend of Emma's, said, "Emma is always positive and keeps me in a good mood. Whether it's going somewhere to eat, working out, or watching a movie, she always makes it so we have a good time. She is one of the most caring people I know and has worked really hard to get to where she is today." This sentiment is shared by another close friend, Brett Chody, who described Emma as "one of the sweetest people she knows, who always puts others needs in front of her own. She is kind, driven, and is always there for me no matter what." Having valuable friends that truly care about you is incredibly important and Emma is certain to be there for those in need. Positivity goes beyond school for Emma, her cross country and track careers have seen a large impact from her overall demeanor; her cross country coach, Mr. Clegg described her as an "all-timer" at LFHS and mentioned "her drive to overcome setbacks and injury in her junior and senior seasons." She remained positive during these times and worked hard to get back to where she is now. He went on to say that "her positive spirit and hard work will be missed." Emma Milburn exemplifies the best of Lake Forest and her determination, work ethic, and wonderful personality are a great part of teachers and peers days alike.
About the Writer
Ghost, Author
Ghost is a section of The Forest Scout that chooses to publish material anonymously in order to increase the depth of their investigative reporting. Ghost...