The Forest Scout Friday Five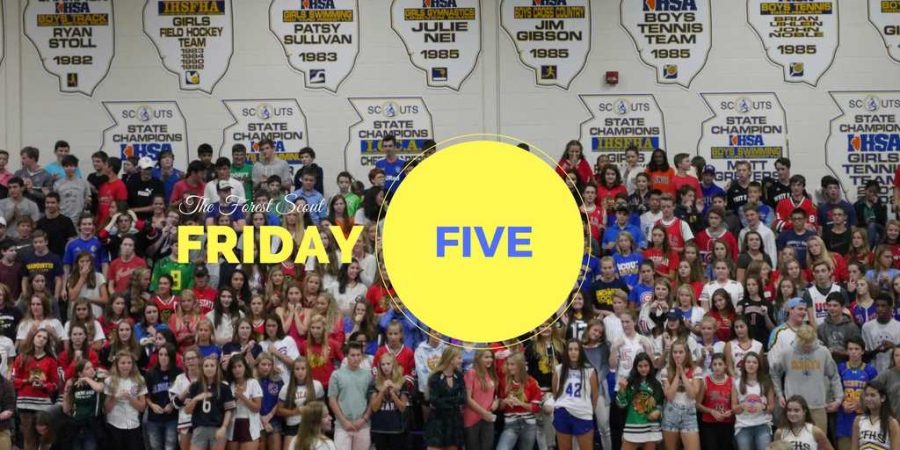 The Forest Scout Friday Five is a weekly segment that celebrates five people making a distinct, profound, and positive difference in the Lake Forest High School community. To visit our most recent installment, click here. To recommend a student, teacher, support staff, or community member for inclusion in The Forest Scout Friday Five, please email [email protected]ols.net.
Lianna Wisneski: You'd be hard-pressed to find senior Lianna Wisneski without a smile on her face. While most know her for her ubiquitous smile and cheerfulness, not many know that outside of school, she's an incredible dancer, and actively celebrates her Polish heritage. One of her close friends, fellow senior Emmalee Rhomberg, gushed, "It was so amazing to be invited to join Lianna at the Polish Ball last year. It was a fun experience getting to see her win the title as Queen. She puts so much time and commitment into the Polish community, so it was exciting for everyone to see her win." The Polish, or White and Red, Ball is held annually in downtown Chicago. The Queen of the Ball is determined by the debutante who raised the most money to benefit Polish relief.
At the high school, in addition to being an avid member of the band, she truly shines as a TA for the Integrated Wellness class. For those who don't know, Integrated Wellness is a gym class with the ELS (educational life skills) students, and this is Lianna's second year being a TA. Each TA is paired with a different student every week. While most of the school isn't aware of these students except for the one day of the year they're celebrated–the inter-school ELS Basketball game–Lianna's taken time out of her busy schedule over the past two years to truly get to know these students. The teacher of the class, Mr. Spagnoli, said, "The first thing everyone notices about Lianna is how her magnificent smile lights up the room. That kind of energy and excitement is exactly what Integrated Wellness class is all about." Taking it one step further, he continued, "She could be the billboard star for Integrated Wellness."
With the poise and grace she's obtained from years of dance, combined with the selflessness and kind heart that's allowed her to flourish in Integrated Wellness over the past few years, she will no doubt succeed at Miami University in the next four years and beyond.
Charlie Aberle: Charlie Aberlie, a 6'2. 250 pound sophomore, is the s
tarting offensive guard and defensive tackle on the varsity football team. His numbers in the weight room are eye opening. His passion for the game of football is unmatched. His aggression and fearlessness on the field is like that of no other. Best of all, he's only a sophomore.
Though his statline embodies the true characteristics of a football phenom and natural freak of athleticism, for those closest to Charlie, he is all that and more. Charlie, often referred to simply by his last name and sometimes even "Abes" for short, dispels any and every common stereotype attributed to a varsity football player. Fellow teammate and starting offensive lineman Chase Bahr mentioned how, "Abes is one of the hardest workers on the team. What sets him apart from other guys though is his extremely positive attitude, his will to work, and how somehow he never fails to make me laugh." Chase isn't the first to realize that Charlie truly stands out amongst his peers, and that it isn't solely due to his imposing frame and stature, but rather because of his character and the person he holds himself to be. Charlie has the rare ability to walk into a room and immediately make friends with just about everyone he comes across, but that's just the kind of guy he is. "Charlie's a fantastic guy, " commented former St. Mary's classmate and best friend Lexie Conley, "He's the best friend everyone wants and he won't shy away from being anyone's friend. He's a good guy all around."
Aside from his intense dedication to the football program, Charlie is about as multifaceted and well-rounded as they come. From playing for a championship with his intramural basketball team every Sunday night to volunteering at Fill A Heart for Kids, a non-profit organization to help and support homeless children in the area, Charlie carries his warm hearted, friendly personality to wherever it is that life takes him. Not to mention, rumor has it that Charlie is quite the cook himself.
So, just as how one of the most potent universal sayings warns one from judging a book by its cover, the same holds true when talking about Charlie. Upon first glance, you would think he's just a pivotal asset to the Scouts' football program in the fall, but the more time you spend and try to get to know him more on a personal level, you'll begin to realize that he indeed is one of the most genuine, outgoing, and high-spirited members that the sophomore class has to offer.
Meredith Delaney: If you have ever been to a home football or basketball game, you have had the pleasure to see her dance. To those who know her beyond her dancing know her as hard working and empathetic person.
Meredith has been on Lake Forests Varsity Poms team since Freshman year. A very impressive feat that very few dancers have accomplished, she currently serves as the captain of the team and presents herself as a role model to her teammates (as all good captains do). Former Scouts varsity dancer, Tegan Morcott, said this about Delaney, "Mer is the most dedicated, focused, and talented dancer I have ever met. Not only does she shine on the floor, but she shows her true character leading the team. She is an amazing dancer, friend and leader." All her teammates would say the same according to Morcott. They know her as an incredibly hard working individual that would do anything for her team.
Meredith has also been an incredible friend to  those close to her. She will do anything for those who are fortunate enough to call her a friend. Fellow senior captain and close friend, Kailey Hetler, holds her in high regard as well. "Meredith is one of the hardest working people I have ever met. When she pursues a task, she pursues it with nothing less than her absolute best. Being on a team with Mer this year has brought us much closer, and I consider her a best friend. Great friends lift you up when you are down. They demonstrate qualities that you hope to fulfill one day. When it comes to that, Mer is unrivaled. She brightens your day, and she cares for everyone around her. I have always admired her hard work and leadership qualities as a teammate." All of Delaney's close friends would echo these sentiments shared, and add many more positive ones as well. They know her as a wonderful friend that would do anything for people that are close to her.
Meredith is a person that all students and faculty at LFHS should get the chance to know. So next time you see her in the hallways, or in the upper commons, say "hi" or try to spark a conversation. 
Mr. Steve Johnson: 2018 will be a busy year for Lake Forest Special Education teacher Mr. Steve Johnson. His hometown team, the Minnesota Vikings, had a shot at the Super Bowl (and let him down. Again.), two of his five daughters are getting married, and he is honing his co-teaching skills in World Civilizations, Composition, and Grammar after spending an amount of time as the school's Special Education Instructional Director. But that's become the norm for Mr. Johnson, because he is perhaps LFHS' busiest man.
The native Minnesotan coaches a sport in each season–girls golf, boys basketball, and boys baseball–in addition to making regular trips to Cincinatti for his daughter, Lexie, who is in treatment for lymphoma after being diagnosed in 2015. Aside from the endless checklists and to-dos in Mr. Johnson's life, he does what he does best every single day: he makes time for kids.
Known for his affectionate, nuanced nicknames of his freshman basketball players, Johnson was known by his first semester Grammar class that he co-taught with Ms. Dreiling as "The Grammar Hammer." "Mr. Johnson stepped in and met us where we were at, helped us, and made things simpler for us," added senior Joe Thomas. Indeed, there are two types of people in this world: those who take simple things and make them difficult and those who take difficult things and make them simple. Mr. Steve Johnson, without question, is of the latter variety.
Widely regarded as one of the most genuine, kindhearted people in the school, Johnson is a beacon of consistency in all that he does for LFHS. "He's great with the freshman because he holds them to a standard and holds them accountable," added Austin Scott, Johnson's colleague on the LFHS basketball staff, "but he also has fun with them. There's no one who enjoys watching kids progress from freshman year to senior year more than [Johnson]. And he's a very large part of that success and growth."
Arick Ellis: A teacher who went about his day in the classroom, directed lessons, and went home would still likely be widely regarded by many as a "leader." But Lake Bluff's Mr. Arick Ellis goes above and beyond the standard to ensure that every student has a chance to succeed, regardless of whether that student is enrolled in his class or not. Ellis, a teacher and coach at Lake Bluff Middle School, opened Community for Learners, a tutoring service in Lake Forest at the Gorton Library that places high-achieving, mature high school students with students with unique learning styles.
"I learned a ton from working with the young people at Community for Learners, but Mr. Ellis helps us out tremendously as well," Sean Trkla, a senior and former employee of Learning League remarked. "He teaches you how to be adult–mature and responsible–but also to slow yourself down and be patient." Trkla, along with many other Lake Forest High School students, including Alex Moss and John Deering, volunteer their time because of the kindness and respect Ellis showed them as young men in the Lake Forest Scouts feeder basketball program as a coach.
Aside from being a student-based, innovative entrepreneur, Ellis is also a tremendous father, coach, and teacher. "He's a very likable guy," added senior John Deering. "Everything is does is for others, and those are the people that are important to surround yourself with in life."
About the Writer
Ghost, Author
Ghost is a section of The Forest Scout that chooses to publish material anonymously in order to increase the depth of their investigative reporting. Ghost...