The Forest Scout Friday Five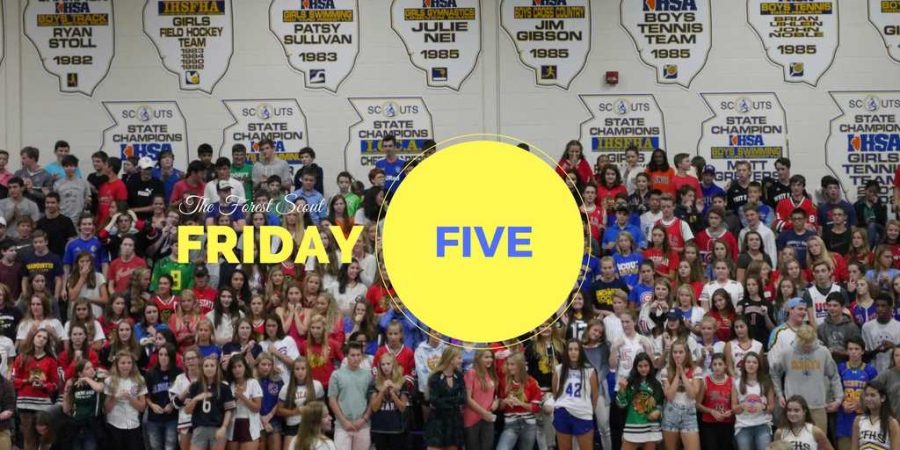 The Forest Scout Friday Five is a weekly segment that celebrates five people making a distinct, profound, and positive difference in the Lake Forest High School community. To visit our most recent installment, click here. To recommend a student, teacher, support staff, or community member for inclusion in The Forest Scout Friday Five, please email [email protected]ols.net.
Mr. Paul Goldstein: Generally speaking, when the name of Mr. Paul Goldstein comes up in conversation among students, a few topics are more popular than most. One: intelligence. Mr. Goldstein, who attended Dartmouth College as an undergraduate student and then made his way through Cornell Law School is no academic slouch. In fact, Goldstein is able to transfer his worldly knowledge to his students not just through the classes he teaches, Pre-Calculus, Honors-Multivariable Calculus, Statistics, Honors-Advanced Topics in Math and Trigonometry, but through his quirky and nuanced personality. As a faculty member well-versed in the law, he also helps teachers at LFHS remain aware of their contractual rights with the school board, and yes, he shares his incredible mathematical acumen along the way.
But those who know Goldstein best know and love him for another interest he has outside of Math–cats. Goldstein, a proud cat owner, shares stories and posts pictures of his small, furry carnivorous mammals, and references them daily. Bridging a connection between felines and factoring polynomials is quite a skill, but is one that is purely Goldstein. "He's the only teacher who 'arfs' in the hallway when he sees you," mentioned senior Brett Chody, and his comfort with his own quirks is something that students admire. "He is a helpful teacher who does his best to make math entertaining and fun," shared one senior student, while another explained, "there is no one like Goldstein–he is one of a kind."
Goldstein's math classes have become a rite of passage of sorts at LFHS. Though he teaches mostly upperclassmen, Goldstein's schedule accommodates both high-level math function and relationship building. "Some teachers only talk about math in math class," added senior Cosette Bevis. "When you have Goldstein, you get to know him as a person, which is something all students appreciate."
Mr. Paul Brock: Most middle school memories–regardless of whether they are from Deerpath, Lake Bluff, St. Mary's, or even Lake Forest Country Day–are cringeworthy. That much goes without saying. Nonetheless, in recalling those memories of our deodorant-free sixth grade selves, we must honor the patience and understanding that our teachers exhibited. One such teacher that is remembered fondly is Deerpath Math teacher Mr. Paul Brock.
The 36-year-old father is able to bridge connections with students by being an easygoing, relatable guy who enjoys fantasy football and loves sports like a lot of his young students. Yet, his honesty and positivity in the classroom helps students learn and grow past one variable equations and middle school immaturity. "[Brock] always brought a positive attitude into the classroom," mentioned senior Chris Cavalaris, who also mentioned that Brock was the first teacher who really made him enjoy coming to class. Aside from mathematics, however, Brock excels at making learning fun. "Gator ball was one of the best in-class games of all time. Energy, sarcasm and wit made for a great class environment," added senior Kyle Wix, who recalls fondly his time under Brock's wing. 
Many students–especially the members of the Deerpath basketball team that Brock coaches–were quick to recall fond memories of Brock from their days at DPM. Though middle school, in its finest hour, can be recalled as a transformative period, we often forget to pay homage to the first people who clearly demonstrated to us that school is a place we should enjoy. Mr. Paul Brock continues to be one of the smiling faces that help immature Deerpath students become young men and women at LFHS who are ready for the challenges of high school.
Erin Earls: It is no secret that freshman Erin Earls is stretched pretty thin. With all that she does, including poms, community service, and so much more, it would be logical for Earls to be a little bit stressed out, especially at this time of year. However, those who know Earls best would testify to the fact that she is still the biggest goofball around.
"She's a great kid and is super polite," mentioned one of her Wellness for Life Teacher's Assistants. "She comes in every day with a smile on her face and is happy to be there. You don't have to force her to raise her hand and participate like you do with a lot of other freshman." The freshman, who is a self-proclaimed strawberry-blonde, is heralded in the basement hallway as someone who helps make her peers laugh harder and cry a lot less. "She is always someone that I go to when I'm feeling down because she makes me laugh instantly," added fellow freshman Mary McKendry, another former Friday Five recipient. "She's my soul sister."
Though she participated in basketball, field hockey, and poms at DPM, she has now decided to concentrate her efforts in high school on academics and dance. Balancing a tough course load, Earls has managed nearly straight so far in her first semester in high school while also competing for the JV dance team at LFHS. A true "positive vibes" kindred spirit, Earls still has her best days at LFHS still ahead of her. But for now, she's helping freshman undertake their first-ever finals week with a smile on their faces, similar to the one she shares with her peers on a daily basis."Erin is probably one of the funniest and most ecstatic people I know," added fellow freshman Emma Bancila. "And she has the ability to cheer anyone up instantly; she constantly inspires and amazes me through her courageous efforts to stand up not only for herself and what she believes in, but for her friends and others as well."
Ryan Marquis: Ryan Marquis, or better known simply by his last name, is one of the most lovable people you'll find at the school. You can find this tall, curly-haired guy anywhere from the football field–where he has played all four years of his high school career–to the upper commons, where he frequently is giving out free help to anyone who asks. Or, you can find Ryan just walking around the halls usually wearing a baseball hat of some sort.
Marquis went to St. Mary's Middle School, one of the smaller schools that feeds into Lake Forest High School. Nonetheless, this was no problem for him. He easily adapted, making a ton of new friends in addition to having his old ones, and was even taking Trig Honors as a freshmen, a higher math class than some seniors take today. Marquis' fellow St. Mary's classmate and current close friend, Drew Foley, mentioned, "Ryan Marquis is one of those guys who walks into a room full of people and every single person will get excited and say 'Hi.' He is friends with everybody because of how personable he is." Marquis has a great sense of humor and is very outgoing. Caroline Kozera, a senior who frequently drives with him, added that, "He sings so loud that the car actually shakes."
Marquis is not only super friendly and smart, but is also very active. He has been a part of Lake Forest High School's intramural basketball team, KFC Buckets, since his sophomore year. Marquis is a key player in helping the team succeed and teammate Joe Chamberlain adds, "He's wet from three, but can also drive to the basket like no one else. A truly special athlete." Along with Marquis being a great athlete, he is quite popular among the ladies. Seniors Isabel Murphy and Susan Nevin mentioned sarcastically that, "Marquis is the literal love of my life" and "is a constant snuggle bug." These are only two girls among the many people who have a deep love for the one-of-a-kind Ryan Marquis.
Whether it is at school or outside of school, Marquis is always smiling and making the people around him laugh. If you ever need someone to joke around with or just need help with some homework (guilty), Marquis is your go-to guy. Lake Forest High School is in need of a jack-of-all-trades nice guy replacement when he graduates this June.
Kat Munns: If you've ever had a conversation with Kat Munns, you would know she is of the laid-back, calm variety. Her vibe fits into a perfect visual of a Coloradan who loves to ski, create, and gives off a "stress free" vibe. Kat doesn't take life too seriously, which is what makes her such a breath of fresh air to be around
Kat is extremely involved in all things art. Since she was little, she has always loved to paint, draw, sculpt, and more. Her room is full of pieces of homemade art that line her walls and dresser tops. Along with her own art, Kat also loves to go to art museums. In fact, just this summer she did an art program through the Art Institute of Chicago where she worked with professionals and other high school students to create new pieces using different mediums. With Munns' mom being a principal and considering her individual passion for art, it is no surprise that Kat's dream job is to be an art teacher. Along with her creations, Kat also shows off her creative side with her choice of bohemian clothing style which adds to her worry-free vibe.
All of Kats friends agree that she is a welcome change of pace who never has anything bad to say about anyone."There's never a day goes by that I don't see a smile on Kat's face. She is always in a good mood and is a very well-rounded friend," mentioned senior Emily Moorman.
"She is one of the most compassionate people I know. She cares so much about the people she loves and is always there for me, whether it's help with homework or if I just need someone to rant to. I don't think people realize how creative and talented she really is," explained one of Kat's good friends, Holly Muskat.
Another one of Kat's friends, Kari Myers, says she is resilient and doesn't let anything get to her. "Kat is always the bigger person," she explains, "which is admirable in a high school environment." Another close friend, Emma Hoshino, says Kat really cares about her friends and family. In the end, even her own brother, George Munns, agreed. "Kat is such a genuine person who I can look up to." Talk about heartwarming. Kat Munns' personality and overall essence has the potential to positively impact even her younger brother. 
About the Writer
Ghost, Author
Ghost is a section of The Forest Scout that chooses to publish material anonymously in order to increase the depth of their investigative reporting. Ghost...