The Forest Scout Friday Five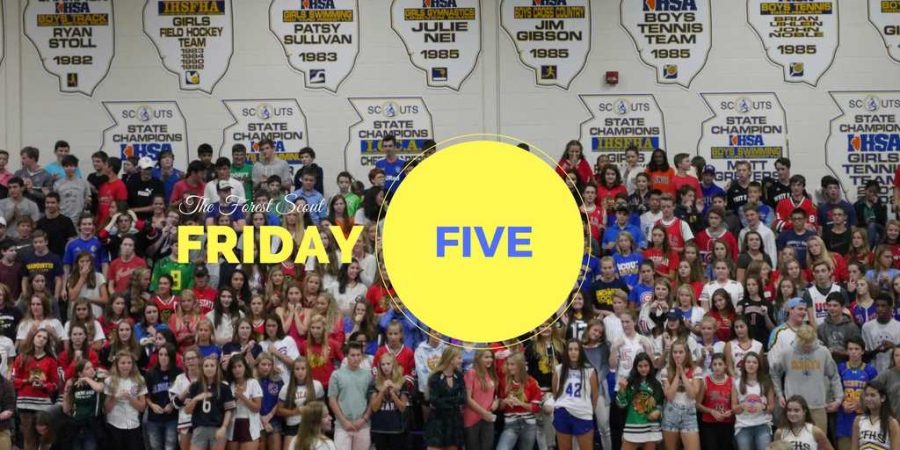 The Forest Scout Friday Five is a weekly segment that celebrates five people making a distinct, profound, and positive difference in the Lake Forest High School community. To visit our most recent installment, click here. To recommend a student, teacher, support staff, or community member for inclusion in The Forest Scout Friday Five, please email [email protected]ols.net.
Ms. Lori Stoller: You can catch LFHS Buildings and Grounds worker Lori Stoller in a lot of different places. You might see her on the Lake Bluff Golf Course in the early morning hours, dutifully taking the book at the scorer's table of each Boys Basketball game, dropping off mail or materials in the Faculty Work Room, or, just simply smiling as she mills about LFHS from job to job, being her joyful, cheery self.
LFHS chooses Ms. Stoller to be the driver who cheerfully picks up the Metra train users from the station each day and chauffeurs them to work–she's the friendliest person we have. It's only fitting that we use Ms. Stoller for her most noticeable and important gift, spreading kindness. Often times in the past, you could find Ms. Stoller with her trusty colleague, Mr. Bill Lenzen, lugging a tool chest from room to room hanging posters, fixing any maintenance problems, and sharing her positive candor with just about everyone who crosses her path. But Ms. Stoller is every bit as much cheerleader as she is Ms. Fix-It.
She hasn't missed more than a handful of boys basketball games in the past decade, all due to her dedication to being part of a team that Coach LaScala and the boys can rely upon. "She's always there, doing her job," shared Mr. Matheson, the man who often takes the seat next to her as he operates the scoreboard and clock. "There's nothing too showy or look-at-me about [Stoller] in the way she does things. She just simply gets it done. I like that." Indeed, Mr. Matheson is certainly right. In today's world that so often requires medals, trophies, ribbons, or big money raises, Stoller does her job–and does it damn well–because people count on her, and because it's something she enjoys.
Perhaps more of us should be motivated by Stoller's do-it-all-with-a-smile attitude in a job that doesn't nearly receive the everyday fanfare it deserves. Stoller, the longtime veteran of LFHS, has always done things the right way instead of the quick way. More of us young men and women should follow suit with that mantra.
Jake Fisher: Those who have ever shared a classroom or the basketball court with Jake Fisher know him as a genuinely kind kid with an unwavering smile. Jake Fisher, a junior point guard for the Basketball team, who has already contributed valuable minutes this year in the team's Thanksgiving Tournament, is known for being one helluva teammate. "He's a guy who knows how to pick up his teammates when they're down," says fellow junior point guard Carter Horan. "I can always count on Fisher to be there for me if I miss a shot or make a mistake." Similarly, senior teammate Ben Gibson had this to say "I don't know how he does it, he's the only kid on the team that can smile after getting yelled at."
"That's a talent in itself." added Sean Trkla.
Outside of the gym, Jake is also an active member of the Community Church of Lake Forest and Lake Bluff. Whether building houses in Wisconsin or spending his time doing community service with the church, Jake's contagious smile is surely bound to follow him.
Even into the classroom, Jake brings his one-two punch: smiles and positive vibes. "Jake is a great guy, who, in a tough AP class, had managed to strike the perfect balance between pushing himself to grow intellectually with thoughtful consideration of realistic goals," said Mrs. Flangel, Jake's AP Seminar teacher. "Jake always made class fun … that was never sacrificed."
He makes a lot of things more fun, in fact. Fisher, who has a twin brother, Danny, and a freshman sister, Molly, all at the high school, is the kind of guy who "enjoys the journey" without being corny. "He showed up to basketball practice with a tie-dye shirt under his practice jersey this week," said one of his coaches, Mr. Scott. "Nobody does that except Jake Fisher–you can't help but laugh with him. He just grins and says, 'I love this shirt, coach.'"
The Fisher Positivity isn't a front or a facade, but it's genuinely who he is, and who doesn't love that? "His personality is effortless," mentioned a junior classmate. "So many kids try so hard to build their reputation. Jake is just who he is–simple as that–and people love him for it." You are who you are, Mr. Fisher. Keep up the good work.
Coel Morcott: From the football field to the hockey rink, from youth group all the way to the Dominican Republic, sophomore Coel Morcott's presence is undoubtedly felt wherever it is that life takes him. Playing for the Scouts' football team in the fall this past season and lacing up his skates for the LFHS hockey team this winter, Coel's impact carries for beyond the sports realm.
As an active participant in SHYG, his church's youth group, Coel has effortlessly made friends with just about anyone and everyone to cross his path, even when miles away from home on his youth group's mission trip to the Dominican Republic. "It's just the kind of person he is," noted sophomore Lexie Conley, one of Coel's closest friends. "So many people have came up to me and said how much they loved Coel."
Aside from being the two-sport athlete many have come to know him to be, Coel has a reputation for being one of the most sincere and authentic students the sophomore class has to offer. Though he may seem as your run-of-the-mill high school teenager at first glance, the more time you spend with him the more you'll realize he is all but that. Sophomore Bridget Mitchell, one of Coel's lifelong friends, attests to Lexie Conley's statements on Coel, saying how, "Coel has been like a brother to me since we were three. He's one of those guys that actually cares when they ask you how your day was."
When it comes down to it, Coel is truly what it means to be a Renaissance man–being able to juggle two sports, maintain his high GPA, actively engage himself in his church's youth group, and above all, be a genuinely good person in doing so. Not only is he the perfect example of how to find a balance in all the stresses that life throws at you but more importantly, Coel is the kind of person we all should strive to emulate, day in and day out.
Tatum Litzsinger: If you ever need to be cheered up all you need to do is find Tatum Litzsinger. Everyone who knows Tatum can agree that she is the kindest person that they've ever met. You will never hear a negative comment come out of Tatum's mouth. If you are ever feeling down or upset, Tatum has a way of turning every situation into positive motivation. If you need anyone to cheer up your dejected mood, Tatum can always put a smile on your face. She is constantly thinking of others and putting them ahead of herself.
Tatum also is a loyal friend that will go through everything with you by your side. One of her longtime friends, junior Sarah Considine, said "Tatum is one of the kindest and most genuine people I know. She is a loyal friend, and is someone I can always count on. She's a kind friend, and always knows just how to make you feel better." Tatum is that one trustworthy friend that you know will always have your back and will never judge you or your problems. In any way possible, she will help you–whether it is coming up with a solution or just listening to you.
Along with being a great friend, Tatum is a also great teammate. She has been on the poms team since freshman year, and was even captain of the JV poms team last year. When you watch the poms, whether it is during a halftime or if they are performing in a competition, you can tell how much dedication and hard work Tatum has put towards her craft. A fellow teammate of Tatum's, Kylie Prieto, shared that "Last year on the JV poms team I was a co-captain with her and she always puts the team first and makes choices in favor of the team and helped us with great successes throughout the season. She is a role model for everyone on our team with her dedication and her positive perspective on life!"
While Tatum is a leader on the floor for poms, she is also a leader in Lake Forest High School as she has been a member of Student Council since freshman year and has stayed dedicated all the way through her junior year.
Tatum Litzsinger is a positive, kindhearted, friendly person that you should always look out for in the hallways of Lake Forest High School.
Bridget Eckland: One of the sweetest and most driven person this school has to offer has to be junior, Bridget Eckland. Anybody who personally knows her–or even only has had a mere couple of interactions with her–can feel the pure joy and happiness she has for life that radiates from her. You can constantly find her smiling or hugging people: in the halls or at any of the many extracurriculars she is involved in.
Bridget has been a part of cross country since her freshman year and has made an amazing impact on the team during that time. Specifically, this past season was her best yet. She was one of the few runners to get moved up to varsity which is something that most cannot say. Lake Forest High School's Cross Country varsity coach, Coach Clegg, mentioned that "Bridget had an incredible season for us this past year – her hard work all summer and fall helped her to move up to the varsity team. I'm really impressed both with her enthusiasm for XC and Bridget's 'team-first' attitude that she brings every day!"
Bridget is not only dedicated to being the best runner she can be, but also to being one of the most positive people on the team. Bridget has taken her diligence and enthusiasm that is omnipresent in cross country to track and field for the past three years as well. She has been running distance in track since freshman year and has proven again to be one of the most committed people on the team by putting her all into every practice and every meet. In addition, Bridget is a part of the team's newest club, the "Red Nose Running Club," led by cross country coach Mrs. Levinson. Her innate drive to succeed makes the fact she is already running again, which will help her prepare for the upcoming track season, no surprise at all.
Aside from Bridget being talented athletically, she is also extremely smart, musical, and personable. This is evident through her involvement in glee club, songwriting club, and the math team. Bridget is constantly working to be the best version of herself she can be and does not do this alone. When Bridget is not running or at one of many clubs she is a part of, you can always find her with friends, constantly making every single one of them laugh. Junior Meg Simutis, one of Eckland's best friends, argued, "Bridget has got to be one of the sweetest and funniest people I know. No matter what she never fails to make me laugh. I honestly don't know what I'd do without her."
Bridget is held near and dear to many people, including those who recently attended the Kairos retreat with her this fall. Fellow retreat member and close friend junior Elizabeth Reay, mentioned that "Bridget is the person to go to when you need a good laugh or a good cry." Bridget has the keen ability to be absolutely hilarious and quick witted while also being able to be serious in the amount of time it takes you to snap your finger. She is always there for you."
Lake Forest High School would not be the same without the lovely Bridget Eckland. Bridget makes everyone's life  happier and does not do anything without giving it everything she's got.
About the Contributor
Ghost, Author
Ghost is a section of The Forest Scout that chooses to publish material anonymously in order to increase the depth of their investigative reporting. Ghost...