The Forest Scout Friday Five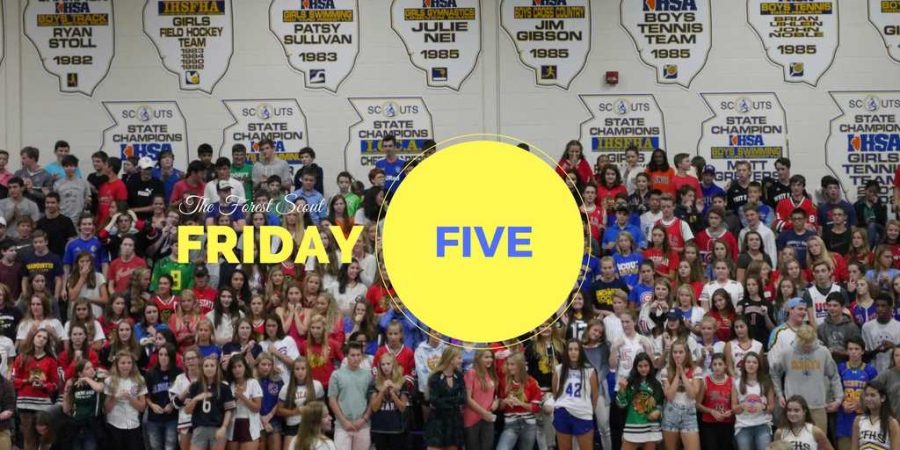 The Forest Scout Friday Five is a weekly segment that celebrates five people making a distinct, profound, and positive difference in the Lake Forest High School community. To visit our most recent installment, click here. To recommend a student, teacher, support staff, or community member for inclusion in The Forest Scout Friday Five, please email [email protected]ols.net.
Carrie Saginur: Sophomore Carrie Saginur is one of the nicest people you will ever meet. Her funny, charismatic personality draws everyone in instantly as she is friendly towards everyone and never lets people ever even begin to feel left out. Recently, Saginur was a team member of the junior varsity cross country team. Carrie's teammate and friend, Isabella Graf, mentioned that "Carrie is the best running buddy. During cross country she has gotten me through some of the hardest runs of my life, pushing me to keep going even when I didn't think I could."
Alongside being a great teammate, Carrie is also a great student. A dedicated and studious academic, Carrie is usually at the top of her classes. As smart as Carrie is, however, you will never hear her bragging about her test scores or grades. She will always have her hand raised in the air, whether it be to ask the teacher for help or in answering a question prompted by her teachers. Whenever classmates are having trouble during class, Carrie is always there to help with whatever she can as well. With her kind and accepting aura, you will never feel awkward or intimidated to talk to her or simply toask a question. As said by her classmate, Tatum Litzsinger, "This is my second year having math with Carrie and she is so fun to be around. She is always smiling and making me laugh. She is also extremely smart and I can always go to her if i have a question."
One of Carrie's longtime friends, Emma O'Connor, articulated Saginur's persona in her own words. "She is easily the smartest person I know and has a really mature and sarcastic sense of humor which is a really unique quality."
There is always a smile on Carrie Saginur's face no matter what she is doing. She can make one comment and you will be filled with laughter. Sydney Leonardi, another great friend of Carrie's, brought up that "She is a social butterfly and can make any situation funny."
Mr. Phil LaScala: There aren't many teachers who have 200 wins on the varsity basketball court and have taught Fashion Merchandising, Law, Marketing, Business Incubator, and Entrepreneurship, but LFHS' Mr. Phil LaScala is a rare breed.
The Benet Academy and Eastern Illinois University graduate, who has been teaching at LFHS since 2005, has a keen way about him that helps freshman understand the ropes of both business and high school. When a freshman was asked what they learn in Business Entrepreneurship with Mr. LaScala, one of the Business Ed. Department's most popular classes, she responded, "He teaches you that results count, and so does consistency. If you're not doing your part for the company, he's certainly going to let you know. [Mr. LaScala] is transparent." Those who have been enrolled in his classes can certainly attest to the fact that Mr. LaScala is perhaps best known for one distinguishable trait: volume. "He is loud," echoed freshman Julianna Finley, "but he gets your attention. You don't find yourself dozing off in Entrepreneurship."
His Entrepreneurship class–one that is chock-full with departments and investor meetings and dividends–is one of the most hands-on classes on campus. You peddle your product tirelessly, and if you do well, you see results. If you don't, you don't. That's just how LaScala likes it, though. As a basketball coach, the savvy, 13-year veteran has earned each accolade he has received, which includes two NSC titles (2009 and 2010), three Division I scholarship players (Evan Boudreaux, Lorenzo Edwards, and Matt Vogrich), and the most wins in a season (28) and career (204). He has re-written the LFHS Basketball coaching record books by practicing exactly what he preaches: hard work.
"Nobody spends more time at the high school. And I mean nobody," shared Austin Scott, Coach LaScala's assistant with the varsity basketball team. "He goes above and beyond for his students and athletes–helping them see their futures more clearly both in high school and in college."
By the time you're done with freshman year at LFHS, you know exactly who Mr. LaScala is. Whether you crossed paths with him in class, on the basketball court, or were just a witness to a hallway display of his trademark, "what's up, there, [insert student last name]?" he is clearly an LFHS fixture that is unique and appreciated.
Quinn Epstein: 
Everyone loves a conversationalist, and popular student Quinn Epstein is nothing short of the most friendly, talkative person LFHS has to offer. The passionate junior enjoys discussing the football and basketball games with the players–as he often remembers scores and statistics more accurately than the players themselves–but is also quick to strike up a conversation with just about anyone in just about any place in the building.
Though he loves sports, Quinn also loves his role in the percussion section of the marching band. Epstein, who, if it were up to him, would bang on his drum all day, enjoys playing for the Scouts faithful at athletic events, but also relishes each opportunity that he has with his fellow marching band members.
Quinn's teachers and classmates alike enjoy the optimism and genuine nature that he offers each and every room he occupies, but Mr. Harmsen, Quinn's Learning Strategies teacher, has praised him for just how far he has come in his three short years at LFHS. His classmates, like senior Sean Trkla, love to have Quinn around. "He always has a smile on his face–just happy to be there, willing to discuss anything and everything," Trkla mentioned. "He exudes a positivity and inclusive nature that is rare in high school and is really refreshing."
Quinn Epstein, as a person, is certainly refreshing. Whenever somebody is having as much fun and enjoying themselves as thoroughly as Epstein is each day, the attitude becomes contagious. Case in point: get to know junior Quinn Epstein and catch a bit of his spirit–it will surely make you a little more like him, which is a fantastic thing.
Beau Waligora: Anyone who knows senior Beau Waligora knows that no matter what kind of day he is having, you can guarantee to hear his notable laugh and see his gleaming smile. He is almost always trying to brighten someone's day–or maybe even his own–by cracking jokes, laughing at memes, or hanging out in the senior commons with his friends.
As a member of water polo for four consecutive years, Beau is an outstanding teammate and a definite contributor to LFHS school spirit as a whole. Having been a huge participant in CROYA for all of high school, Beau is seen on the Executive Board and at every Wednesday night meeting. Meghan Gayter, the high school youth worker, mentioned that "Beau always comes to CROYA with a smile on his face and a positive attitude. I've met very few people as open and accepting as Beau–he always makes people around him feel welcome and included. He's not only fun to be around, but a great friend to everyone."
Meghan isn't the only person who can attest to the true empathetic and positive nature that Beau spreads throughout our community. Senior Anafran Curry, a friend and classmate of Beau's, argued that "there is not a single time that I can think of where Beau isn't making someone else's life better or happier. He is so unique, there is nobody like him at LFHS. It is truly an honor to know him and just plain awesome to be his friend."
His charm and character will have anyone laughing in minutes, whether it is a quick chat in the hallway or a long, private conversation, Beau, as the saying goes, knows. He is guaranteed to have you wrapped into one of the most heartfelt and genuine conversations you could possibly have with a high school student.  
Gabby Moore: Anyone who knows junior Gabby Moore knows that she will go above and beyond for you, no matter what your relationship with her looks like.
First off, for anyone that has been confused on homework, you may have found yourself texting Gabby late at night in hopes of eliminating–or at least alleviating–your confusion. Texting Gabby about homework results in a quick response with an in-depth analysis, which always clears up your questions and helps you navigate your studies. 
Gabby is driven and motivated in her approach to school. Her motivation in school has led her to excel, this year, in classes like AP Physics 1, AP Calculus BC, English 3 Honors, Spanish 4 Honors and more. Mrs. Sorensen, Gabby's AP Chemistry teacher last year, shared that "You will often hear students say that Gabby is one of the nicest people that you will ever meet and that she is extremely thoughtful and kind. I couldn't agree with that more. She always goes out of her way to help others and is always super thoughtful (sharing chips and gauc). A Mexican food aficionado, Mrs. Sorensen also mentioned that, "I don't know a girl that loves Casa de Isaac more than Gabby."
You are a true talent if you happen to play an instrument at Lake Forest High School and are able to balance your musical passion with your studies; still, taking musical acumen one step further, Gabby plays piano, bass, guitar, and even sings. She is in a jazz band and even makes her own music. She has a musical gift and brings this skill set to CROYA where she serves on the CROYA Executive Board as the music chairman. Meghan Gayter, the CROYA high school youth worker, shared that "As music chair, she has brought in some local bands and has helped to bring live music to many CROYA events," and is a "great asset to the CROYA community."
Gabby also serves as a great younger sibling to her two older brothers and an older sister. Maddy, her older sister, shared that "Gabby is the person in our family who you can count on for a laugh at all times. She's the youngest, the smartest, and the most amazing lil sis."
All in all, if you want a great friend, a member for your band, a tutor, a younger sister, or even someone to just greet in the hallways, Gabby is your girl.
About the Writer
Ghost, Author
Ghost is a section of The Forest Scout that chooses to publish material anonymously in order to increase the depth of their investigative reporting. Ghost...