Veterans Day Tribute: Duty, Honor, and Country–My Great Uncle David Bolte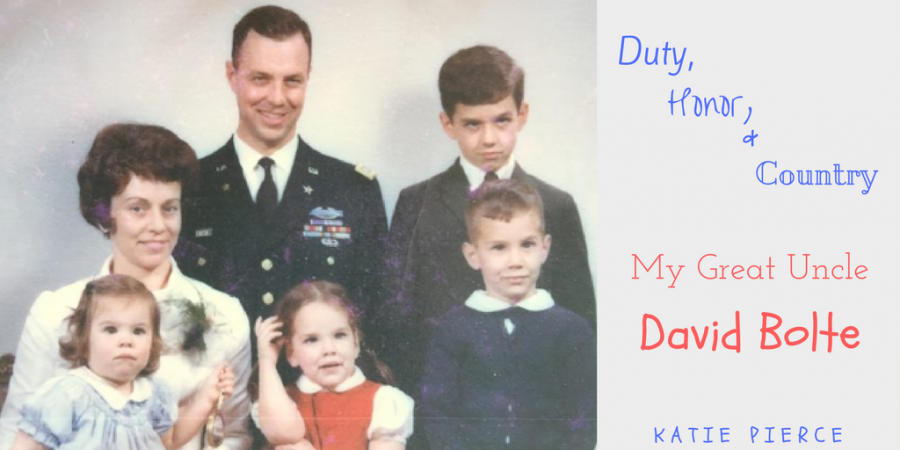 Heroes.  They can be fictional saviors or game-changers.  They can be in real life, saving lives or changing them subtly with one swift stroke of their genius.  They can wear capes or glasses, holding books or even pencils.  They are sometimes perfect, but often times, flawed.  Some heroes may go unnoticed.  Some may not receive rightful recognition until they are gone from this world.
That's what I'm going through right now.  My dad's uncle, David Bolte, was a hero whose story hadn't come up in our family before this Veterans Day.  I never met my great uncle, who passed away in 2015.  His story is one of a true American hero.
The Bolte family has a long line of military history, even dating back to colonial times, John Bolte (David's son) tells me.  David's father was an officer in World War I who eventually became a general and the Vice Chief of Staff of the Army itself.  David enlisted in the Army after finishing one year of school at the US Military Academy Prep School.  David served as a radio operator here in the US during World War II.  Later in 1946, he was appointed to (one gets appointed by a US congressman) the US Military Academy, hoping to continue the prestigious legacy of his family.  "The Vietnam War and subsequent reductions in force led to him being 'passed over' for promotion and then forced to retire in 1978," John mentioned.  David suffered a huge emotional blow after his retirement, feeling as though he hadn't lived up to the legacy set by his ancestors.  His family coped with his depression that developed throughout the end of his service and into his retirement.
When I asked John what was most difficult about his father's service, he told me that David never complained.  "It is 'duty, honor, country' all the time and the ethos of those serving as 'career' officers, and especially from West Point, is that you follow your orders and you don't complain," he told me.  David was tough and he was committed to his country.  He sacrificed time with his family for his country.  I still am awed by his determination and spirit that his story is laced with.
John and his three siblings, Benjamin, Damara and Kathryn, traveled with their mother and father around the world during his service.  John tells me that the childhood he spent exploring the world was unique; a different perspective from the typical life of an American family.  "When I was 3-6, we lived in West Berlin during the height of the Cold War," he said.  He and his family explored Seoul and historical sites in Korea during David's time there.  "I don't know if the travel drew us together so much as the camaraderie that developed as we coped with my father's depression during these years as he struggled with residual physical effects of a tropical illness contracted in Vietnam in 1970," John told me.  Not only did David serve his country, but his family was right along with him, supporting him during dark and difficult times.  That speaks to not only the strength of the line of military servicemen that the Bolte family has, but also the undying support of the families that lived and experienced the same trials and tribulations that the veterans themselves had.
While the depression dampened any interest John and his siblings had for the military, John told me that David was an inspiration.  "I do attribute to my father my inspiration to honesty and integrity of speech and action.  He was always fair and honest in his dealings with others," he said.  "I know that when I describe his influence on me this is the main attribute that I feel we have to share."
Each sibling has a different perspective on the service of their father, but John told me that he learned to be flexible and adaptable.   "I attended ten different schools by the time I graduated high school.  From kindergarten in Berlin to junior high in South Korea (on base at a US DOD school) to high school at Leavenworth… to graduation in Fairfax County Virginia!" he wrote enthusiastically.
But the most amazing thing about my great uncle and his family is their views on what a hero really is.   "My family have never looked at someone in the military as a 'hero' regardless of the heroics that they may have carried out during their service," John explained to me in a follow up email.  "For him [his service] was his duty and was not heroic in any way."  I am again in awe of the sense of duty and loyalty to this country that the Bolte family has had over many generations, and their humbling views on what service to what you love is really all about.
David Bolte's story has opened up new conversations in my family, and has allowed me to realize how much one person can impact not only a country, but a family as well.  In just texting my dad with questions about minor details in Uncle David's story, he remembered a story himself: "So the story goes," he told me.  "He actually saved a bunch of men at one point.  He was riding in a helicopter and they saw some men trapped and wounded by heavy shooting.  They then landed and rescued them."  John later confirmed the story for me.  "He was a regimental advisor in the central highlands and so was often flying over 'hot' areas.  In that case he directed his chopper to drop down and extract soldiers from another chopper that had gone down.  This was under fire and he was awarded the Soldier's Medal," he explained, adding "It was not something he ever talked about with any pride or sense of accomplishment."
So it's moments like these, stories like these that honor our heroes.  I only wish I were able to meet my great uncle to ask him these questions myself.  I only wish I could hear him talk about small heroic stories that have been passed down through my family like the one my dad told me.  But I am grateful for the chance to learn his and his family's story now.  Because as long as someone is around to tell a hero story, someone will be here to listen.  It's never too late to learn.  It's not too late to honor.  And it's never too late to love.  After all, when being driven by 'duty, honor and country,' we can become closer together and stronger than ever before.
About the Writer
Katie Pierce, Editor in Chief
Katie Pierce is a proud senior at Lake Forest High School. Besides being Editor-in-Chief of TFS, Katie is a drum major of the LFHS band, and spends most...