The Forest Scout Friday Five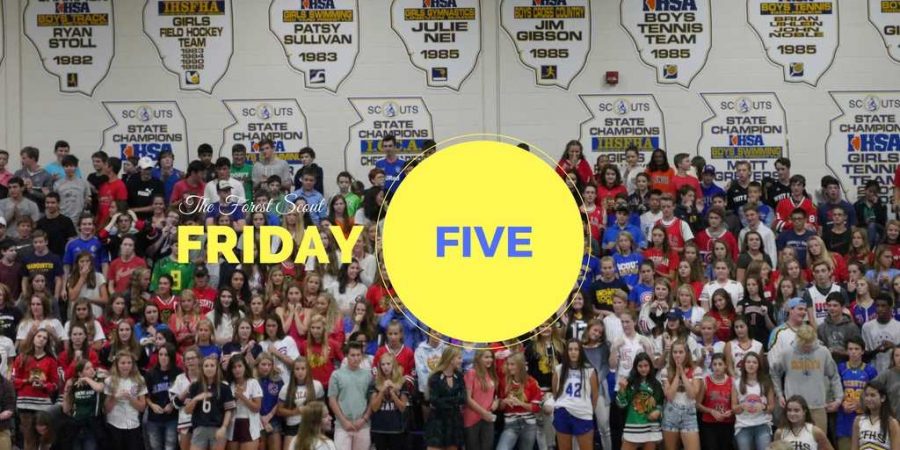 The Forest Scout Friday Five is a weekly segment that celebrates five people making a distinct, profound, and positive difference in the Lake Forest High School community. To visit our most recent installment, click here. To recommend a student, teacher, support staff, or community member for inclusion in The Forest Scout Friday Five, please email [email protected]
Cameron Redding: Senior Cameron Redding might be the last in the school to describe himself as a typical Friday Five candidate. He's reserved, shy, and doesn't ooze an ounce of ostentatious look-at-me self-promotion that pushes his own importance on people. "That's just what makes him special, though," echoed senior Holly Malnati. "Everything he does is so genuine. It comes from the bottom of his heart and you can tell."
Redding, a senior who participates in cross country as well as Madrigals, the holiday a cappella group at LFHS, has earned the respect of his classmates and teachers by proving his responsible, you-first sort of kindness that has come to be his modus operandi.  He's the road chair of the choir program, which makes him responsible for ensuring the safe-keeping of all of the robes when the choir is on the road, so he is reliably consistent, but is also forward-thinking. "Outside of being a fantastic singer," his choir teacher, Mr. Tim Haskett, mentioned, "Cameron is one of the nicest person's you could ever meet.
Redding's schedule is occupied with some of the most deep-thinking classes LFHS has to offer. He begins his day in humanities learning the religions and perspectives of the world, moves on to New Media where he can help creatively craft visual stories of others, and then–after a quick break–heads to AP Psychology to challenge himself with all of the complexities of the human brain.
Though, in the case of Cameron Redding, it is not the brain or braun that has made the man; rather his comely, genuine kindness tells others all that they need to know about this well-respected senior.
Ms. Monica Fumarolo: The Lake Forest High School head Librarian, Ms. Monica Fumarolo, is very self-aware. "She loves to read," shared one freshman student when prompted to articulate all that she knew about Ms. Fums, the school librarian. In fact, it might be one of the first things Fumarolo would share about herself. And, more power to her, she has no qualms in showing it.
Her tireless work promoting Teen Read Week has been boundless. In order to help kids grab a book and dive in, she has made buttons, tried her hand at developing a mini golf course, orchestrated a book drive, and even created giant Jenga. If you follow the library on Instagram (@lfhs.library), you see Ms. Fumarolo behind the scenes showcasing new authors and genres, always highlighting fabulous books that other students or adults have read to motivate young readers. In addition to the 'gram, however, Fumarolo has made the library more visible than it has ever been at LFHS. You can now follow the library on Twitter, Tumblr, Goodreads, Pinterest and WordPress to learn about all that the library is reviewing and researching for you, the students.
The library–thanks to Mrs. Fumarolo–has also become more of an academic center than it has ever been. Each day you'll see it used to its fullest benefit, chock-full of kids studying for tests, reading silently, or exploring for their newest reading endeavor. She has spearheaded the Varsity Reading Team to get passionate young readers a forum to help grow their craft, invited best-selling authors into the building to speak to students, and managed the circulation desk with efficiency and friendliness, all in her first three years at LFHS. 
Fumarolo, a University of Illinois graduate and the former assistant librarian at James B. Conant High School in Hoffman Estates, has been a godsend for teachers and students alike. Recently, Ms. Fumarolo has also started Wednesday Brain Breaks filled with interesting lunchtime activities. Perhaps, after all you've done for us, Ms. Fumarolo, you deserve a break. 
Olivia Headley: Anyone who knows sophomore Olivia Headley can attest to the fact she is one of the sweetest people you will ever meet. While she has only been in the high school for merely a year, she has already made a long-lasting impact in our community.
Olivia has been on the school's JV cross country team for two years and is arguably one of the most cheerful people on the team. As said by one of her teammates and close friend, sophomore Katie Gilcrest, "Olivia is really one of the most hardworking and sweetest person I know. From making 16 reps of 400s bearable (almost fun while talking about pizza), to staying up well past midnight teaching me how to name compounds, she is an amazing friend. She's always there, most importantly, with chocolate pretzels after meets."
Olivia not only makes cross country bearable when the team goes on 3-mile runs, but is planning on joining the track team this year, so make sure to keep an eye out for her beaming smile and words of encouragement at tryouts."Her bubbly personality and laugh is something you can pick out from any crowd is always contagious," Gilcrest also added. In addition to being a hardworking athlete, she also excels in school and never falls short of near perfection. Carrie Saginur, a close friend and classmate, mentioned "She consistently works on everything until it is absolutely perfect which is something I really admire about her." If you ever are fortunate enough to have Olivia in one of your classes, feel free to ask her if you need some help because of her innate diligence and cheerfulness, she will without a doubt be able and willing to assist you.
As well as being involved in our school's athletic program, she also is involved in many clubs at our school. She has been a part of Women's Club and French Club since last year. Madame Sperling, her french teacher, mentioned that "'Geneviève', as I call her, always has a smile on her face and a very positive attitude. She is willing to take risks with the language and is enthusiastic about French.  She was such a pleasure to have in class last year." If you don't have the pleasure of seeing Olivia in school or on the track, make sure to catch her friendliness at either of these clubs that she never fails to show up for and contribute to. Even if you don't know Olivia, she is very easy to approach.  "Anyone who knows her knows she is super friendly to everyone, even if she doesn't know them well," added Saginur.
Every year, we get a new set of people that join our school's community. Last year's incoming class came with the lovely Olivia Headley and the school has been better off ever since.
Lucas Redding: Lucas Redding isn't the type of kid that you'll miss walking down the hall; he's an eye-catcher. You will probably see him strutting in some joggers, red tips in his hair, and his day-brightening, ear-to-ear grin worn across his face. He will definitely say hello to you, ask how you are doing, and tell you to have a nice day (whether you know him well or not). You see, Lucas isn't the regular "hides in his hand" type of high schooler you are used to passing in the hallway. He is one of the most genuinely happy people in this school, and wants everyone around him to feel the same way.
Being a smart, confident, two-sport athlete, it could be very easy for a student to brush off those around him and just be "Mr. Cool," but Lucas is different. "You just get attached to him," says Lucas's big brother in the basketball program Sean Trkla. "Lu is one of those kids that goes about his day with an incomparably positive attitude. He doesn't care who you are; he wants you to experience the same happiness he has on a daily basis. I'm really proud to call him my little brother," added the senior who helped show Redding the ropes as a freshman.
Trkla definitely isn't the only one drawn to Lucas's charm. "Lucas always finds a way to make you laugh," said close friend and fellow sophomore Jacen Riedel. "Whenever I'm down he's the first person to go to. He's just a great friend to have," Riedel added.
It's clear Lucas Redding is a joyful, kind-hearted, caring student who we are proud to have in our community. Thank you, Lucas, for making LFHS a better place simply with your presence and confidence in your own skin.
Claudia Delhey: As an outgoing freshman on the tennis team, Claudia Delhey dominates the tennis courts just as well as she dominates the style game. Her outfits and personality are both outgoing and radiant. When her name was brought up for Friday Five consideration, a class full of seniors and juniors responded with exuberant shouts of her being "so sweet!" and "the best."
Like all Friday Five nominees, you can always count on Claudia to say hello in the halls and never hesitates to have a quick conversation. She's the oldest of two, being a great role model for her sister, Sophie, who is a seventh grader at Saint Mary's. Claudia has definitely made an impact on students of all ages at the high school for her stellar personality.
Brett Chody exclaimed, "Oh my gosh, I love her!" when asked to share her two cents on the freshman. Her attitude didn't start this year, however, as fellow graduates of Saint Mary's recall her always helping her friends with homework and. As Caroline Carter puts it, Claudia has an "extremely contagious laugh and is willing and able to help almost everyone." She is known for constantly cheering up her peers, and putting others be herself all the time.
Her hilarious jokes, nonetheless, are part of her personality as well. Ellie Pierce mentioned that Claudia can always make any situation fun as she is sure to bring the best out of everyone. Look for Claudia in the halls as her peers are quick to notice and mention her bright smile that seems to never leave her face.
About the Writer
Ghost, Author
Ghost is a section of The Forest Scout that chooses to publish material anonymously in order to increase the depth of their investigative reporting. Ghost...