The Forest Scout Friday Five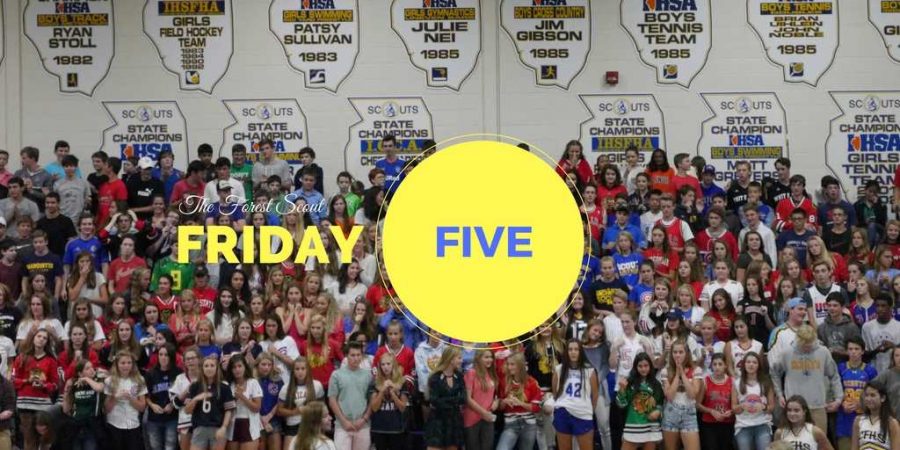 The Forest Scout Friday Five is a weekly segment that celebrates five people making a distinct, profound, and positive difference in the Lake Forest High School community. To visit our most recent installment, click here.  To recommend a student, teacher, support staff, or community member for inclusion in The Forest Scout Friday Five, please email [email protected]
Tom Reau: If you've ever played a sport at Lake Forest High School, then you have definitely been impacted by Mr. Tom Reau even if you don't know who he is off-hand. Reau is the head of grounds for Lake Forest High School which means he oversees the maintenance and work on all athletic fields at both East and West Campuses. While his work is often underappreciated by the student athletes and faculty members, Reau works tirelessly throughout the year to make sure our grounds are impeccable day in and day out.
For Reau and his crew, work often begins at 6:30 am and continues until 4:30 pm, when the day's work is complete. With just one turf field at Lake Forest, Reau and his team are always busy ensuring that the grass is cut and paint lines are in place before the sports teams come to play. If you've been to West Campus, you've probably seen the massive amount of land and grass that Reau needs to cover. Combine that with the East Campus lawn and fields, and you realize just how much Reau is in charge of. Two fields at East Campus, the front lawn, the five fields at West, the three baseball and softball diamonds, Varsity Field, and the tennis courts all fall under his control. Even though the Varsity Field turf is nearly ten years old, an independent turf inspector once commented how great the condition of the field was despite its age. With many games on the turf each year, it is clear that Reau's hard work and skill have contributed mightily to the quality and longevity of our athletic facilities. When you think about everything he has to manage, you realize just how much Tom Reau does for our school.
At heart, Mr. Reau is a hardworking and dedicated individual that will do whatever it takes to make Lake Forest High School the best around. He is a man that loves his job, his co workers, and this school. His work ethic, character, and hyperbolic humor make him an enjoyable person to work with, and an important asset to our school and athletic department. Here's to Tom Reau and the work he has done and will continue to do for Lake Forest High School. The next time you take the field for your team, or look at the front lawn, take the time to thank Tom Reau and the grounds crew on their tremendous work to make our athletic and school experience as good as it can be.
Landen Messner: At LFHS, students and teachers alike know Landen Messner to be a radiant, respectful, and hardworking junior. One of four Messner boys who have either attended the high school or are currently attending the high school, Landen exists as one of the most well-rounded students the school has to offer. His broad variety of interests include involvement in many AP and Honors classes, baseball, football, intramural basketball, and taking guitar lessons. More importantly, Landen's amiable, all-embracing, jubilant personality is easily recognized by his peers. One of Landen's close friends, junior Cece Rytell says, "It doesn't matter to him if it's one of his close friends or someone he may only have one class with, he is consistently trying to cheer people up." It has become easy to associate Landen with a smile and laughter when you see him in the hallways. Landen's ability to bring people together and foster comfort among them have led to the creation of Landen's countless nicknames. Whether it be L Mess, L Train, Landino or the classic, 'Sner, it is fairly obvious that people are drawn into Landen's approachable and welcoming personality.
In and out of the classroom, Landen is one of the hardest workers you'll meet at LFHS. Junior Adam Khater laughs remembering Chem Honors study sessions where Landen would, "Always make sure the group finished every single question that was on the review packet and didn't let us leave until we did." It is a remarkably important skill to be able to discern when it's a time to joke around and laugh and when you need to direct your attention to more important things, like schoolwork. Luckily for Landen, he has perfected this craft. His consistent grind on and off the field has coined the popular phrase, "Light work."
A perfect example of the intertwinement of Landen's hard work and cheerful personality, "light work," is an expression that showcases the fun-loving yet down to earth personality that Landen has. Likewise, Landen has been involved with athletics and music outside of school. He  played a significant role in the success of the sophomore baseball team, starting at third base and batting at the top of the lineup. When it comes to music, Landen's passion and enthusiasm for the guitar is shown through his love for classic rock and jam sessions with friends. Whether you see 'Sner in AP Chem, on the baseball field or in one of the chorus practice rooms jamming out, you can be sure to expect a beaming smile and ample laughter.
Mrs. Rebecca Sorensen: From the study of light and Quantum Theory to the principles stated in the Kinetic Molecular Theory, complex topics are covered throughout the course of a typical chemistry class. These, of course, can end up being some of the most confusing lessons you'll learn in your high school career. Even the titles themselves are difficult to understand. To many, chemistry, at times, can be as challenging as literal rocket science–that's because it really is–(one of the first labs of the year being the construction of your very own rocket). No college-level class, let alone chemistry, that you take in high school is going to be a walk-in-the-park; it's just not how school works. But thanks to teachers like Mrs. Sorensen, such an elaborate, demanding style can seem pretty straightforward and, often times, made much easier.
Those who have been lucky enough to have Mrs. Sorensen over the years will know her not only as one of Lake Forest's most dedicated and outgoing members that the faculty has to offer, but more importantly, what many would refer to as the true embodiment of a "cool" teacher. Whether it's asking each individual student "what's new?" or "how's your day going?" as they walk into class; or effortlessly putting a smile on everyone's face with her lively sense of humor, there is never a day you'll walk out of chemistry without laughing–at least a little– here and there and just simply feeling good–even on the dreaded unit test days. With that being said, it's fair to say that Mrs. Sorensen is just as interested in the personal lives of her students as she is in Einstein's Theory of Relativity, which is saying a lot because she loves anything and everything that has to do with chemistry.
Aside from her cool, relaxed demeanor, Mrs. Sorensen's top priority day-in and day-out is the individual success and growth of each of her students. Teaching both Honors Chemistry as well as AP Chemistry, Mrs. Sorensen knows the difficulty of the two classes and never falls short of providing extra help and guidance whenever a student asks or when she feels that it's in their best interest. From printing out endless amounts of practice problems to review for the quizzes and tests to staying after class to personally explaining the key principles discussed in the new notes packet, Mrs. Sorensen's commitment and devoted effort toward her students' success is unlike any other.
Landen Messner, a junior (who is coincidentally in the Friday Five this week) has been a student of Mrs. Sorensen for the past two years now, described her as "Without a doubt one of the best teachers in the school. Every day I look forward to coming into chemistry class not just to learn about one of my favorite subjects, but also to joke around and have a good time with my favorite teacher."
Natalie Waite: As freshman, we often find a club to that suits our most resounding passions and interests, which is good. We join tennis or field hockey because we love the sport, join the Scholastic Bowl team because we feel we can dominate at academic trivia, or simply involve ourselves with Big 2 Little because we want to help others.
That's essentially what Natalie Waite did when she joined the band, but it is her adaptability and willingness to take on new roles that makes her truly a one-of-a-kind freshman. Junior Drum Major Katie Pierce praised Waite for stepping up for the marching band even though she wasn't able to use her primary instrument, the oboe. "She learned her new role in two weeks," Pierce mentioned in admiration. "It wasn't her primary instrument, but she did what was best for the group in a very selfless move." Although her skills are most adept in the flute choir, Waite saw her involvement with the marching band as a way to grow herself musically, which is pretty mature for a 14-year-old with all that she has going on.
Outside of just the choir and band room, however, Waite has made a profound impact on her Wellness for Life course. So much so that her TA, Sean Trkla, was in awe of her ability to make people's days better and recommended her for inclusion in this week's edition of the Friday Five. "She always asks how my day is," mentioned, Trkla, the lively, energetic senior. "She's always active cheering on a team, not just individuals and she goes out of her way to look for a way to make someone's day better." Normally, freshman shy away from seniors and are reluctant to even engage in conversation with them–especially when it is not required for some type of assignment. "She's different," Trkla added. "A very nice change of pace in terms of confidence and a genuinely positive vibe."
As Waite grows older and continues expanding her leadership roles while trying new things in the process, look for her to be a vocal and social leader for LFHS students striving to take on new things with a positive attitude. After all, the character traits that exist between the list of clubs and activities on your academic resume are ultimately the most important.
Keenan Jajeh: Keenan Jajeh might fly under the radar in the hallways, but in the classroom it's a different story. Born of Syrian descent, Keenan is a charismatic, humorous, genuine junior at Lake Forest High School. He can flip the mood of the room completely on Mondays. Those who are lucky enough to share a class with Keenan will agree; Junior Bobby Winebrenner mentioned "There have been times in Enviro where Keenan has made a joke from the back of the room, and Mrs. Davenport has had to stop class because everyone was laughing so hard. Even she would share a reluctant chuckle." It's hard to think of Keenan without the thought of his sarcastic remarks popping in your head, forcing you to laugh.
He's able to relate to many others at Lake Forest due to his vast extracurricular schedule. On top of his already tireless junior year schedule filled with AP and Honors classes, he still manages to extend his workload after school. Keenan's an avid member of Model United Nations. Zeyad Alam, another key junior in Model UN had this to say about Keenan: "He really improves the Model UN environment by bringing his tech skills to the program. It's a big help." Keenan also participates in chess club, math team, ping pong club, flag football, and is a saxophonist for the school band. Senior flag football teammate Cade Coughlin echoed the aforementioned sentiments shared by all teammates of Keenan. "He adds to the practice competition, he's the only non-senior who comes to practice and has really showed a commitment." This, yet another impressive club, aligns Keenan with some of the most decorated students at Lake Forest.
Keenan's also an extremely nice kid who doesn't mind what others may think of him. He rocks an android phone and embraces the green messages he sends to others, even making jokes out of it. Keenan's radiating personality appeals to virtually everyone who's been lucky enough to get to know him. While he might laugh at "roasts" or "flames" yelled across the room, he'll always go out of his way to pick up a peer when their down, noticing them when most others won't.
About the Writer
Ghost, Author
Ghost is a section of The Forest Scout that chooses to publish material anonymously in order to increase the depth of their investigative reporting. Ghost...