The Forest Scout Friday Five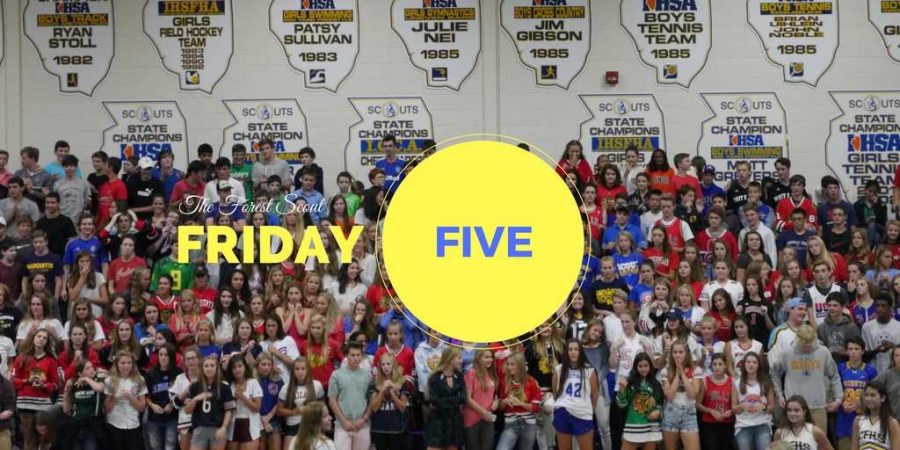 The Forest Scout Friday Five is a weekly segment that celebrates five people making a distinct, profound, and positive difference in the Lake Forest High School community. To visit our most recent installment, click here.  To recommend a student, teacher, support staff, or community member for inclusion in The Forest Scout Friday Five, please email [email protected]
Matthew Casper: Entertaining. Intelligent. Sociable. The first three words traditionally used to describe sophomore Matthew Casper are ones that elicit positive memories. Whether it is learning something new in class by way of his intelligence, sharing a laugh at a joke due to his highly entertaining style of comedy, or just a candid conversation yielded from his highly sociable style, Matthew Casper brings joy to others. "Matthew is the sort of guy who is constantly lightening the mood," shared fellow sophomore Casey Murray, who shares Latin class with Casper. "He's always happy to make some ridiculous comment on how crazy life is, and every once in a while he really hits it out of the park and you can't help but crack up."
Casper the Friendly Student stacks his schedule with AP (Seminar) and Honors (English-2H, Chemistry-H, Latin-3H, and Math Analysis-H) courses, but also makes time to share his sense of humor in videos with his enrollment in New Media. Meanwhile, his participation as an active member of the sophomore football team at LFHS as a 5'11 160 lb. tight end/linebacker rounds him out as more than just a student. "He's just a really interesting young man," shared one of Casper's teachers. "Always very inquisitive and finds his own unique entry point into whatever topic we're discussing in class."
Though Casper's favorite class might be Latin, as he loves to remark how English has "won" because they have developed more words, Casper makes time for all classes and all students. "Genuinely speaking, everyone enjoys his presence. Whether you're a close friend of his or not, he makes classes more entertaining and insightful, which goes a long way."
In high school, positivity and happiness are perhaps the most contagious traits. Sophomore Matthew Casper is certainly doing his part to share the smiles around 1285 N. McKinley Rd.
Gina Sobhy: For a 16-year-old junior, Gina Sobhy certainly can work a room. "As soon as she enters a room, you can feel Gina's presence," shared Julia Plotner. Sobhy's outgoing, can't-miss personality is shared with the Exec Board of CROYA and many other leadership positions in the Lake Forest/Lake Bluff community. A badminton player in the spring, Sobhy, who is of proud Egyptian ancestry, is best known for the genuine way she goes about caring for people. "Everyone that she comes into contact with, whether it's in sports, class, or just socially, she cares about. She truly cares about making the world around her a better place, and that starts within the high school.
One of Gina's best friends, KelliJean Camardo, values Gina's friendship for her ability to be trusted. "I can tell her anything," Camardo, a fellow junior shared, "and she always approaches things without judgment. She understands your perspective first before offering any counsel or advice." Aside from her trustworthiness, Kirsten Larson, another close friend of Sobhy's, reiterated the fact that Gina finds the sunshine in each and every day, constantly pushing those around her to see the good in people, situations, and even through adversity. "[Gina] knows to find the good in everything and everyone. She uses her influence to spread a caring, nurturing environment for those close to her."
Even Gina's teachers agree that her personable nature is uncommon. "Grea kid, super personable," shared Ms. Meaghan Laughlin, Gina's teacher for AP Language and Composition. Of course, Gina's social nature has been carefully developed and nurtured over time, and most believe she gets it from her parents, who are as equally friendly and kind as Gina. So next time you are in a room and Gina Sobhy walks in, and her curly hair, tall frame, and wide-eyed smile command your attention, you'll know who we're talking about.
Mr. Mark Kuhl: History, of any kind, can sometimes drag on to be one of the most incessant, ceaseless classes of the day–dates, people, events all needing to be memorized. Without your daily brew of coffee, staying awake in a warm classroom with the teacher lecturing on about the Battle of Antietam in the Civil War in a gentle tone early in the morning is can sometimes seem impossible. For many prestigious, experienced teachers, such a task has been a challenge since the beginning of their educational careers. To keep a room full of 20 to 25 teenagers, especially those of our absent-minded iGeneration, interacted and intrigued about topics such as the agricultural techniques of ancient Mesopotamian society is a job too demanding for even the most outgoing, extroverted members of the teaching staff. Still, despite the rigor and demands required of such a position, one man has been able to effectively share his vast historical knowledge with his students while making the classroom environment casual yet incredibly efficient and informative-for over 31 years: Mr. Mark Kuhl.
Many, including myself, sit back, scratch our heads, and simply wonder: "Mr Kuhl, how do you do it?"
Whether it be his often corny, dad-like selection of jokes or his array of quirky yet humorous mannerisms, Mr. Kuhl finds a way to cultivate the minds of his students with various new aspects of history while always keeping it interesting. Although AP U.S. History is considered by many to be one of the most challenging history courses that Lake Forest has to offer, Mr. Kuhl makes it all worthwhile; believe me when I say it. As an AP course, the content and requirements of such a class can seem brutal at times by students as many cannot comprehend the possibility of remembering a single piece of information from the textbook reading from the night before, or having the slightest clue as to what each historical document really meant. Being one of those paranoid students, I realized there was nothing to sweat over thanks to Mr. Kuhl's infamous college-style lectures the very next day, as he always made sure to clear the air and provide a sound explanation with his assortment of historical facts that he manages to infuse into each explanation.
One of his former AP students puts it best. "I'm not going to lie, his class kicked my butt. That being said, never before have I learned and been able to understand history before than I did in his classroom. I felt over prepared for the AP exam. Trust me, you'll learn a lot from this man."
Mr. Kuhl, being a graduate of both the University of Virginia as well as the University of Northwestern, two of the most distinguished and renowned universities in the country, plus his 31-plus years of teaching experience, Mr. Kuhl, without a doubt, is one of the most intelligent and intellectual teachers to have ever set foot in Lake Forest High School. Though this year marks his final year at Lake Forest before he enters retirement, I can assure you that Mr. Kuhl has left an impact on each and every one of his students over the past three decades.Lake Forest has been both privileged and blessed to have the dedicated yet scholarly presence of Mr. Kuhl since August of 1986, and will always be thankful for the knowledge and unique style of education he has bestowed upon his students each day.
Lincoln Updike: You may know him from his prowess on the tennis court, or from his stance on the football field at the half-time show, but senior Lincoln Updike is hard to miss. Along with his ability to smack the ball back and forth on the tennis court for the boys varsity tennis team, Lincoln plays bari-sax in the LFHS band, and is also talented pianist, performing at Honors Band recitals and working part-time as a piano instructor on the side to earn a little extra cash.
Between tennis practices, band rehearsals, and piano lessons, however, Lincoln still finds time to have a good time. He is known for his humor and his infectious smile, and when around him, it is hard to stay in a negative mood. "[He] always does stuff just because people think he won't do it," says good friend Augie Cirame.
Updike, a 17-year-old Lake Forest resident, goes above, beyond and out of his way to make others laugh, often challenging the social norm to make his friends smile. If you can't find him in the band room, on a piano bench, on the tennis court, or hanging out with friends, you can find him in the classroom, where he challenges himself in difficult courses. Ranging from AP Computer Science to Multivariable Calculus, Lincoln Updike is a focused and hardworking student.
Despite all that he has going on in so many different areas, senior Lincoln Updike is certainly someone who is forging a positive path for his little sister Ashley (and many others) at LFHS.
Howard from Kiddles: Anyone who grew up playing youth sports at least has gotten a glimpse of the humble, bald man behind the counter at Kiddles, a Lake Forest Sports store located in Market Square. He seems to be the first to say "hello," and quickly follows with a "how may I help you?" Whether you're buying baseball pants or simply purchasing a t-shirt, Howard is typically the one to help you out.
When you walk through the glass door of the store that has been a mainstay in Lake Forest for decades, Howard's is the first face you see. For someone who has been going to Kiddles for as long as I can remember, my family and I have developed a good relationship with Howard. Even going into Kiddles once, you will remember Howard's name when you leave. He is the type of man that will approach you as you are trying on shoes in the back corner and try to make conversation about what it is that you are in search of. Howard has been working at Kiddles for quite some time, and for the past 17 years in my life, he has become more than just a familiar face. He is a down-to-earth, kindhearted man who provides great service to his customers.
Aside from his social nature as a helper, Howard's knowledge on sporting goods is well above par. He knows everything–from the best type of lacrosse stick you need to the best fitting basketball shoe Kiddles has to offer. As a young child, it's hard to be able to put yourself out there to adults, especially strangers you don't know that work at a sporting goods store. However, the social barrier always breaks when you are being helped by Howard. For any new family encouraging their son or daughter to play youth sports, Kiddles should be your first stop to get the best gear with the best service. Also, say hello to Howard behind the counter, and you're bound to share a smile.
About the Writer
Ghost, Author
Ghost is a section of The Forest Scout that chooses to publish material anonymously in order to increase the depth of their investigative reporting. Ghost...