The Forest Scout Friday Five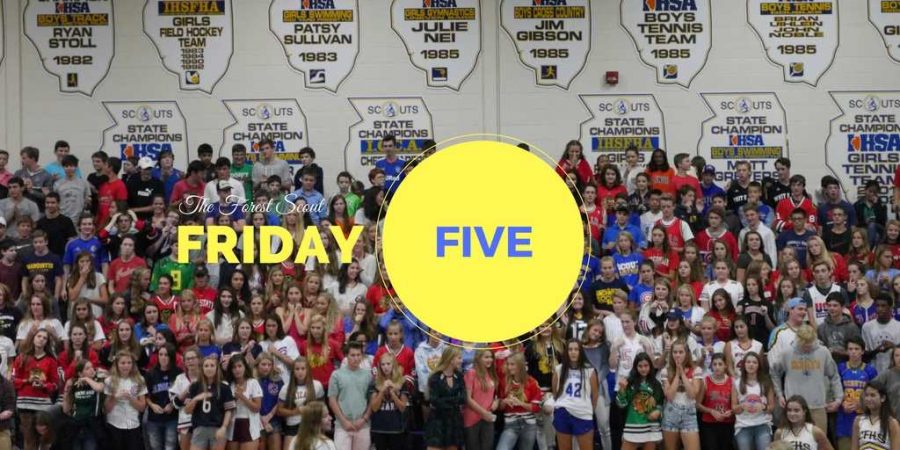 The Forest Scout Friday Five is a weekly segment that celebrates five people making a distinct, profound, and positive difference in the Lake Forest High School community. To visit our most recent installment, click here.  To recommend a student, teacher, support staff, or community member for inclusion in The Forest Scout Friday Five, please email [email protected]
Mme. Laura Sperling: For anyone who has dabbled in a little Francois at LFHS in the past few years, you were luckily most likely to have the lovely Madame Sperling as your teacher. Many people, like senior Madison Davalle, often refer to her as "Mama Sperls," due to her outrageously big heart and her attentiveness to every one of her students that makes everyone in her class not only feel loved, but important.
While Madame Sperling has been teaching French here at Lake Forest High School for many years, every lesson she teaches is just as entertaining and informative as the lone prior. In the wise words of two year French Club President Emmet Brady, who not only has had the privilege of being in her class, but also working outside of school with Madame, he mentioned her as "an easygoing teacher who isn't quick to snap at students during class." Aside from just being patient, however, she is forward and innovative at the center of instruction. "From my experience, she does a great job of making learning an interactive experience." Classes with Madame can include anything, like traditional note taking on verb tenses to playing intense games of Kahoot, eating baguettes with Nutella, or even listening to her favorite French musical artists, Emmanuel Moire.
While Madame Sperling is frequently described as extremely kind, she is also steadfastly dedicated to the success of her students. Junior Jake Koefelda described Sperling as "a fantastic teacher who cares about each of her students, not just academically but personally. She is incredibly friendly and her class will make your day that much better." A key role in why Madame is such an accomplished teacher is not only because of her genuine nature as a person, but the fact that she leaves no student behind. No student in her class ever feels embarrassed that they are confused or scared to ask a question. Madame is always more than happy to explain anything you are having trouble with in class, after class, or before or after school. Her approachability and belief in every student significantly aids everyone in her class to be able to perform to the best of their ability.
Whether you are a wannabe Parisian or not, Madame Laura Sperling would be there for you in the blink of an eye if you needed her. If you are ever looking for a language to pick up with a phenomenal teacher, or simply a person to confide in or brighten up your day, stop into room 44 to speak to one of the most genuine teacher's Lake Forest High School has to offer. The hardest part will be finding the room.
Erik Luedeking: Though he may be mild at times, it's hard to miss junior Erik Luedeking. Perhaps the aforementioned fact can be attributed to "Lueds" standing at about 6'3″ with bright red hair. Certainly that may be part of it, but Erik Luedeking is more widely known by his classmates for his observational humor, no-stress-we'll-get-through-this type of attitude, and the shy grin written across his face at nearly all times. In fact, when recently explaining to his golf coach, Mr. Jim Matheson, that he had to hustle home from a meet to attend the homecoming dance, he mentioned that he "can't help it that the girls love me, coach."
All kidding aside though, people do love Erik, especially on the golf course and tennis courts. Erik competes as a member of the varsity team for each sport, but aside from his ball-striking acumen–be it a little white ball or a bigger yellow one–his demeanor is what rubs off on his teammates. "Nothing better than playing a round with Lueds," mentioned teammate Scott Frevert, a senior captain of the golf team. "He's always very complimentary and soft-spoken, but is willing to have a few laughs along the way. And he's not a complainer. I appreciate that."
Before his long hours on the course or court begin, Luedeking is always on his game in the classroom as well. The junior, who has now had Dr. Dukats for two straight years of English, proclaims that this scheduling coincidence was "the best thing for him as a writer and a student." In addition to AP Language and Composition, Erik is enrolled in AP Environmental Science with Mrs. Nawor, as well as the Business Incubator class with Mr. Pulio.
Just last week, Erik took the AP Enviro field trip to the farm, got back to school, hopped on the bus to Waukegan, played 9-holes of golf, and went home and took care of at least two hours of homework all without complaint. "That's Lueds," Frevert added. "His golf swing takes the ball far, but his kindness takes the person farther."
Peter Sullivan: If you were to ask your typical high school student what they want to study in college, or even where they want to go to college, you'd be greeted with a blank stare and a cold sweat. Senior Peter Sullivan, however, is the exception to the rule. Peter has  known what he's wanted to do with his life since his days roaming the halls of Cherokee elementary school, and has taken advantage of every opportunity presented to him so far. In high school, he has been a participant in nearly every production the theater program has put on–Sweeney Todd, Hello Dolly!, Radium Girls, Grease, and Urinetown, just to name a few. At the beginning of this year he also had the opportunity to direct his own One Act, which was, naturally, a smashing success. Senior Cailey Hiam said that, "He's a strong leader in the theater department and puts a ton of dedication into acting." When he's not in rehearsal blocking a scene or running lines, Peter manages an academically challenging course load full of honors and APs, as well as staying on top the bane of every senior's existence–college applications.
For those who know him well, Peter is much more than just a theater buff. In the summers he lifeguards at Exmoor Country Club, and is an active participant of the boys swim team to boot. He's quite possibly the punniest person at this high school, and according to senior Nell Dasso, "a truly great friend. He's always looking out for those he cares for and brings a smile to everyone's face whenever he's around. He's a gem and is really an amazing person." Between his theatrical aptitude, his academic success, and his perennial positivity, it's no wonder that Cailey Hiam feels the need to tell him, "Don't forget me when you're famous!"
Ms. Laurie Hektor:"Hey hun, how are you?" It's a simple greeting. But if you are having a bad day, something as simple as that can turn it all around. This is the greeting that everyone gets from Ms. Laurie Hektor, the head barista at The Daily Grind, as they walk into the coffee shop at LFHS. Laurie Hektor works in Food Services at LFHS and is one of the people behind LFHS' uber-successful coffee shop. "She's so friendly and brightens my day every day," noted senior Elizabeth Porter. Kids go in and out of the coffee shop all day and are sometimes in there for less than a minute, but it's enough time for Laurie to make an impression. Now, there are a lot of people who work with Laurie in food services at the high school, all of whom do a fantastic job everyday. So, what has Laurie done to leave such an impression on the students?
It may have something to do with the lovely greetings you receive when you get to the front of the line, or maybe it's just Laurie's warm and welcoming personality. In my personal opinion, I think it's the way she carries herself day in and day out, with the most consistent positivity. Every time you see her, she is smiling and talking to somebody. "She's just a very lively person. She adds a very lively aspect to the coffee shop," explained senior Holly Malnati.
Laurie takes the time to make every student feel special and cared for. She makes every interaction feel personal, "It's really nice–she lets me pick what specific muffin I want," said senior Cosette Bevis. Laurie Hektor interacts with as much if not more students than any teacher in the building on a daily basis. And her positivity shines through to each and every person.
On top of all of that, though, Laurie and her colleagues keep the coffee shop moving like a well-oiled machine. This cup is for you, Ms. Laurie Hektor. You are an example of someone that goes the extra mile every day and for that, we thank you!
Robert Hammond: Every single student at Lake Forest High School attends Math class on a daily basis. But those who are lucky enough to share their Math period with junior Robert Hammond know that they are in the presence of greatness. In fact, Robert, who also plays the pep band as one of the drummers has graced three math classes with his presence this year: Honors Advanced Math Problem Solving, Honors Advanced Computer Science, and AP Calculus BC. Just to put that into perspective for a moment, those are three of the hardest math classes on campus at LFHS and Robert is enrolled in all three. In the same semester.
Despite his affinity for solving for x, y, and other unknowns, Robert's other teacher's testify that he is a well-rounded, balanced student. "I never heard him talk about Math one time until one his classmates mentioned that he was giving Euclid and Will Hunting a run for their money," mentioned his freshman English teacher Austin Scott. "He is an all-around great thinker. He led a lot of our discussions on Siddhartha's life being rooted in the middle path as a freshman. He read Chuck Klosterman essays, discussed character development, and loved learning new vocab–I had no idea about the Math prowess."
Indeed, Robert also indulges in English 3-H with Ms. Eccleston, Honors Mandarin 3, AP (early bird) Geometry, and Outdoor Education. Robert's creative mind is pulled in a lot of directions in a mere six hour period during each school day, but he manages it all in stride and just keeps on beating to his own drum (no pun intended). "He's one of the most dedicated, spirited members of the marching band," mentioned senior Will Steck. "There's no one else quite like Robert."
Perhaps in ten or fifteen years–when self-driving cars and artificial intelligence is the norm based on algorithmic math–we can truly appreciate the genius that is junior Mr. Robert Hammond.
About the Writer
Ghost, Author
Ghost is a section of The Forest Scout that chooses to publish material anonymously in order to increase the depth of their investigative reporting. Ghost...