Like No Other: The Story of the LFHS Glee Club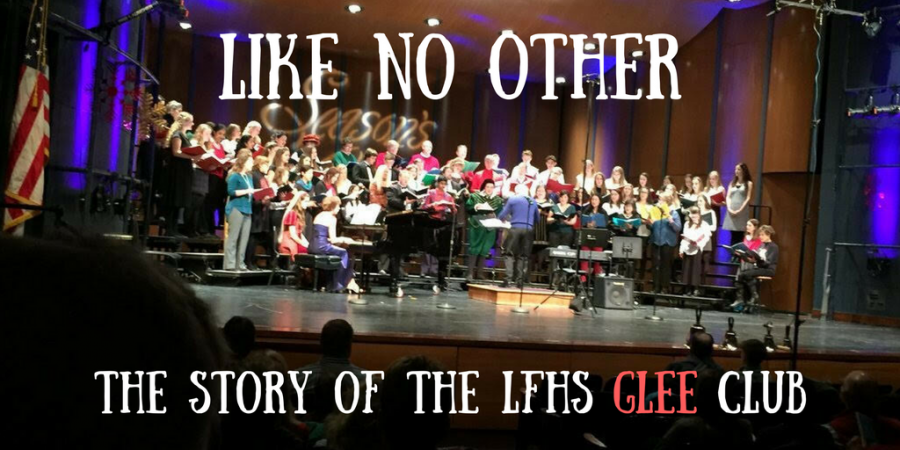 At Lake Bluff Middle School, amid all of the advanced algebra math problems and the trademark cookies that melt in your mouth, was an enthusiasm for music pervasive among all the student body.  In fact, almost all of the students enrolled in the middle school participated in some sort of music: band, choir, and often times, both.
But when we all got to high school, we all had to make some choices.  Many kids chose sports over band, choir and orchestra, but some had to choose between band and choir.  Naturally, band was the choice for me.  However, singing has remained a part of my life throughout high school thanks to a club like no other: the glee club.
"Well, I started it 31 years ago," Mr. Haskett told me when I sat down with him for an interview.
 "I wanted to selfishly find a way to get the parents involved, and the community involved, because I felt like if I was able to do that, then they would buy into the idea of what a good music education can really mean for kids."  
That first year, he communicated with the students, parents and teachers and was able to draw a choir of 95.  Mr. Haskett also thought his new 'glee club' would draw students with no room in their schedules for choir (like myself), allowing them to still have the option of singing in their school day. "I know of about four or five students that are going to be joining (glee club) because they couldn't fit music into their schedule," he told me.
Glee club is different from every other club in that it isn't just made up of students.  Glee club is open to all singers, be it teachers, community members, parents or students.  Some teachers that have participated in glee club in the past include Mrs. Stoll and Ms. Kyrias.  Parents and their kids sing in glee club, and sometimes grandparents, their children, and their grandkids sing in the glee club.  Through glee club, I have met community members that make my Tuesdays much better, and I always look forward to visiting with them at rehearsal.
"It's something that once you start it, it just snowballs and keeps going," Mr. Haskett told me.  Both he and Mrs. Mah, the choir's accompanist, put extra work and time into the glee club, but he calls the club 'one of his favorite things to do,' nevertheless.
"I think everyone has a passion," he said.  "Music is such a great way to offer a well rounded education every day… if you're able to find that good combination, it makes it easier to do your schoolwork."  
He went on to say that colleges do look for extracurriculars that applicants have been a part of.When I asked why glee club was his favorite choir, Mr. Haskett immediately told me that the diversity of ages was remarkable.  Kids as young as 5th grade have come to glee club, and our oldest member, according to Haskett, is 83 years old.  "You have people who retire that discover, or rediscover, that they like to sing," he told me.  "Sometimes you are so busy, you do something when you're younger and you think 'Oh I'm having a good time,' but then you leave it… years later you're like 'What happened?' and you've rediscovered it."  According to Mr. Haskett, we've had a grandmother, a mother, and a student in the glee club at the same time.  I actually sit next to a grandmother of LFHS students; she's become one of my best friends in glee club.
So what are we going to sing this year?  "For this first concert we are doing a wonderful arrangement of 'New York, New York,' he told me (I was excited). "We're doing a lot of new holiday stuff… we're gonna do some Gershwin (for the March concert)."
So how can aspiring singers–perhaps even you–get involved?  Glee club meets at the crack of dawn (7:25 am) every Tuesday morning, and we perform at 3-4 concerts a year.  Every Tuesday morning, I am dropped off at approximately 7:20, bleary eyed and barely awake, only to slowly awaken to the goofy warm ups and stretches ordered by Mr. Haskett.  Over the years, we have sung everything from rock to show tunes, and in that short 40-45 minutes every Tuesday, we have learned how to properly sing, using diction as well as different breathing techniques to produce a good sound.  "Also know that you might not be able to come every week, because you might be meeting with a teacher or taking a makeup test," Mr. Haskett said.  "As long as you can get here on a regular basis, you can come!"  He also reminded me of the famous donuts and coffee that are offered at every rehearsal; if that isn't incentive to come, I'm not sure what is.
So why is this club so important? I'll give you my personal reason why.
I've been in group bands and orchestras in the past, over the summer, and through school; small groups and big ones.  Almost all of the directors that lead these groups ask the same question: "How many of you participate in choir?"  Thanks to glee club, I am proud to raise my hand.  Singing improves instrumentalists' ability to play music with good tone and musicality, but it gives me more than that.  I have a place to let my stresses subside, even if only for 45 minutes.  I have a place where I have made friends, where I have something in common with people.  I have a place where I have fond memories, where the music I sing I am proud of.  Glee club has had an impact on my life as a musician, and my life as a person.  I am grateful for the experiences I've had there, and I look forward to having more.
About the Writer
Katie Pierce, Editor in Chief
Katie Pierce is a proud senior at Lake Forest High School. Besides being Editor-in-Chief of TFS, Katie is a drum major of the LFHS band, and spends most...