The Forest Scout Friday Five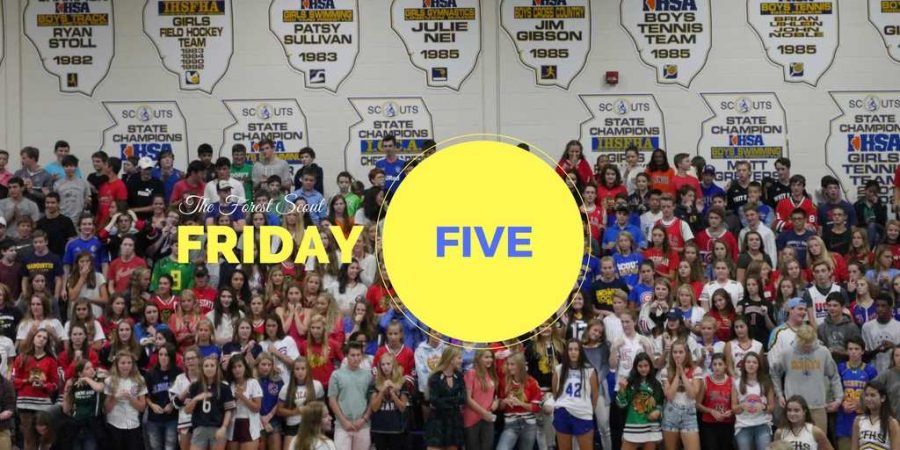 The Forest Scout Friday Five is a weekly segment that celebrates five people making a distinct, profound, and positive difference in the Lake Forest High School community. To visit our most recent installment, click here.  To recommend a student, teacher, support staff, or community member for inclusion in The Forest Scout Friday Five, please email [email protected]
Ms. Jessica Cole: 
In just three short years at LFHS, Business Ed. teacher Ms. Jessica Cole has solidified herself as a fan favorite at LFHS for reasons both big and small. Aside from her youth, which carries a relatable nature to the high school aged student, Ms. Cole's reputation is built on the pragmatic notion of teaching the next generation how "the real world works."
Though she split time between the Business Ed. and Math Dept. in her first year at LFHS, Ms. Cole is now strictly business. As a result of the opportunity to get acclimated to one department, "J.Cole," as she is affectionately called, has built one of the most popular classes on campus–Sports Marketing and Entertainment. Last year, the brand new class succeeded wildly, holding many sections due to the high enrollment numbers that students drove by selecting the course among a wide variety of electives. 2016 alumna Tegan Morcott shared that, "[Ms. Cole] always had a way of engaging us with real world problems and challenged us to think of real world solutions. Aside from that, she was tremendously caring, compassionate, and loyal to her students, constantly showing up for games and competitions to show her students how much she cares."
After originally graduating from Deerfield High School, Ms. Cole honed her business acumen at the noteworthy New York University, located in the popular Greenwich Village neighborhood of Manhattan in New York City. It was in that competitive environment that Cole thrived, learning how to connect with so many other people from varying walks of life. Perhaps that is what Cole is known most for at LFHS, the ability to bridge personal, meaningful connections with all of her students regardless of age, ability level, and interest (though being a White Sox fan certainly doesn't hurt). As she continues to build years of experience in the Business Ed. department, it is clear to see that Ms. Cole will continue to innovate, engage, and inspire the students of the next generation.
Sam Rogers: If you've been lucky enough to share a class with sophomore Sam Rogers, you'll know just what we're talking about. Only a few students in the high school have the energy and positivity to make a distinctly positive influence on each and every class they set foot in on a daily basis. Those who have had Sam in their Bio, English, or World Civ class could attest that his energy doesn't change in between periods. The same upbeat, smile-happy sophomore you get in first period is the same one you see in eighth period after a day's worth of work.
Rogers, dubbed "Blue" by some of the Varsity players on Lake Forest's golf team last fall, has worked hard to earn every piece of recognition he holds claim to. "He's certainly gotten a lot better," added Lake Forest Golf Coach Jim Matheson. "His 2nd place 40 (+5) speaks to that. But for Sam it's more than just golf. Everybody simply has more fun when he's around." And if you didn't believe Matheson, LFHS Golf's Varsity captain Wesley Dixon echoes the same sentiment. "Everyone loves [Blue]. The kid lights up every room he's in with his smile and sense of humor. He has a bright future ahead in so many different areas."
Admittedly, Sam would be the first to tell you that he asks a lot of questions. He asks teachers, classmates, and friends alike. The reason behind this is that Sam Rogers is one of the more inquisitive, curious sophomores around. By definition, that makes Sam Rogers a pure scholar, one who seeks the knowledge to learn more, do more, and grow more by asking questions. On day two of the school year, if you think that his unbridled positivity and enthusiasm is all some turn-over-a-new-leaf hoax that will soon die, think again. Sam Rogers is truly something special.
Mrs. Anne Thomas: It wouldn't be a football game without concessions. The notoriously energetic student section fuels itself on the readily available cheeseburgers, candy bars, and rainbow spectrum of Gatorade offered by the concessions stand.
The only way most of us are aware of a home swim meet or volleyball match is by the wafting smell of popcorn coming from the (newly redone) concessions corner located right outside the field house. However, most of us don't think much about the logistics behind the popping of said popcorn, or how it all comes together to complete the mood under the Friday night lights. If anything, all you've done is lament the loss of ramen noodles this year, but even that small decision had much more thought behind it than we give it credit for.
Believe it or not, every concessions event at LFHS–be it at the varsity games on Friday nights, the breakfast spreads for Saturday morning freshmen football games, or home swim meets–is under the direction of one supremely organized mom. "I felt like I was in the trenches," a senior cross country team mom said recently of her first time working concessions. "I got such a good sense for who the people are who really make the school run. I don't think everyone could do her job, but I think everyone should do their part."
For taking on such a time-consuming, logistically-difficult, and mostly-thankless job, Mrs. Thomas has sure done a phenomenal job of it this year. The revamped menus (cold-brew coffee, anyone?) were largely in part due to her efforts, as well as the healthier options available, such as fresh fruit and organic lemonade. In addition, she also has to cover for any parent volunteers who don't show up for their required booster shifts. So the next time you're standing in line for hot chocolate, or hamburgers, or whatever it may be, make sure to thank the person behind the counter. "Or," added the senior team mom, reminiscing on her own experience, "maybe give them a hug."
Trevor Schneider: When describing sophomore Trevor Schneider, popularly known by his friends as "Trev" most people would likely either include the adjectives funny or kind. But that's not all. A close friend of Trevor's, sophomore Lexie Conley, mentioned that, "Every time I see Trev he is always so happy and makes me feel very important. He is a sweetheart." This, of course, is true. If you are ever lucky enough to be around Trevor, your day brightens almost instantly.
Despite simply being his kindhearted and hilarious self, Trevor is involved with many extracurriculars inside and outside of Lake Forest High School. Outside the walls of LFHS, Trevor satisfies a unique hobby by participating on a rugby team. Needless to say, rugby is tough and demanding.  Not only does he dedicate himself to rugby outside of school, but he is also a linemen on the sophomore football team and is on the JV wrestling team. A teammate of Trevor, sophomore Coel Morcott mentioned that Schneider, "is always a positive and funny guy that everyone loves to be around."
Athletics aside, Trevor is caring, which solidifies itself as his most important attribute. Not only does he care for his friends like the aforementioned Lexie and Coel, but he cares about helping people in need. This past summer, Trevor along with his friends in his youth group (SHYG) traveled to the Dominican Republic for six days to build homes and foster relationships with the children within the community. While yes, this work trip was only six days, everyone who knows Trevor knows the caring for others–including those who live in an impoverished country–lasts long beyond his designated mission trips. If you are looking for a friend who not only will make you laugh constantly but will also be there for you, you can quit looking. Trevor Schneider is one of Lake Forest High School's best.
Ms. Meaghan Laughlin: Some credit her with teaching them how to swim, others remember her as a student, and some yet even recall her days as a student teacher. If you have had her as a teacher or coach, worked beside her at Camp Hope or just passed by her in the hallway, you know why everyone loves Ms. Laughlin.
First and foremost, Ms. Laughlin is a gifted and empowering educator. As one former student explained, "The best part about Ms. Laughlin is her willingness and ability to relate to students. As an LFHS alum, she knows what specific challenges LFHS students face." Other former students have shared that, "Ms. Laughlin is one of the nicest, most genuine people I have ever met. She dedicates her life to helping others, and I am so lucky to have been able to spend so much time with her."
Beyond that, Ms. Laughlin receives high praise from more than just her students. Her mentors, like fellow English Teacher Mr. Ray Del Fava echo the sentiments of the students. "Ms. Laughlin strives to make LFHS a better place every time she steps foot in the building, and she succeeds. She truly cares about the students and shows it through her work as a teacher in the classroom, as a coach on the soccer pitch, and as a moderator in Student Council meetings. LFHS is truly blessed to have Ms. Laughlin as one of its own."
Ms. Laughlin chooses to extend her duties beyond the classroom. Amongst other things, she serves as the newly minted faculty advisor for Student Council, is an assistant coach for the girls varsity soccer team (state champs '15) and a faculty sponsor for Ping Pong Club. More importantly Ms. Laughlin is an enabler of good. She spends the majority of her time giving back to students through coaching and supporting their interests and hobbies. Just last year, when the Ping Pong Club was looking for a new faculty sponsor and found themselves in dire need, Ms. Laughlin volunteered happily, despite knowing that she would not receive the same benefits as some other faculty sponsors.
During her summers, Ms. Laughlin works as a director at Camp Hope, a camp for children, teenagers, and young adults who are challenged by developmental disabilities. As her coworkers attest, Ms. Laughlin makes the camp special for everyone involved. One of her partners at the camp, Special Ed. teacher Mr. Graham O'Connor-Brooks validated the importance of Laughlin's presence. "Ms. Laughlin does an amazing job at Camp Hope. She connects so well with all the buddies and campers. She is a big reason that people come back year after year. Camp simply wouldn't be the same without Ms. Laughlin."
Simply put, Ms. Laughlin is selfless and caring, but she also has the relaxed and approachable demeanor that makes her cool.  She exemplifies what all LFHS students aspire to be–now and for years to come.
About the Writer
Ghost, Author
Ghost is a section of The Forest Scout that chooses to publish material anonymously in order to increase the depth of their investigative reporting. Ghost...