From the Burbs of Boston: Sophomore Colin Lochiatto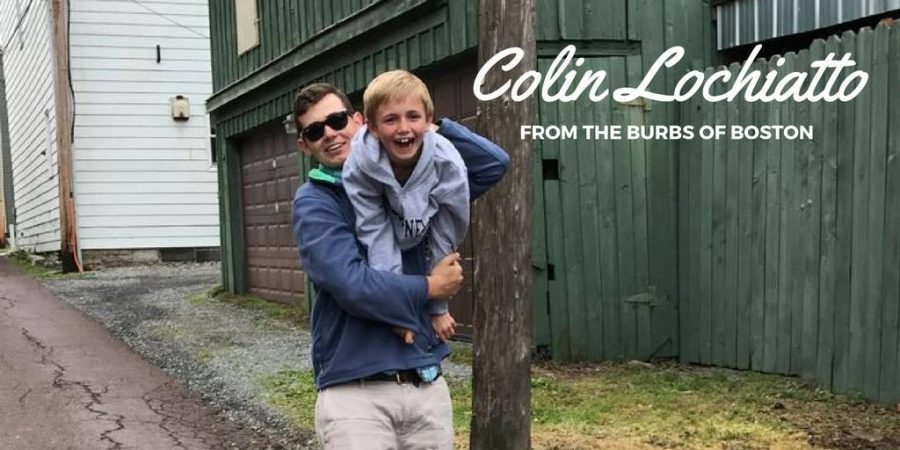 It was a dusty, spring afternoon that had become all too typical for the Lake Forest High School sophomore baseball team. Having lost eight straight contests, the team–dejected as the group had ever been–received a shot in the arm of sorts from one of their emotional leaders.
Colin Locchiatto, a curly-haired, talkative sophomore with an affinity for opining his two cents on just about any subject presented, had seen enough. "I wasn't going to let us continue the way we were headed," Lochiatto remarked placidly, "and though I'm usually not considered the 'leader' in the group, someone had to do it." Very soon after the aforementioned situation and a quick 1,2,3 inning from the Scouts' defense (in which Lochiatto plays first base when he is not pitching) Lochiatto sprinted into the dugout, rousing his teammates into a frenzy with an array of encouraging shouts, fist bumps and high-fives.
"I wouldn't necessarily say that is Colin's personality," mentioned sophomore Head Coach Andy Johnson, "but it is what we needed at that time. Colin recognized that and took it upon himself to do the job."
It was a bit of a threshold moment for the 16-year old sophomore. Though he would be likely the last to admit it, Lochiatto's sophomore campaign at LFHS–both academically and athletically–has been wildly successful. A left tackle and defensive end for the Lake Forest sophomore football team in the fall, Lochiatto grew comfortable in his role in the sophomore class and is looking to experience success on the Varsity level in the years to come. In the classroom, Lochiatto's curious and inquisitive personality flourished in classes like AP Seminar with Mrs. Flangel and Business Entrepreneurship with Ms. Kelly Dexter. Though many students measure their academic successes by benchmarks like GPA, ACT score, and their overall grade in the course, Lochiatto assesses his value in each class differently. "I am not really a math or science person; generally, I relish any opportunity where there is an open forum in the class to discuss. Not necessarily to argue for the sake of arguing or to put someone down, but to understand different opinions on a subject." For someone who describes himself as sarcastic with an aptitude for subtle side commentary, the able-minded sophomore prides himself on the overall presence he has in a class. "I don't have straight A's, but what I often think about is 'would that class be different if I weren't there?' That's what I see as my value."
Validating that Lochiatto's intended goal has been deemed successful in some classes, the sophomore's mutual respect shared with his freshman English teacher, Ms. Meaghan Laughlin, is to be commended. "I'm kind of a deep thinker," Lochiatto added with a grin, "and Ms. Laughlin respected that and tried to encourage me to think deeply about the issues we were discussing in Interdisciplinary." Lochiatto's deep-thinking disposition has lent its way into one of his main interests–cinema. The sophomore critic wholly appreciates movies that, "make you think 'what the heck just happened' when you're finished and cause you to stop and think back to what really went on." Some of his personal favorites include Good Will Hunting, Citizen X, and The Machinist with Christian Bale. "Not only do I love watching them," remarked Lochiatto, "but I love discussing them at length with people."
Perhaps Lochiatto's pride in personality derives from his upbringing in New England outside of the metropolitan Boston area. A native of Duxbury, Massachusetts, a suburb 45 minutes south of Boston, the Lochiatto family–which also has two daughters in college aside from their youngest son–ventures back quite frequently. Lochiatto's favorite place to visit upon his return? The North End, where culture, tradition, and history coalesce to provide a unique Italian dining experience. Among the scores of Italian restaurants and gelato shops, however, is one place particularly special to Lochiatto and his family–Reno's. "When we go back they treat us like regulars," a now chipper Lochiatto added. "We're their Chicago customers and they always make room for us. It feels good to be treated as such." Aside from homemade pasta, Italian bread, and visiting his relatives in nearby Braintree, MA, Colin is an avid Boston sports fan who has let three particular figures–the Patriots' Tom Brady, former Red Sox slugger David Ortiz, and Boston Bruins center Patrice Bergeron–shape not only the way he sees athletics, but his approach to life as a young man. "They're great leaders, but also stand-up guys. I hope that's what someone might say about me when I graduate from LFHS and we win our first IHSA State Championship in football," he added with a smirk.
Indeed, Lochiatto's teammates, like fellow sophomores Will Davis and Carter Horan, testify to the fact that Colin's personality often makes their teams better simply by helping them all stay comfortable. "Things are different when Colin is around," added Davis, a three sport athlete who plays soccer, basketball, and baseball for the high school. "Whether he is engaging in debate about a movie in the dugout, making us laugh, or returning from one of his renowned bathroom breaks, he always makes things simply more fun." Horan, another sophomore teammate added that, "Colin is a great guy to have on any team. Sports are about having fun and nobody likes to have more fun than him."
Aside from what so many already know about sophomore Colin Lochiatto, one facet of his sophomore campaign at LFHS stood out to me more than any other. Around the holiday season, Lochiatto developed a business venture that sprung upon him in a discussion he had in his Business Entrepreneurship class. "My product didn't win, so I figured I would just take charge on my own and see what happened." Take charge he certainly did.
After developing a gold ornament meant to replicate the front of Lake Forest High School's picturesque entrance, Lochiatto pooled his own money–with the help from other beneficiaries–put down the deposit, and went to work advertising on Facebook and throughout the community. The business became wildly successful, forcing Colin to double up on his initial inventory in order to to fill orders. When all was said and done, though, Lochiatto decided to donate the entirety of his proceeds to a local charity, Fill a Heart 4 Kids, that champions foster children and gives them new opportunities in the North Shore area. When asked why he didn't want to keep any of the dollars and cents earned in his first venture in business, Loch (pronounced low-sh), to which he is referred to as by many of his peers, shared that he, "wanted to help out a relevant issue in the community. I was very fortunate to receive the support of the community and I wanted to pay that deed forward."
As a teacher, it is fairly simple to recognize that there are undoubtedly small "threshold" moments that occur as students graduate through the ranks of freshman, sophomore, junior, and senior at LFHS. None, however, are more important than the moments that take place between your sophomore and junior year. Within these seemingly random circumstances, kids often become adults, pupils become true students, and boys and girls become men and women. I time, and with the beginning of the 11th grade, the underclassmen moniker is shed for a name that carries much more weight in the high school–upperclassman. With the extended privileges, however, comes a heightened responsibility as a young person. After all, the Varsity sports are the ones you read about in the local paper, and the junior/senior accomplishments are the ones that often receive the most widespread notoriety. For someone like soon-to-be-junior Colin Lochiatto, however, his journey to fully develop his passions at LFHS and to ultimately become a school leader is just beginning.
Maybe it all started on the baseball field that day, when Lochiatto's attitude turned a team that had once been on an 8-game losing streak into one that won 4 of its last 5 games, including a huge win over Deerfield to end the season. Maybe it's his Boston background; maybe it's the respect he garners from the Lake Forest High School sophomore class; maybe it's both.
Maybe it's just the unique, developing story of sophomore Colin Lochiatto.
About the Writer
Ghost, Author
Ghost is a section of The Forest Scout that chooses to publish material anonymously in order to increase the depth of their investigative reporting. Ghost...