The Forest Scout Friday Five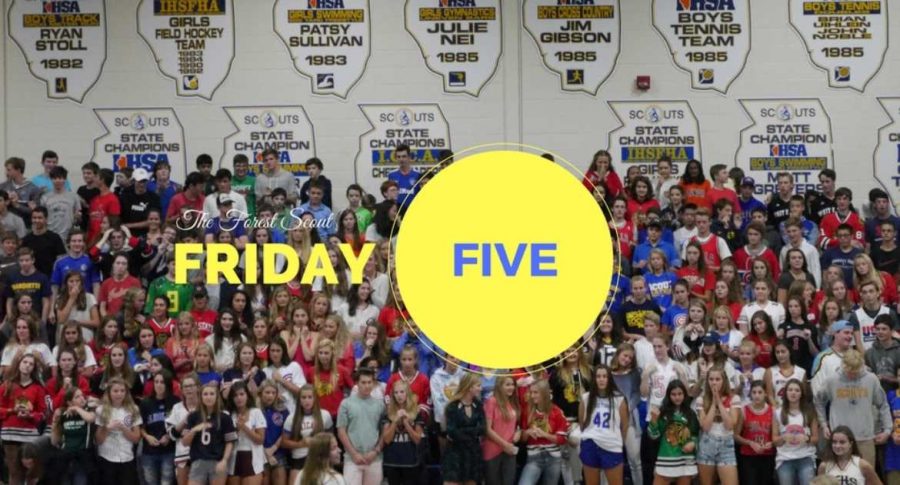 The Forest Scout Friday Five is a weekly segment that celebrates five people making a distinct, profound, and positive difference in the Lake Forest High School community. To visit our most recent installment, click here.  To recommend a student, teacher, support staff, or community member for inclusion in The Forest Scout Friday Five, please email [email protected]
Mrs. Laura Flangel: Each year, it goes without saying that we progress as students. We learn new information, memorize and recite new facts, dates, formulas, and philosophies and better our general understanding of the world around us. It is a rare teacher, however, that individually changes your behavior. The type of teacher that raises your level of achievement to heights that you never would have thought possible at the onset of the semester; the type of teacher who has a different idea in store when it comes to unlocking your innermost potential; the type of teacher who never, under any circumstances, lets you settle for anything less than your absolute best; the type of teacher like Mrs. Laura Flangel. 
Aside from being one of the most worldly, intellectual, informed, and cultured women of LFHS, Mrs. Flangel has a knack for bringing out a student's very best. In teaching both AP Seminar and US History 1, Mrs. Flangel, at the risk of sounding like a politician well-versed in educational jargon, truly leaves no student left behind. She has the intrinsic motivation inside of her as an educator to unlock something within you that you hadn't thought possible prior to entering her world of influence. Not only is Mrs. Flangel's class bolstered by her unique blend of optimism and rigor, but she is her students' biggest cheerleader when it comes to championing their academic and extracurricular involvement. 
"You don't go one day in her class without being personally noticed," shared a junior in Flangel's AP Seminar class. "She goes out of her way to get you personally involved and has conversations with you to further uncover who you are as a person." A lot of these conversations revolve around how the next generation will leave their indelible footprint on the world. Being a mother of two, one of which being a high school-aged daughter at Evanston Township High School, Mrs. Flangel has more faith in our generation than most. "She's passionately and fervently invested in us changing the world," another junior student shared. "[Mrs. Flangel] is always probing us to find out more, figure out ways that we can help, and then taking those ideas and putting them into action."
In its most simple and rudimentary form, a teacher teaches us to help ourselves. Nobody at LFHS helps juniors–the ones often overworked, tired, and encumbered with a workload that has left them jaded–learn to service themselves into well-rounded, independent citizens of this world more than Mrs. Laura Flangel. 
Caroline Abboushi: Easily identifiable by her glowing smile and contagious energy and happiness, Caroline Abboushi is a crucial member of the high school community. As a leader of Big To Little and Women's Club, while also donating her time volunteering, Abboushi has set a precedent for herself and for many others with her impressive work ethic and glowing personality. Her friends have only the best to say about her as well. Eleanor Asma, a close friend of Caroline shared, "Caroline is someone I can always count on to drop anything and everything for a movie night." Beyond that, Eleanor's mom had great things to say as well: " When I count our family's blessings, Caroline is at the top of the list. She is the most faithful and protective friend to our daughter, and she brightens our home with her hilariously dramatic stories, her ambitious plans for the future, and her kind heart."
Not only does her kindness radiate to those she loves, but her academics shine brightly as well. Caroline is a high achieving student, alongside her extracurriculars, with a passionate determination in school. She influences herself as well as her close friends to buckle down and get work done when it needs to be finsihed. But aside from her dedication to school, Caroline's house is the go-to movie and food house for her whole group of friends whenever a "chill" night is deemed necessary. Tyler Guttman, another close friend of Caroline, shared, "I feel so lucky to have Carol as my friend she never fails to make me smile with her incessant talk of vampire diaries, dogs, and food."
Her love for dogs is evident from the lucky pug who gets to be walked by Caroline daily, regardless of conflict and even on a busy night. In addition to that, growing up, Caroline was a frequent volunteer at catholic charities with her mother to help those in need of her assistance. Overall, Caroline is someone every person should strive to meet, befriend, and get to know given these incredibly selfless and generous characteristics that she holds dear. 
Andrew Gough: If you are ever having a bad day, week, or month, there is only a specific type of person who can drag you out of that state of mind. Andrew Gough is one of those people. Andrew, alongside being heavily involved in the Kairos community, is also a star athlete and student. His life outside of of school is dedicated to the sport he loves most, baseball. Fellow teammate, Jon Day, disclosed, "Andrew was a Varsity starter last season for the Regional Champion baseball team where he played 3rd base. He has had the opportunity to learn from his older teammates which will help him excel this year. He has a noticeable passion for baseball and can always be seen hitting at the batting cages year round. Even after a long practice with the varsity team ends, Andrew will head over to Slammers or Bat Speed to perfect his craft."
Andrew is a one-of-a-kind kid in the halls of LFHS and someone everyone should try to befriend before he departs the halls of this school. Being one of the most open to new friendships people this school is graced with, he will always have your back in a situation you are presented with and will be a loyal friend through it all, regardless of what holds him back and his busy schedule.
Gough's good friend Matthew Croissant shared, "Gough never fails to be a good pal. Through his hard life struggles with his peanut allergy he has bettered himself in ways that everyone can love. He's a man with a plan and overall a great friend."
Holly Malnati: Anyone who knows junior Holly Malnati knows she lights up a room with her charismatic laugh and welcoming smile. "Holly's the type of person who everyone is drawn to," junior and longtime friend Trisha Bhagat said, "she just has such an energetic vibe and is definitely one of the funniest people I know." Holly is a multifaceted character. She sings in Foresters, the top choir at the high school, and also dedicates time outside of school to sing in Madrigals. Holly's passion for singing has been alive ever since middle school, and the fact she is still heavily involved represents her dedication to a hobby that she loves. Not to mention, she is quite talented at her craft. She takes Choir for Honors credit, which requires students to participate in honors competitions, audition for ILMEA, perform at recitals, and attend professional concerts on their own time to widen their musical interest range.
Athletically, Malnati also keeps herself busy. In the fall, Holly is a member of the JV Swimming team; in spring, she plays on the JV Water Polo team. Holly is a natural leader– in fact, she has been named one of the JV Swimming Captains for her senior season. "Everyone on the team knows and loves Holly, she's definitely a leader in and out of the pool. She's one of our best cheerleaders and always keeps our spirits up during long drills." teammate Hadley Seymour shared. Apart from her sports and hobbies, Holly is an amazing friend. "We've been best friends since seventh grade," junior Brett Chody said, "she's someone that I know will always be there for me whenever I need it." Holly's selflessness and compassion are two characteristics that set her apart from all the rest. She's perhaps the most inclusive person in the junior class and always cares for others. If you have yet to meet Holly Malnati, you're  the one missing out. And if you see her, she's bound to include you. 
Andrew Gherlein: Those lucky enough to know junior Andrew Gherlein consider him to be a one-of-a-kind friend; a person of outstanding character and optimism who many don't come across in high school while they're still maturing into the person they wish to become. Being the type of guy who everyone can talk to and someone who always looks out for the people around him are just two of the many distinct qualities that make Andrew an amazing guy. He can instantly lift the mood of a room and whenever you're around him, he will ensure that you have a good time alongside him.
One of his closest friends, junior Peter Sullivan, shares how no matter where Andrew is, he can always have a laugh or crack a joke, "Andy is always making people laugh. Whether it's on purpose or not, he still never fails to put a smile on everyone's face." No matter the circumstance, he has a positive attitude and his outgoing personality allows him to stand out from the crowd.
In addition to his friendships with others, Andrew works hard in school, taking several honors classes, and also participates in boys swimming and water polo at LFHS. His dedication to his teammates and time spent working to become a better athlete–and student–is seen among his friends and his coach, Cindy Dell. She believes he is someone to look forward to having on your team, "Andrew is an amazing young man. He has a dry sense of humor and an incredibly goofy side to him. He leads by example every day, and is a great role model and mentor to the athletes on the boys swim team and water polo team. Andrew was a peer mentor for a young man on our team this season, and he went to great lengths to make sure that he was safe at both practices and meets."
Andrew always works hard for what he sets his mind to and because of this, he is someone people can look up to. He truly cares for everyone, constantly looking out for others, and is genuinely one of the kindest friends someone could ever have. "Andrew has a huge heart, works hard, and gives 100% on a daily basis," coach Cindy Dell commented, " I have huge respect for Andrew and what he stands for." And we all should, too.
About the Writer
Ghost, Author
Ghost is a section of The Forest Scout that chooses to publish material anonymously in order to increase the depth of their investigative reporting. Ghost...