The Forest Scout Friday Five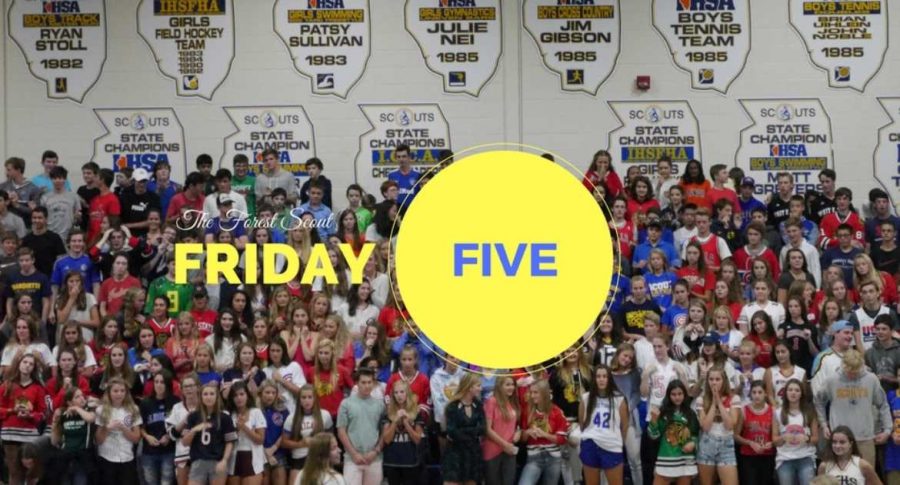 The Forest Scout Friday Five is a weekly segment that celebrates five people making a distinct, profound, and positive difference in the Lake Forest High School community. To visit our most recent installment, click here.  To recommend a student, teacher, support staff, or community member for inclusion in The Forest Scout Friday Five, please email [email protected]
Margaret Davidson: In today's world, elders often complain that the kids these days just "don't get it." They're stuck inside their phones and can't fold the laundry, fry an egg, or worse still, boil water. Yet, sophomore Margaret Davidson is, without a doubt, an exception to the rule. The do-it-yourself independence of this 16 year old is a reversion to an earlier time. "She's so organized and self-sufficient" shared senior Sara Eichelman, a close friend of Margaret's older sister Ali. "If there is no dinner made, she has absolutely no problem putting something together herself, without complaint. Aside from things like that, she's just a genuine, caring, positive person through and through." 
Indeed, her involvement within LFHS extracurriculars solidifies Eichelman's sentiment.  Margaret has shared her omnipresent positivity with the LFHS cheerleading program, an activity she partakes in to spread her spirit at sporting events at the high school. In addition to that, Margaret has been a member of the LFHS Varsity Tennis team since her freshman year and also is looking forward to badminton this spring. Margaret's attribute that garners the most respect from some of LFHS' oldest students–like that of the aforementioned Sara Eichelman and her classmate Jenna Grossman–is the maturity and levelheaded nature that Davidson carries herself with. "That wasn't me as a sophomore," Grossman noted. "But Margaret does it all with such grace and is, like, literally, perpetually happy."
In this day and age, self-reliance is a skill that we don't always get from the high school's underclassmen, but it seems as if Margaret Davidson has learned to balance it all and–amidst the ups and downs–keep her smile on. 
Mr. Joe Busse: It's hard to believe that five years ago Scout Nation wasn't a thing. There was no Twitter account, no Facebook page, no weekly meetings, t-shirts, or themes for some of Lake Forest High School's biggest athletic events. 
Then came Health and Wellness teacher Mr. Joe Busse.
In just five years, Busse has transformed Scout Nation into just that: a nation of passionate students that are motivated to support their classmates. Busse took his own experiences as an athlete and supporter for his classmates at Fremd High School in Palatine and has summoned Lake Forest High School to reach their esteemed level of spirit. "In high school, Joe wasn't just an athlete–he was at everyone else's games. He'd be at a girls volleyball match, a basketball game, and everything in between," shared one of Mr. Busse's high school teachers and coaches. 
Orchestrating scores of students is no easy chore: whether it be the doling out of a unifying t-shirt or spreading awareness for a specific athletic event. But Mr. Busse, in his authoritative yet casual demeanor, directs Scout Nation in a way that not many other faculty members could do. He donates his time before school, during off hours, in the morning announcements, and after school to make sure that every student-athlete at LFHS gets the support they deserve. 
"He has taken this Scout Nation movement a long way," shared Mr. Frank Lesniak, a Dean of Students at LFHS. "It used to be a 'how much can we get away with before we get in trouble' type of deal, but under [Busse's] direction, the support has been much more positive, unified, and consistent." 
Aside from his duties with Scout Nation, Mr. Busse encourages the 120 freshmen that he teaches to get involved, be proactive about their positivity, and to share their experiences with others in ways that make our school better. 
The faculty representative of a student-run organization can often be overlooked, but anyone involved in Scout Nation understands the work, time, and effort that Mr. Busse has bestowed upon the passionate student-athletes of Lake Forest High School. Thus, whenever one team or one person is successful, or the word needs to be spread about a big game, there is one person that needs to be called: Mr. Joe Busse. 
Julia Loginof: Unfortunately, due to her intense academic and personal schedule, not many people are lucky enough to know the kind-hearted and cheery Julia Loginof. However, she's never shy of a smile. Whether you know her on a personal level or you are just merely passing by her in the hallways, she's always eager to exchange a kind grin and subtle wave. With bouncy blond hair and rosy pink cheeks, this sophomore is inevitably going to brighten your day in some way or another. 
Talking with Julia is always enjoyable; she's very lighthearted and knowledgeable. The conversation never gets boring. Whether it's a discussion about something at school or something relevant in the crazy world we live in today,  Julia always has a unique opinion ready to go. Her close friend, Hanna Gilmore, says, "Julia has been my best friend ever since I moved here, and I have gotten closer to her in the past three years than I have with anyone in my life; she's so welcoming." It's hard for anyone to not fall in love with Julia's sweet and silly personality. "She always makes me laugh; whether it's a quirky sound or outrageous facial expression," Hanna also mentioned. 
Aside from making her friends giggle and smile, Julia works incredibly hard both in and out of school. Balancing three rigorous AP classes as only a sophomore is both impressive and strenuous. Julia is  incredibly intellectual and when she isn't studying for her next AP Bio, AP Chemistry, or AP seminar test, she is out with friends spreading her happiness in Lake Forest town. To top off Julia's impressive course work, she also loves playing on the Varsity Golf team. Her friend Hanna states, "She loves playing golf! She is so incredibly busy with her course work and athletic activities, yet she is so happy." Even now, as just a sophomore, she is already working hard towards her dream of being a scientist. "She's always out exploring something to do with her future, whether it's a scientist in the area or a seminar, she's there!" Her friend Hanna stated. Julia is one of the loveliest, most outgoing, and amiable girls in the sophomore class, and if you do not already know her, let this be a subtle hint that you're missing out on some outrageous friendship. 
Matt Musacchio: When describing Matt Musacchio, most people would likely throw around adjectives like genuine and kind, but also the noun day-brightener. He constantly goes out of his way to make sure others feel well, and if they don't, his vast sense of humor fixes that instantaneously.
Matt Musacchio is a senior at LFHS and an active player in the school band. In fact, he is the only bass trombonist in the school. Outside of school, you can find him hanging out with friends, cracking jokes, going to Model United Nations, or participating in Boy Scout events. As a member of Boy Scout Troop 46, Matt completed his Eagle Project in November of 2016. He built shelving units at the First Presbyterian Church in Lake Forest in order to help them stay clean and organized. His great character and helpful demeanor were definitely shaped by his Boy Scout career.
On top of all of this, Matt is a huge advocate for social justice, and he is not afraid to stand up to others when they are being malicious. You can always count on him to be there for you and to do the right thing. Erika Hermann, senior and life-long friend of Matt, said that, "He's a naturally social guy, but he's fun to be around for more than just his jokes and stories. Knowing that the person you're talking to genuinely cares about you… that's how it is with Matt."
Senior and fellow band-mate TJ Lucas summed up Matt perfectly by saying, "Matt is an all around good person, always wanting to do the right thing. He stands up for people." He then went on to explain how, in band, Matt "is one of the funniest people in the band," and is "always making jokes and making people laugh." Another band-mate, senior Hayley Ward, also expressed her appreciation for Matt by saying, "Matt is a caring person who can make anyone smile– or fall on the floor laughing– if they're having a bad day." To put it simply, Matt is just a joy to have around.
In college, Matt is planning on studying to become a psychologist, which is the perfect job for a caring, upstanding person like him. He has great character, a fantastic sense of humor, and a genuine sense of respect and care for others. If you're looking for a loyal, caring friend– or just someone to brighten your day– look no further than Matt.
JonMark Pintas: JonMark Pintas is not your average junior in high school. A friend of JonMark's, junior Jack Page said, "He is insanely intelligent". That is true, he is in several challenging courses including AP Physics C and AP Calculus BC, which are impressive for anyone, but especially for a junior. Beyond being smart, JonMark contributes a lot to the classroom conversation. According to Junior Kylie Murray, "He is the first to ask or answer a question in class and always has meaningful insight about what we're learning". Outside of school, JonMark participates in a wide variety of clubs and activities. He has participated in the Big 2 Little club, Latin Club, Math Team, CROYA and Student Council throughout high school. He also plays soccer for the school and plays in the symphony orchestra.
Clearly his academic talents and extracurriculars are impressive; however, what makes JonMark special even more so is his positive attitude and friendliness toward everyone. JonMark is always smiling and has something nice to say to everyone he meets. If you are lucky enough to have him in one of your classes, you'd know that he is always willing to help. Kylie continued, "he's always there to help if you're confused". His smile is infectious and according to junior Mary Doheny, "he has a very distinct laugh." Junior Colin McDonnell also added, "He's the type of kid to laugh during a math test." To be known for your laugh says a lot about a person.  Having him as a classmate, teammate, or friend is a joy since he is so personable and outgoing. "Whenever I see JonMark in the hallway, he's always chatting with someone or cracking a joke about something. He never looks sad," explained junior Elizabeth Porter about JonMark's unique positivity. JonMark is a solid role model in many ways and an excellent example of the talented, well-rounded student who we all strive to be.
About the Writer
Ghost, Author
Ghost is a section of The Forest Scout that chooses to publish material anonymously in order to increase the depth of their investigative reporting. Ghost...