Scout Send Off: Mr. Joe Pulio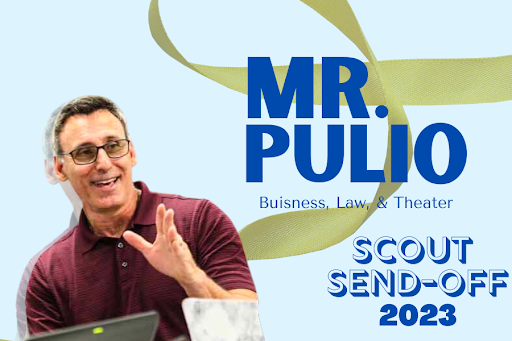 During last year's production of Clue, Business teacher and Theater Department Head Mr. Joe Pulio grew frustrated trying to describe how he wanted senior John Turelli to deliver a certain part of his pivotal monologue.
He finally tossed Turelli out of the way and demonstrated it himself. He dropped to the ground and began crawling on his hands and knees while whimpering. Everyone in the cast burst into laughter, and it completely eased the frustration of the scene. When Pulio realized everyone was laughing, he began chuckling himself but continued to crawl. 
After 29 years, Pulio will retire this month. He has taught Theater, Law, and Business, alongside directing plays for the theater program. His work in the Business program has brought the class to new heights. 
He said he hopes to remembered as "a teacher who cared about the kids, who wanted them to learn how to love themselves, how to take risks and not be afraid to fail, more than anything." 
"In every class: theater class, business class, I try to teach if you can't accept who you are, if you can't take risks, if you're afraid of failing, you can't really be successful, because that's what people look for," he said.
When you first meet Pulio you will be immediately hit by a tremendous amount of personality and honesty. Whether he is laughing and making jokes with his students, or he's fully immersed in a lecture or scene, Pulio does not mince words.
"He's got a lot of energy; he's got a lot of determination; he likes to get things done, and he's fun," said senior Law 1 student  Tom Gibbons.
Pulio's bluntness can catch people off guard, but it never feels mean. It's part of his constant determination to get things done. One of the things that will indeed define his legacy is his part in the adoption of one of LFHS' most well-respected programs – The Business Incubator.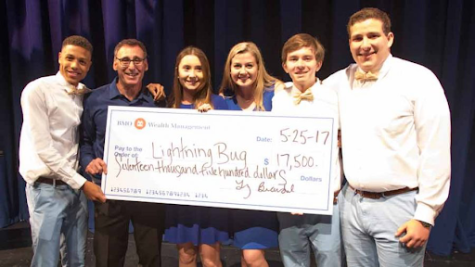 He  is often credited with pioneering the Business Incubator since its inception. The Incubator is a program where students get real-world entrepreneurial experience by creating a business. Students are encouraged "not to do school," but rather to fully submerge themselves in the manufacturing, marketing, selling, and logistics of creating goods. 
"Two serial entrepreneurs from Barrington approached the high school with an idea for a really new, dynamic class, and asked, 'Would you be interested in developing it with us?'"
At the end of the course, students engage in a "Pitch Night" where they can present their products to determine whether or not they are viable for investment.
"[The reception] has been incredible, lots of kids take it, it's life-changing, it's very challenging, it's not like a normal class," said Pulio. "This is about knocking the walls of a classroom down and having to be uncomfortable."
After Pulio's retirement, he plans to travel around the country to share his experience and success with The Business Incubator program with the hopes of having its curriculum adopted in schools across the country.
"He's been here longer than anyone, and he's taught every class, so he's always able to lend some insight to a class we may never have taught before" Business Teacher Brian Sheridan said. 
But what Pulio may be more widely known for is his work in the theater. Pulio has been the face of LFHS theater for over 20 years.
"My first show with him was Clue. It was very caricature, and I have never done that before. But he saw something in me that he knew I was capable," senior Jack Taylor said.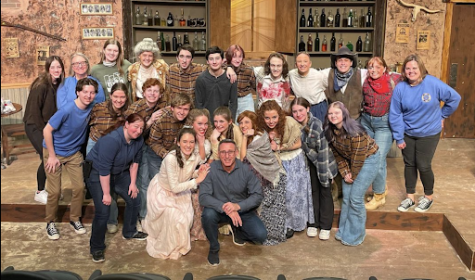 Taylor has worked with Pulio on multiple shows throughout his time in high school and learned how Pulio's method of acting has "forced me to step out of my comfort zone." 
"He encouraged persistence," said senior Kenna McBean. "It was a tough, but very rewarding experience to work with him."
Anyone who has participated in one can remember times when they were driven to insanity by the number of times they've had to re-run a scene, a line, or even a movement. His energy is truly unparalleled and it takes no prisoners. He never seems to take a day to rest, if you show up for one of his shows, you better show up to work."To see how far the students have come with each show, to see how much time, energy, and passion they put into it," Pulio said. " Then to see the audience react meant the kids had really done something special." 
The amount of care he puts into every show is palpable, not only to his students but to the community as well. 
"Every time there was a show everyone would ask – 'Oh is it a Pulio show? He always does such a good job.'" said Gibbons.
One of Pulio's favorite memories from his time in theater was the end of the last show.
"
If you can't take risks, if you're afraid of failing, you can't really be successful, because that's what people look for."
— Mr. Pulio
"All these kids came back who I had taught through the years to see this show and then you guys had that party… if you asked me what was the most memorable, that was because I was so touched," he said.
The night before Pulio had bought a notebook and chocolate rose for every member of the cast. In every single notebook, he wrote a personal note about working with them and what it had meant to him. 
On the day of the show, the audience was filled with theater alumni who had all come to see his final show. Afterward, he gave a speech on his work in the theater and was given a standing ovation. 
"I've had so many kids over the years and to see people coming back in their 40's, their 30's… those are the kind of memories I have; it's really the time with students and watching them grow," he said. ​