Pitch Night 2023
In the fall of 2014, the Lake Forest High School Foundation partnered with the high school to establish the junior course, Business Incubator. This honors-level class is designed for students to become real entrepreneurs within and outside the school walls. 
Upon taking this class, students are assigned into groups ranging from 3-5 kids and work with them the entire year to create their own service or product. 
The foundation brings in business experts to help mentor each group and develop their company in order to prepare the students for the many pitches they give at the end of the year to investors and judges. 
This year, there were twelve groups in the incubator among the three classes. After the Academic Pitch on May. 11, where each group presented their ideas and accomplishments to judges, four were selected to present at the annual pitch night. 
Last Thursday, May. 18, the team's Homework Haven, Junior Scouts Sports Camps, Soluble and UV-PC pitched their businesses in the RMA to an audience of parents, teachers, peers, investors and judges. 
Homework Haven, created by Chloe York, Clare Crawford, John Nikitas, and Will Goodsir,  started off the pitches. Their service is a planning system that sends students a daily text notification with all their homework listed for the night, which is automatically pulled from Schoology. It will also estimate how long assignments will take students, so they can plan more effectively for their night of homework.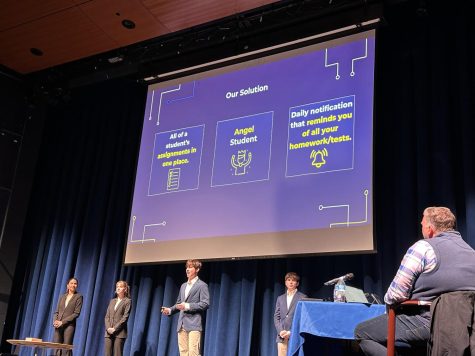 "We thought pitch night was an awesome experience where we were able to showcase all our hard work from the whole year to the community in a fun and impactful way," said York.  "We spent a lot of time preparing for pitch night and it was a rewarding experience to be up there and give our presentation."
They plan on creating an LLC and getting investors on board so they can begin developing their app in the next year's class.
Each year, the judges grant two awards to the group(s) they felt truly stood out. The first award is "best pitch," which is given to the group with the overall best pitch. The second award is the foundation cup, which is given to the pitch night champion and who the judges believe has the most "viable" product. 
Among taking home $3,000 from the judges, Homework Haven won the best pitch. 
The following group to present was UV-PC run by Lily Rosenberg, Andrea Constantine, Will Quigley, Collin Sinclair, and Chris Fallidas. Their product, Ultraviolet Public Cleaner, provides a way to store your cellular device in public bathrooms and uses ultraviolet light technology to clean your device.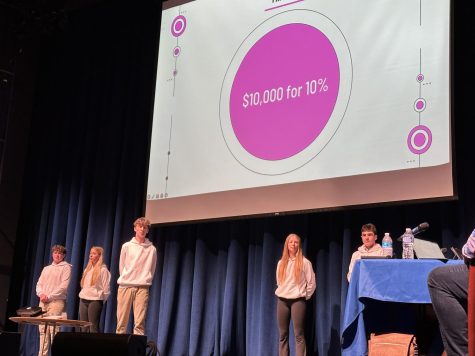 "It was an incredible experience that helped propel UV-PC into production. The best thing we can get is feedback, and that's what pitch night gave us," said Rosenberg.
The group was awarded $1,000 from the judges. In the accelerator program, they plan to work with prototypers and manufacturers, the Potempa Brothers. They eventually want to expand to public transportation, restaurants, and desks. 
Constantine described pitch night as a "good experience," and a great way to "work with my team in a professional setting."
Soluble is the first ever 100% sustainable dissolving bubble wrap created to reduce packaging waste. Teddy Huddleston, Ky Camardo, and Jack Cushing received $5000 from the judges, and plan to develop a patent and lease it to at least one company by the end of their first year.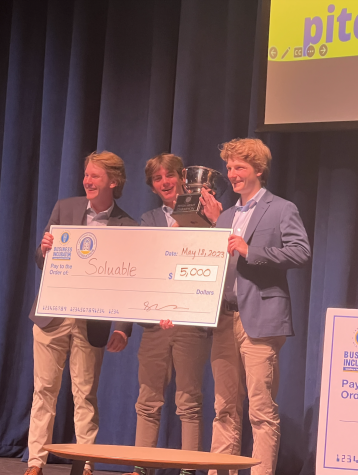 This team also became the champion of Pitch Night and was granted a cup for their achievement. This group will also have access to LifeWorking Co-Working and the CIC team next year. 
"Winning it felt like winning the Stanley Cup and it meant the world to my group members and me," said Huddleston. "We also convinced the lady in charge of it to let us take it home for the weekend and celebrate with it, something that no one was allowed to do in the past."
Ending the night was the Junior Scouts Sports Camp run by Murphy Moorhead, Oscar Kokke, Charlie Savage, and Rocco Marsico. They created a multi-sport camp for young kids coached by high-school athletes. 
During the pitch, the team had some of their own junior campers run onto the stage and had one kid even make a trick shot halfway through. 
"We wanted to change the way pitches were presented as we wanted to have a mix of both business and fun," said Moorhead. "We thought bringing the kids on stage and having a 'Trick shot Thursday' was a great idea to get the crowd and campers involved."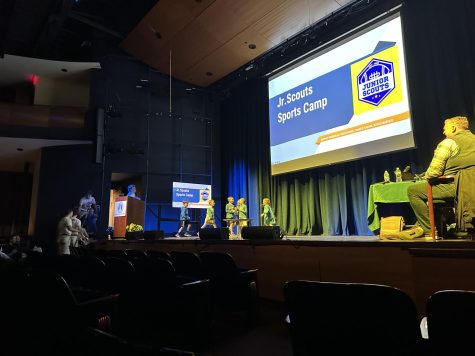 The team was awarded $1,000 and plans to expand its program to different communities in the upcoming year.  
Similar to last year, each presenting group received funding which allowed all four teams to move into next year's course, Business Accelerator. 
Through this class as seniors, the students will continue to work with their mentors and teacher, Phil Lascala, to further develop their businesses. 
"The incubator is an amazing program where students learn how to take risks that lead to success that most kids their age don't have the opportunity to," said business teacher Joe Pulio.