NFL Honors Award Picks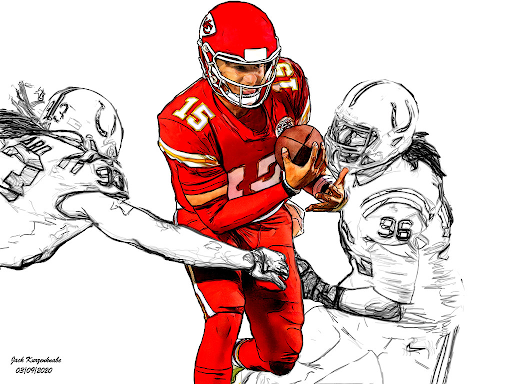 The 12th Annual NFL Honors will take place on Thursday, February 9th at 8 pm Central Standard Time. It will air live on NBC and NFL Network. Finalists for the NFL end of season awards were determined through the new AP voting system, where a panel lists their top three picks for each award. We decided to predict who we think will win each respective award.
*These awards are based solely on regular season stats. Any postseason references are for information only*
—————————————————————————————————————————-
Most Valuable Player (MVP)
Finalists: Josh Allen, Joe Burrow, Jalen Hurts, Justin Jefferson, Patrick Mahomes
Brady's pick: Patrick Mahomes, QB, Kansas City Chiefs
Patrick Mahomes has racked up 41 touchdown passes, 5,250 passing yards, and a 77.6 QBR this season, finding himself in first place for each of those three categories. He has led the Chiefs to a tied-league-best 14-3 record.
Matt's pick: Patrick Mahomes, QB, Kansas City Chiefs 
For the same reasons as Brady, Mahomes had a star studded year. He leads the NFL in passing yards and touchdowns. He also has thrown only 12 interceptions the entire season. He is currently going to the Super Bowl on one leg. Hard to top that for the MVP award.
George's pick: Patrick Mahomes, QB, Kansas City Chiefs
In my opinion, Patrick Mahomes should be the MVP, no question. He is the most dominant player on this list and leads the league in the three most important QB stats. In his last game in the AFC Championship, he carried them on one leg to a tight victory over the Cincinnati Bengals and now this superstar quarterback is headed to the Super Bowl. 
—————————————————————————————————————————-
Offensive Player of the Year (OPOY)
Finalists: Tyreek Hill, Jalen Hurts, Justin Jefferson, Patrick Mahomes
Brady's pick: Justin Jefferson, WR, Minnesota Vikings
In his third year, Justin Jefferson had one of the most impressive seasons by a wide receiver in NFL history. He led the league in receptions with 128 and receiving yards with 1,809. He also broke Randy Moss's Vikings single-season receiving record.
Matt's pick: Justin Jefferson, WR, Minnesota Vikings
Justin Jefferson had a career year leading the league in the most important categories for wide receivers: receptions and receiving yards. He almost hit the 2,000 yard mark. It is hard to top those statistics and Tyreek Hill is the second closest at 100 yards behind him. Jefferson seems like the easy pick here. 
George's pick: Tyreek Hill, WR, Miami Dolphins
Tyreek Hill definitely earned his place on his new team of the Miami Dolphins this year. He was paired with Jaylen Waddle, another elite Dolphins receiver and still put up 9 touchdowns and 1,710 yards. He had a tough quarterback situation while his starting quarterback, Tua Tagovailoa, was injured. But when Tua was healthy, Tyreek was one of the most dangerous threats in the league. 
—————————————————————————————————————————-
Defensive Player of the Year (DPOY)
Finalists: Nick Bosa, Chris Jones, Micah Parsons
Brady's pick: Micah Parsons, OLB, Dallas Cowboys
This was a really difficult decision between Nick Bosa and Micah Parsons, but I thought that Micah Parsons was more impactful on his team than Nick Bosa was. Parsons tallied 65 total tackles, 13.5 sacks, and accounted for 6 turnovers.
Matt's pick: Nick Bosa, DE, San Francisco 49ers
Although Micah Parsons is widely known as the most influential defensive player for his team, statistics rarely lie. With 61 tackles and 18.5 sacks, Bosa was dominant all year long. His presence was not really felt throughout the playoffs but his impact in the regular season is unmatched. 
George's pick: Chris Jones, DT, Kansas City Chiefs
Chris Jones is undoubtedly the best interior defensive lineman in the league. He is having the best season of his career and just has absolute domination over some of these offensive lineman. He had an amazing game in the AFC Championship against the Bengals. He recorded 2 sacks, 3 TFL's and 5 QB hits. He also had 44 tackles, 15.5 sacks and accounted for 3 turnovers.
—————————————————————————————————————————-
Offensive Rookie of the Year (OROY)
Finalists: Brock Purdy, Kenneth Walker III, Garrett Wilson
Brady's pick: Garrett Wilson, WR, New York Jets
Despite an awful quarterback situation, Garrett Wilson still amassed 1,100 receiving yards in his rookie year. He led his team in targets with 147, receptions with 83, yards with 1,103, and receiving touchdowns with 4. With a good quarterback, Wilson could rise to be one of the league's top stars.
Matt's pick: Brock Purdy, QB, San Francisco 49ers
It is hard not to pick Brock Purdy for this award. Brock Purdy first started in week 13 for the 49ers. He went undefeated against some of the top teams in the league and had an incredible playoff run as well. Winning 8 games in a row, Purdy is just one of 6 rookie quarterbacks who have made it to the conference championship game. Being the last pick in the draft, Purdy made the most of it and put the league on notice. Finishing with 1,943 yards, 14 touchdowns and 4 interceptions in just 8 full games played. Purdy will be someone to watch for years to come. 
George's pick: Brock Purdy, QB, San Francisco 49ers
Brock Purdy was a 3rd string quarterback at the start of the season. Following the unfortunate injuries of Trey Lance and Jimmy Garoppolo, Brock Purdy, Mr. Irrelevant, was thrown in at the starting spot among a highly talented San Francisco 49ers team. Until the NFC Championship game, he was undefeated with an 8-0 record. He suffered an unfortunate injury of a torn UCL in that game. Brock Purdy had the highest QBR in the league this year after his 9 games played. He finished with 1943 passing yards, 14 touchdowns, 4 interceptions and a 67% completion rate
—————————————————————————————————————————-
Defensive Rookie of the Year (DROY)
Finalists: Sauce Gardner, Aidan Hutchinson, Tariq Woolen
Brady's pick: Sauce Gardner, CB, New York Jets
For me, this one was a no-brainer. Although Tariq Woolen and Aidan Hutchinson both had great seasons, nothing compared to the immediate impact that Sauce Gardner had on the Jets' defense. Gardner led the league with 20 passes defended, had 75 total tackles, and recorded two interceptions.
Matt's pick: Sauce Gardner, CB, New York Jets 
Sauce Gardner had a career year and it was just his first in the league. He led the league in passes defended and recorded 75 tackles and 2 interceptions. As a rookie these are incredible stats. All year he was shutting down the league's top receivers and made himself look like a veteran. He is an easy pick for defensive rookie of the year. 
George's pick: Sauce Gardner, CB, New York Jets
Sauce Gardner was so dominant this year. He was one of the top corners in the league and proved why he was drafted 4th overall. Over the course of 18 games this season, he allowed only 54 yards in man coverage, which is the least of any corner that played 120 man coverage snaps. He also only allowed one touchdown this year. 
—————————————————————————————————————————
Comeback Player of the Year
Finalists: Saquon Barkley, Christian McCaffrey, Geno Smith
Brady's pick: Geno Smith, QB, Seattle Seahawks
Both Saquon Barkley and Christian McCaffrey had phenomenal seasons, but Geno Smith's comeback has been one for the ages. Almost nobody expected the Seahawks to win even 3 games, let alone make the playoffs. Smith heavily outplayed his predecessor, Russel Wilson, and established himself as a real NFL quarterback for the first time.
Matt's pick: Geno Smith, QB, Seattle Seahawks 
Geno Smith has been in the league for 10 years. He has been on 4 different teams and this year, he established himself as one of the top quarterbacks in the league. He had 4,282 yards on the season, with 30 touchdowns on 70% passing. For a 10th year quarterback, never having proven anything before, it is hard not to give him this award. The Seahawks became better with him than with Russell Wilson. 
George's pick: Christian McCaffrey, RB, San Francisco 49ers
Christian McCaffrey has struggled with injuries his entire career. He was injured for a majority of the season last year and was sidelined for a few games this year. He was a part of a rough Panthers offense and mid-season got traded to the star-studded 49ers squad. He had a rough start to the season while he was on the Panthers' roster but the trade was definitely a good move for McCaffrey and he ended up having 2179 total yards and 16 touchdowns. 
—————————————————————————————————————————-
Coach of the Year
Finalists: Brian Daboll, Sean McDermott, Doug Pederson, Kyle Shanahan, Nick Sirianni
Brady's pick: Brian Daboll, New York Giants/Doug Pederson, Jacksonville Jaguars
The two names on this list that stuck out to me were Brian Daboll and Doug Pederson. Both of these guys inherited teams who had previously won 4 or fewer games in the 2021 season and turned them into 9-win playoff teams that won Wild Card Games. I cannot pick between the two as I believe that they are both equally deserving of this award.
Matt's pick: Brian Daboll, New York Giants
I don't know why Brady thinks that there are all of the sudden two trophies to be given out, but Daboll is the easy pick here. The Giants do not have strengths virtually anywhere except for at running back. Even at running back they don't have the O-line to compensate. However, Daboll was able to turn the Giants around and give them a playoff berth and win. He turned a 4-13 team into a 9-7-1 team. 
George's pick: Brian Daboll, New York Giants
Brian Daboll took over for the New York Giants this year after spending time in Buffalo as the offensive coordinator. He made an immediate impact this year after a 4-13 record in the previous season. He turned them around to a 9-7 team this year and led them to a big upset win in the Wild Card game over the Vikings. The G-Men should definitely look forward to seeing what else Daboll can do with this team in the future. 
—————————————————————————————————————————-
Assistant Coach of the Year
Finalists: Ben Johnson, DeMeco Ryans, Shane Steichen
Brady's pick: Ben Johnson, OC, Detroit Lions
Although many people aren't familiar with the nominees for Assistant Coach of the Year, what these men mean to their teams is immeasurable. With that being said, I believe that Ben Johnson had the greatest impact on his team. The Lions went from 1-6 to 9-8 with the offense being a big reason why. They were 6th in the league in points per game, putting up 26.6 as opposed to just 19.1 per game in 2021. 
Matt's pick: DeMeco Ryans, DC, San Francisco 49ers
DeMeco Ryans was a beast all year long. He turned the 49ers defense into the number 1 defense in the league. The 49ers allowed just 16.3 points per game this season. They led the league in yards allowed and many other categories. I think it is safe to say that DeMeco Ryans had an amazing year. He also just got hired to be the Texans new head coach, and rightfully so. 
George's pick: DeMeco Ryans, DC, San Francisco 49ers
You have probably never heard of DeMeco Ryans but he is the defensive coordinator for arguably the best defense in the league. This year, Ryans' defense allowed the fewest yards and points per game. His defense also was tied for the most takeaways this year. Days ago, he was hired as the new head coach for the Houston Texans. So, it is no secret that this man is an amazing coach.