After Mural Partially Erased, Human Rights Club Will Host Community Day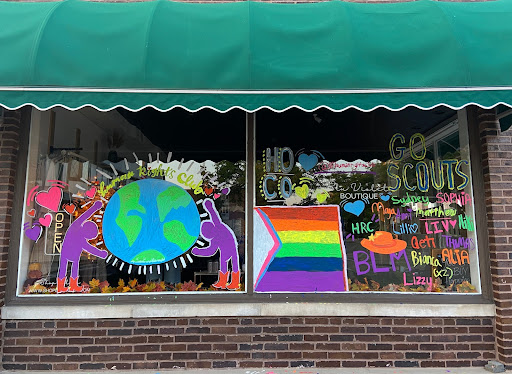 Two weeks after their Homecoming mural was partially erased, The Human Rights Club will host a 'Community Day' in the cafeteria Saturday.
"We're inviting the entire community to understand what happened, to understand what steps are being taken moving forward from this incident, and to also understand more about our club," said Human Rights Club President senior Alia Attar.
The event, open to all ages, will include various activities, like bracelet and poster making, discussion tables, and donation opportunities, said Human Rights Club VP junior Sophia Zar.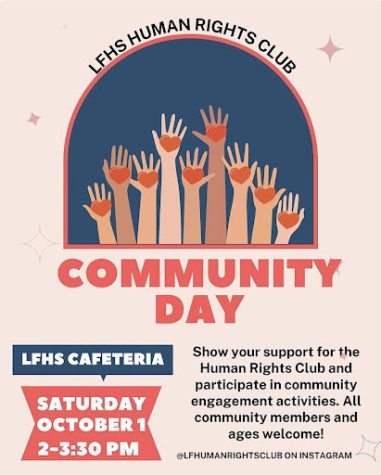 "We want this day to be a mixture of speaking and discussion and processing, but also be action-based and focusing on next steps on how to further the momentum we have in the community," Zar said.
The club was originally supposed to repaint murals on local windows as a show of support for the club and their message. However, after security concerns and logistics issues, the club decided to host the event at the high school.
"What it came down to is that it's bigger than windows. It's bigger than painting. It's about offering support to our students," said Activities Director Ms. Asheleigh Malec. "We felt that Community Day would be a more positive step in creating the dialogue that has started on social media."
In addition, because the original plan in downtown Lake Forest would have been open to the entire community, the school administration was concerned that they could not control who might attend, said Malec.
In 2021, the Human Rights Club mural was erased at Egg Harbor after complaints over a pride flag on its mural. This year, the mural was partially erased by school administration after local business Blu Violet Boutique received a complaint over the pride flag and BLM slogan on the mural and asked for those symbols to be erased. Egg Harbor is donating beverages to this weekend's event.
"We've had to alter something that is a symbol for that club. It's who they are," said Principal Dr. Erin Lenart. "I will never say that my students and their identity is controversial. That's not the Lake Forest High School we need to have."
However, a concern over safety when in the public may show a bigger community-wide issue.
"This is the second year in a row it's happened. These aren't isolated incidents, and this event is a way to show what our community can do about it," Attar said.
The Human Rights Club will be attending and speaking at the City Council meeting Monday. They will host their second-annual Day of Compassion on Nov. 10.