Human Rights Club mural erased for second straight year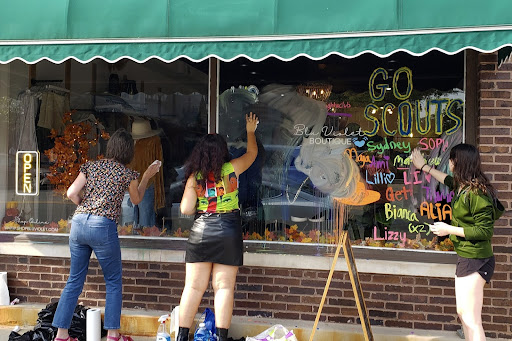 For the second year in a row, the Homecoming mural of the Human Rights Club has been erased.
The mural, which was painted Tuesday afternoon onto the window of local business Blu Violet Boutique, contained artwork including the pride flag and the slogan "BLM." However, after a customer complained via email to Blu Violet's owner, the owner asked those symbols to be removed, according to Activities Director Mrs. Ashleigh Malec. 
"[The owner] said that she didn't want to be in the middle of something that could potentially be politicized," Malec said. A faculty member removed the flag and slogan that night.
Human Rights Club president Alia Attar, after seeing the partial erasure the next day, decided to remove the entire mural. "We felt that once part of it was erased, the painting did not represent our club," they said.  
"In a way we were taking back what we got taken from us since our mural represented identity and self expression."
Various community members voiced their support for the Human Rights Club on social media. "I don't have a storefront, but if I did, I would welcome their gorgeous rainbows all day every day," said local business owner Ellie Nottoli.
In 2021, the Human Rights Club mural was erased at Egg Harbor after complaints over a pride flag on its mural. This year, the mural was partially erased by school administration after local business Blu Violet Boutique received a complaint over the pride flag and BLM slogan on the mural and asked for those symbols to be erased. Egg Harbor is donating beverages to this weekend's event.
"I honestly just could not believe this happened a second time," said Attar. "It's very unfair and disturbing that a message of inclusion could be recognized as hatred."
This is a developing story. For more information, please check back soon.