New Media Students Immersed in the Professional World for Five Days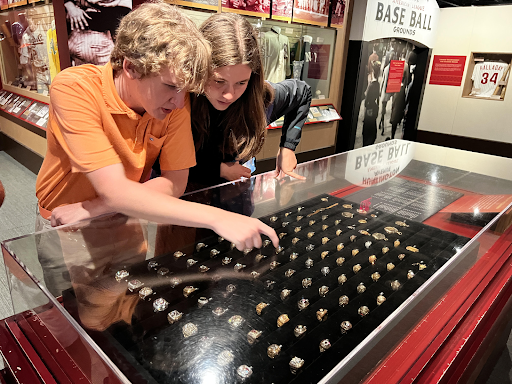 It isn't every day that a high schooler gets to have a conversation with the groundskeeper of Doubleday Field, the iconic baseball field in Cooperstown, home to the Baseball Hall of Fame.
"He was like 'I'm not a baseball fan'," senior Janel Sharman said. "You'd think that he would be this huge baseball fan and he wasn't. He just loved the work."
Talking to the groundskeeper might not be on the top of everyone's bucket list when surrounded by famous players such as David Freese, Ozzie Smith, and Ted Simmons.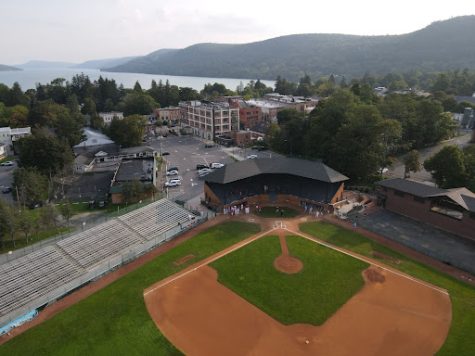 But Shaman sees the importance of chasing after those unique stories that are worth being told. 
Only through conversation and the power of storytelling are these experiences shared with others. 
The conversations didn't end there. For five days, seniors Janel Sharman and Henry Thomas got to work in the world of professionals. 
It also isn't every day that high schoolers get to have personalized conversations with Hall of Famers like Ozzie Smith. 
Filming games, having conversation, building relationships, and learning from one another, Sharman and Thomas were given an experience that not many get a chance at. 
New Media teacher Mr. Steve Douglass took Sharman and Thomas to work with the Cardinals for five days as they put the skills they've worked hard to develop in New Media to the test. 
They not only filmed the games that the four drafted teams were participating in, but took the time to tell the personal stories that otherwise would not have been told.
"It was about the little moments going on, so we had a great conversation with one of the professional photographers for the Cardinals who was actually there," Douglass said.
Talking with professionals was part of the experience that everyone got to take something from. 
"For me that's a peer level thing but then also for the students one of three professional photographers for the Cardinals is breaking down how to shoot baseball," Douglass said. 
Surrounded by mostly adults, Sharman and Thomas were treated professionally to film the games just like adults would. 
"I enjoyed the professional environment and being treated like an adult, not like a high schooler," Thomas said. 
Throughout their time there, they got to build relationships with all kinds of people. Former Cardinals player, David Freese even took the time to talk with them. 
"He was incredible, like really really thoughtful, really present, insightful in so many ways," Douglass said.
This was a new experience for Sharman and Thomas but they welcomed the unknown with excitement.
Shooting baseball requires more attention than some other sports. One second nothing is happening and the next someone could hit a run. 
"I had never shot baseball and it's a unique sport because for football there is always action but for baseball there could be nothing and then someone hits the ball and you have to get that on camera," Sharman said.
Nonetheless, they continued to film games as they learned to improve upon their skills along the way. 
"By the third day I kind of got a hold of what to anticipate, when someone was going to hit the ball and where to focus the camera and who to capture in each moment," she said.
Surrounded by famous players, an actor, and the CEO of McLaren, Sharman and Thomas could have easily been intimated but they continued to take those steps and work with others to produce the best work they could. 
"You go in thinking you know what you're going to get and you're thinking 'I'm going to get x, y, and z' but in reality you don't know what's going to happen until you show up," Thomas said.
It takes a variety of skills to adapt in such situations so quickly. Sharman and Thomas were best fit for the trip based on their work in class. 
"There's no substitute for putting in the work and doing it. People have seen them on the sidelines of various sports for awhile, filming, and it really is just reps," Douglass said. "It's about being in those circumstances because frankly it is pretty intimidating if not."
Being able to take on anything at any moment was key for getting to tell the best stories. 
"We captured anything we could find, we always had a camera with us which was fun," Sharman said.
Story opportunities surrounded them as there were so many different routes they could take to capture the experience. 
"I learned how to respect people's boundaries while also being really attentive and jumping at a situation when you hear an interesting story," Sharman said.
They had to find a balance between overstepping and also doing their best to get to share the stories that they wanted to 
share. 
Having the time of five days to work with the same people made it easier to have those conversations that require making connections.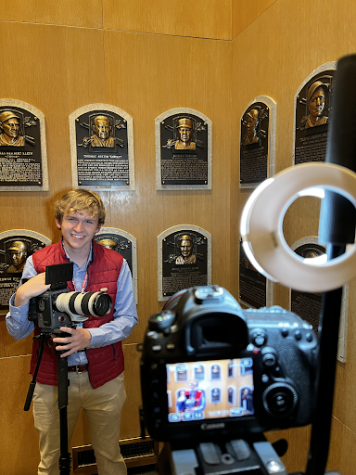 "The cool part is the hard work is how it translates to all of those professions and they can see that. They can see kids who are engaged at a high level, who are doing things confidently, and are able to execute that," Douglass said.
"There was a shared respect there that's pretty unique. Especially for a high school student that's really unique. I'm very thankful that the Cardinals gave us this opportunity and trusted us."
The students got to show off their passion for New Media while they built their own relationships to tell the best stories. 
Getting the chance to talk with famous players on a personal level, and knowing them as real people was an experience that not many other high schoolers can say they have had. 
"They were all super personable and had distinct characteristics about them that I learned to realize which was cool, getting to know them on a personal level and telling people Ozzie Smith and I just had a little chat," Sharman said.
The trip wasn't just about the famous people, but it came down to the different experiences available. 
It gave Sharman and Thomas a chance to see the professional setting of possible future careers for themselves.
"It showed me there are different career paths than I was thinking and there are so many different things you can do in film," Thomas said. 
Without the chance to film baseball at such a high level, they might not have known the different ways their skills can apply to jobs.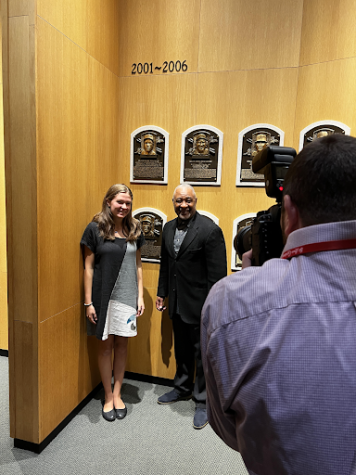 At the end of the day the experience comes down to storytelling. It comes down to the people that you work with along the way and how you go about sharing their narrative. 
"The job really, the storytelling, is to humanize them and show their authentic interactions and those you can't plan for you just have to be present with. That's hard to do but when you do it well, it's incredibly rewarding," Douglass said.