Life Advice with Vince Vaughn: His Return to New Media
In an interview with The Forest Scout, alum and Hollywood star Vince Vaughn urges students to do what excites them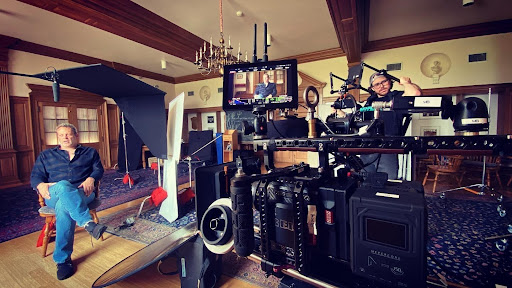 With a leather jacket, a brain full of sci-fi references, and a killer sense of humor, actor and comedian Vince Vaughn started auditioning for roles early on while he attended Lake Forest High School. 
As a junior in 1987, Vaughn's love of acting caused him to join the New Media program, a class dedicated to teaching students about every aspect of the film industry. Whether it's acting, filming, production, New Media teaches it. And Vaughn joined just like the average student today, with an interest in the film industry and dreams of a future in it. 
While in the program Vaughn made films with his friends and it only furthered his long love of acting. Wanting to do more, Vaughn asked one of his friends if he could attend an audition in order to get a feel of what it was like. While there, the casting directors made note of Vaughn, specifically what he was wearing, and offered him the role. 
"I dressed more in blue jeans and a leather jacket and, you know, whatever I was at the time. And they were like 'you wanna compete for this thing?' And I got cast, and this kid's agent called me and said 'we'd like to make this deal, to represent you,'" Vaughn said.
Although a minor role, it allowed Vaughn to get a feel for the acting industry. Soon, he enlisted in a six-week mastery program, making him ravenous for further training. 
In that same class, a student recognized Vaughn's incredible humor and acting skills and suggested that he enlist in an improvisation program. 
"It was purely improv-based training. Where you're not doing sketches that are already written, rather, you're going based on the audience's recommendations," Vaughn said. 
Improv opened up a new world for Vaughn, one where he felt fortunate to continue acting and make it his central focus. 
"Finding something that you like, and finding an avenue to dive in and explore is an exciting thing," Vaughn said. 
Trust the Process
Although the work was not easy, Vaughn was passionate about becoming a better actor and recognized the value of the opportunities he was being given. Vaughn encourages students to find something that excites them, not because it's an expectation, grade, or payday, but because it's something that they're passionate about, something they get excited for. 
"There are so many lessons and skills that will apply and stick for whatever it is you might do," he said. 
Vaughn also urges students to go out and do what they're passionate about, to find challenges, and to look for the great lessons that come from the process of just doing. It also extends outside of just the film industry; Vaughn often finds himself having to use that process and translate it into his own abilities.
This process of learning by experimentation, an idea that Vaughn found in New Media more than 30 years ago, is one that was also mirrored in his first acting classes. In New Media, students are introduced to theories and ideas where they are then given the space to execute them. 
"When I first discovered this process, I thought; "Well, gosh. This is how you learn, why did we not do this more in school?" Vaughn said.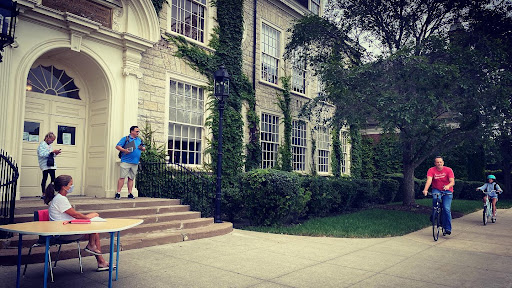 This process has inspired Vaughn's work throughout his career. Vaughn's been in the limelight since his breakout role in the classic comedy, Swingers. From there he became known as one of the stars of the early 2000s comedies, with films like Dodgeball and Wedding Crashers. 
While he is best known for his comedy, he's showcased impressive dramatic talent as well in films like Brawl in Cell Block 99 and Hacksaw Ridge. Skills that he accredits to his time at LFHS.
When he got invited to celebrate the 50th anniversary of New Media in 2017, Vaughn knew he couldn't turn it down. This allowed him to see what New Media was doing now.  He met Steven Douglass, the director of New Media, for the first time. Instantly they clicked and decided they wanted to elevate the New Media program. An interest to start a new project, involving the kids of New Media last year, had Douglass and Vaughn giddy to get to work.
 "I think it was a Wednesday morning when Vince called. He was like 'I got an idea about a continuity project.' That was the coolest thing, figuring out what would be best for kids," Douglass said. Their logical development and growth." 
The Life Advice Machine
Teaching kids and furthering their growth is Douglass' and Vaughn's number one priority. Interviewing Vaughn was like sitting down with a motivational speaker for an hour.  
He is a life advice machine, in fact. He gives guidance in a way that anyone can understand and relate to.
 "He broke down Home Alone and the Wizard of Oz during the 50th anniversary. Fifth-graders through professionals were all leaning in like "Yeah, all right. I never thought of it that way!" Douglass said.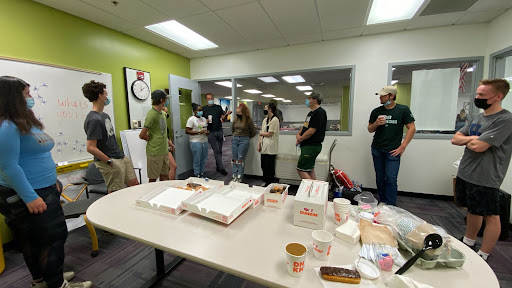 Vaughn uses the aforementioned movies as a way to connect with all ages. Vaughn has an innate ability to understand story structure, and he's used this understanding throughout his acting career, and his life. And now he wishes to help others understand that at their core, these movies and these stories, are all the same: They all involve the hero's journey.
"The hero has a thousand faces: it's the same hero. It's the hero's journey, it's one that we all go through in life. And it's repeated constantly in our processes and when we see stories that we feel are authentic. We feel that because we know that this is the experience of going through something," Vaughn said.
Douglass and Vaughn have big plans for the future of New Media. Last summer, the two spent time with kids of all different ages, to teach them the process of developing a film. But more importantly, to teach them how to craft a personal story. 
"This summer was a blast. We ended up including junior high kids; that was fun. It's exciting to see all the different things that Douglass had been leading the charge on, giving kids opportunities and letting them know to dream big, and that all these things are achievable," Vaughn said.
Now for this upcoming summer, the two want to do something even bigger. They wish to extend the New Media program down to kids in junior high and even up to college students. 
"
So, fail and fail quickly. Don't be afraid to make a mistake, always get back up and re-approach it. Don't let anything stop you."
— Vince Vaughn
The goal is to tap into the incredible storytelling of people from the North Shore, akin to the work of John Hughes. This is in order to create a feature-length film that allows kids from different backgrounds to participate and create something truly meaningful. 
"We are going to start at the kids' level and try to bring together a really strong group of students who can be committed to developing something longer," Douglass said. He wishes to push the limits of what New Media can do, and what the kids can do, by bringing it to the next level. "This is not about Vince or me, and what we want to create. It's really about how we think about our next level of challenge," Douglass said.
 For Vaughn and Douglass, the thought process is really, 'Why not?' The New Media program has evolved and being in a completely digital world, the two believe they have what's needed to make something big happen. 
This, of course, couldn't be done without the effort put in by both Douglass and Vaughn. "One thing that's exciting to me about what Douglass is doing, is that he sees the benefits and the opportunities of Lake Forest. He's expanding and working very hard to bring that to areas that wouldn't normally have it. He's an easy guy to be supportive of," Vaughn said.
The process of finding a project that will work is still ongoing, but the two are flexible and ready to make changes as needed. They encourage failure, and their ultimate goal is to have the students in control of the story.
"What we say in the classroom and we have our different versions of saying it. Don't worry about results, don't try to be perfect. Because you're never going to go through an experience and not learn," Vaughn said. So, fail and fail quickly. Don't be afraid to make a mistake, always get back up and re-approach it. Don't let anything stop you."