Speakers Return to Student Section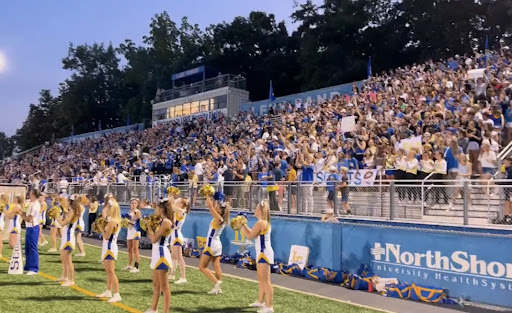 The Lake Forest student section is hard to miss when attending sports games, especially football. The loud chants led by the cheerleading team echo throughout West Campus, making it very easy to feel the school spirit every Friday night.
"There's a lot more school spirit in the student section this year," said senior and Scout Nation member Henrik Goldsberry. "It's much more lively due to there being no COVID restrictions." 
Students quickly packed into the student section for the Lake Forest vs Waukegan football game, leaving seniors spilling down onto the fence or the floor. 
Scout Nation leaders attempted to bring a new addition to the student section,  eight-foot tall speakers that were synced together and played everyone's favorite songs.  The students sang along to the speakers the entire second half as they watched their home team defeat the Bulldogs. 
"In four years of being on the football team I have never seen the student section like that. The speakers at the Waukegan game brought a different type of energy," said senior football player Evan Sloan.
The next week the Scouts had their rival game homecoming night vs Libertyville. Students started arriving before the game started just so they could get a good seat. 
Students were saddened when they realized the two speakers weren't standing beneath the bleachers. The administration removed the speakers away because they were being played over the bands music, leaving band members upset.
The student section started a "we want the speakers" chant late in the first quarter. The energy of the student section slowly started to diminish.
Scout Nation worked to figure out a good way to use the speakers but to also allow the band to get their spotlight. 
"We love the speakers," said dean Laura Clegg. "We just want to find a comfortable time for the band to play and for the speakers to play." 
After the Libertyville game, Scout Nation created a few rules for the speakers.  These new rules were in effect during the Lake Forest home game vs Zion-Benton. Lake Forest fans cheered on their team all four quarters, leaving with a 35-7 victory. 
"The entire student section minus teachers and staff need energy and the boys on the field need energy, and that is what the speakers bring," said junior Murphy Moorhead.