What is Lake Forest High School doing for the environment?
Some positive changes could come with future renovations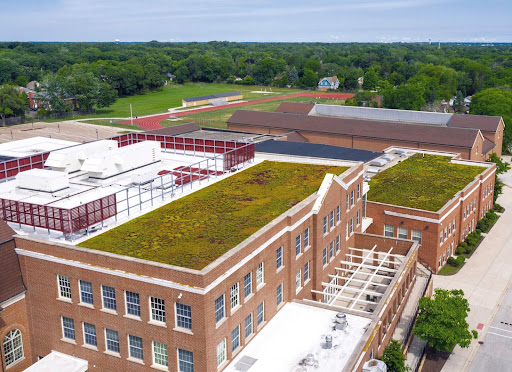 As more attention focuses on the earth's climate crisis, many believe that it's up to individual facilities to do their part in making a difference,  So, what is Lake Forest High School doing? 
As of now, there is no use of renewable energy, including solar and wind power, at the school. This is due in part to the way the building is structured; the building was first constructed in 1935, and three additions have been made since then. Because of this, changing the electricity is a challenge. The outlets and their wires are very old, so in order to incorporate this kind of energy into the school safely, there would need to be significant upgrades and planning.
However, this may change. In the school's five-year district plan, administrators are looking to add solar panels at both East and West Campus, helping LFHS reduce its emissions. In addition, there are fiscal advantages to using solar power. It ends up saving energy costs, and the project as a whole can provide numerous jobs. 
"Sustainability in schools is important to educate and promote these practices in our current generation, so that as they get older, they can set good examples for future generations to come," environmental science teacher Mrs. Candace Davenport said. "To have it ingrained in our schools helps to foster that lifelong learning and practice of sustainable habits to hopefully reduce the impact of our current and of course our future generations." 
Another significant way for schools to support the environment is recycling, which reduces the need to harvest new materials from the earth, and it reduces the amount of waste sent to incinerators and landfills. According to the Illinois Environmental Council, Illinois alone produces 19 million tons of garbage per year, and only 37% of this waste is recycled. According to Dr. Mortenson, director of facilities for the district, the school does recycle, both cardboard and plastics. However, the strength and quality of this recycling program is uncertain. 
"I think that we could do a lot more, especially with recycling," Environmental Club president Kate Johnson said. "I think that the school could push out more of a message with the importance of recycling." 
Minimizing waste is a great way to increase sustainability, especially in such a large building. 
"There's also a lot of disposable garbage that we could cut down on, like forks, the straws in the Grind. I think we could switch to biodegradable containers and stuff like that," Johnson said. 
There have been efforts in past years to enhance the recycling program, but they haven't taken off. There have also been efforts to start composting, but it has proven to be quite complicated to maintain. 
"Last year we had a group wanting to compost, which would be awesome, but the challenge is maintaining it," Principal Dr. Erin Lenart said. "You have to have chemicals, and somebody has to be out there turning it over, so if we want to, and a student got awarded some grant money for it, what's the plan for that?" 
Some students are frustrated with the school's current situation.
"I feel like [the school] does so many things to make it seem like they're eco-friendly and trying to help the environment, and the students also care a lot about it," senior Tally Feingold said. "I see a lot of students make those same efforts, so when it's the school's turn to do their part in helping the environment, and they don't do that part, that's really frustrating."
However, there are plans set for improvements in the school. One plan is to implement more green spaces. As of now, the school has two green roofs, but the administration is hoping to add more. In addition, some teachers have proposed putting a greenhouse on the school's campus as a place both to study and to implement solar energy. 
There are many small ways to integrate more green spaces into the school, and neighboring schools are great examples. At Stephenson High School, they have a green wall full of plants that filter the air and create a beautiful space. New Trier High School has two green roofs with functioning patio areas.
However, making large changes is not just up to the faculty and administration. The role of individual students in improving our school is very important – and the faculty is highly willing to support these initiatives. 
Lenart expressed her willingness to help students if they have plans, so long as it can be maintained for years to come.
"If students can think of things, and if they want to initiate, implement, and come up with a legacy plan, then I would be all ears," Lenart said. "The sky is the limit of what we can do, and we can work to make sure students are supported in their learning, and in their citizenship and contributions to Lake Forest."