New Media's Summer Stories reach new levels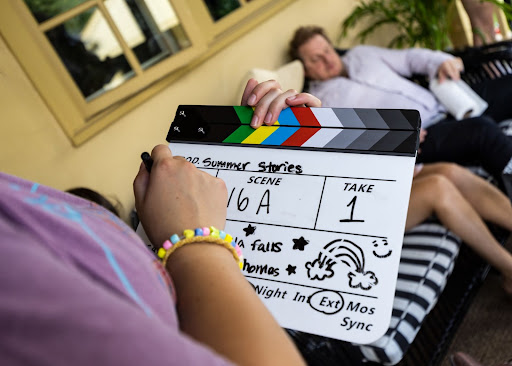 Twelve-hour days were the norm for senior Janel Sharman who worked on the set of this year's Summer Stories. As a part of the writing team, editing team, and a director, the workload was sometimes too much. 
However, it was worth it. Not every high schooler can say that in one summer they were a part of a production that gets shown at a Film Festival.  
With such a tight time frame, failing is part of the process in New Media. Learning to fail quickly and coming up with new solutions to any obstacle they are faced with is essential for the group.
"You have to fall on your face a couple of times to be able to learn from your mistakes," Sharman said. "We definitely did our fair share of falling on our face, but that comes with trying something new and taking on such a large project, and I'm proud of what we have created and learned as a group."
Over the course of the past few years, New Media has upgraded the quality of productions that they produce, throughout their summer project, Summer Stories.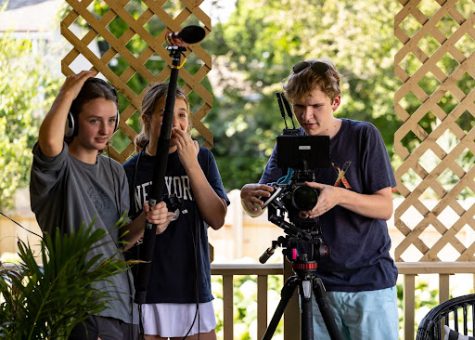 This year, in three different sessions including Pre-production, Production, and Post-production, the students wrote, developed, and produced a pilot episode that will be shown at the Catalyst Film Festival in late September. 
New Media teacher Mr. Steve Douglass led the group as they took on the first-ever episodic project. It differed from the typical short film style that both the students and adults had been used to attempting. 
"You have to be open handed with your ideas and be flexible with that," Douglass said. 
It was a new experience for most involved, and at the center of it all was the growth that occurred along the way. 
"We're doing this to learn and to be able to grow and be challenged by that and it's going to go in different directions and we have to step up," Douglass said. 
Head writer senior Vince Boberski is also familiar with the long work days and the effort that it takes as a whole to keep going. 
"Keeping up the quality of our work for long periods of time was a challenge, I think that Summer Stories really taught us to keep up our endurance and use our time wisely," he said. 
The morning session of the program consisted of middle schoolers and high schoolers working side-by-side as the older kids took on leadership roles. The students met with individuals that shared their guidance and sat down to talk with them about their experiences. All it took was a Zoom meeting to connect students with role models in the industry. 
Sam Hayes, Bill Lawrence, Skyler Stone, and Vince Vaughn were just some of the people that the students were able to speak with throughout the process. 
Vaughn spent time in the writing process as he collaborated with the team to narrow in on what they really wanted to tell the audience. 
They were able to take the script down from 68 pages to 35 in just one short week.
"Vince Vaughn showed up [on set] while I was directing a scene. He immediately jumped in and started talking to the actors about their characters," Sharman said. "It was so useful to simply watch him walk through the character and story with them and it gave me so many ideas of how to approach a scene." 
Not only were industry professionals a part of the larger process, but so were teachers from Lake Bluff and Deerpath. The project not only taught students but gave back to the community.
"They were really inspired. They're now going to build that curriculum back into the Middle Schools," Douglass said.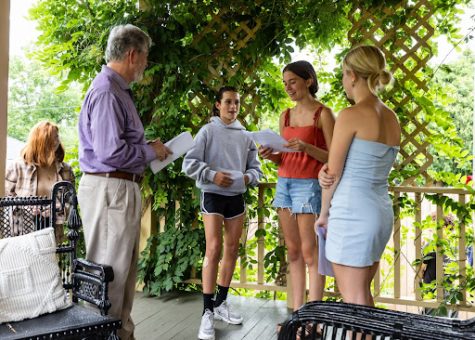 The project gave students the opportunity to work alongside kids of varying ages, former teachers, and professionals. Everyone was given the chance to create bonds with people from all walks of life.
The accessibility to such influential mentors shaped the way the project was done. 
"That is the big picture, that's why we do this is we establish these relationships. They see the value, they see what we're doing around giving students unique opportunities to tell their story. That's what it's all about," Douglass said. 
The project mirrored a professional film set as the cast and crew worked alongside one another. Trust was built with the more time each student spent together. The afternoon session then consisted of the filming process, as the students put their ideas into production.
Spending hours with one another and bringing each other up when difficulty arises makes for a stronger bond, resulting in an overall better project, Sharman said. 
Such a tight knit group got to consistently work with one another and form their own individual relationships. 
"A few of us had been on movie sets before, and most of us had worked 12 hour days before, but most of us had never done them at the same time," Boberski said. 
Filming finished a day early, allowing for extra footage to be shot to expand upon the storylines already built. 
It was a "personalized approach" to learning in a professional setting, Douglass said. 
Since the project so closely mirrored the real world, students come out with life experience they would gain in their first few jobs. It provided a way for students to get exposure to the work environments that they might pursue in the future. 
"I think the biggest thing the experience taught me was that it really isn't only about the finished project and the journey is just as important," Sharman said.