The Forest Scout Friday Five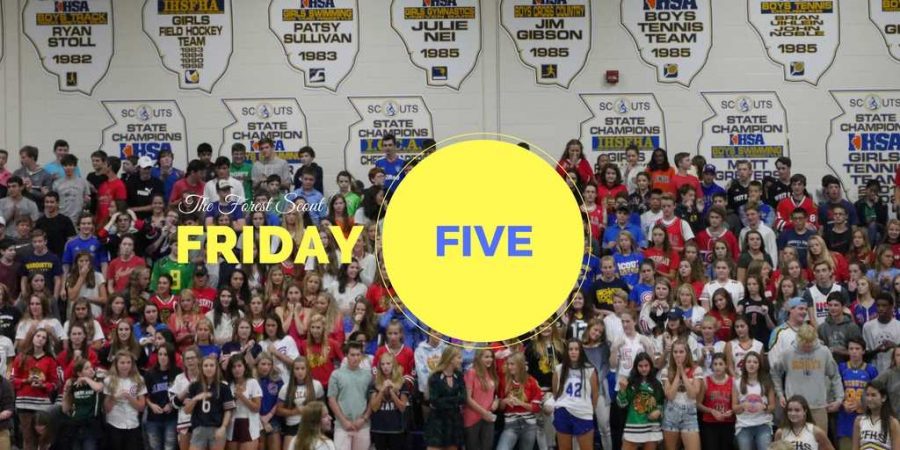 The Forest Scout Friday Five is a weekly segment that celebrates five people making a distinct, profound, and positive difference in the Lake Forest High School community. To visit our most recent installment, click here. To recommend a student, teacher, support staff, or community member for inclusion in The Forest Scout Friday Five, please email [email protected]
Mr. Bill Lenzen: In every American high school, there are those people whose contributions are entwined in the brick and mortar of the building; those who wake and start their day long before the students arrive each morning, and who leave hours after the final period of the school day has commenced. For Lake Forest High School Building and Grounds Maintenance Supervisor Bill Lenzen, the building is in his job title, but it is not all that defines his role at the high school. For example, if you wander into the athletic field house located near the school's easternmost side at 6 AM, two hours before classes begin, you'll find Mr. Bill Lenzen slamming medicine balls, doing burpees, and encouraging his colleagues with lighthearted humor in the early morning Teacher Fit Club run by the Wellness Department's Matt Jerina. Later on at around 5 PM when the hallways are scarce and the building is nearly vacant, you'll still find Mr. Lenzen, putting in an honest day's work as he has been doing for nearly two decades at LFHS. 
For those who have achieved a long tenure at LFHS, Mr. Bill Lenzen is a mainstay in the building that everybody knows. If you have a problem–a PE shower has no hot water, you need classroom decor hung, or just desire the handyman service of Bill–he's there in a jiffy, reliable as ever. Mr. Lenzen's handiwork is laid all over the building, from the pristine maintenance of the building's outside to its aesthetically pleasing interior. Often times, though, Bill will be the last to tell you he was the one who did it. Rather, the job will simply be done, performed with a smile, a handshake, and a "have a good day." That's just who he is–button-down work shirt with "Bill" embroidered over one breast pocket, Lake Forest Hgih School on the other, a smile on his face, and a bounce in his step that few Senior Janitor's around the state (or country) could emulate. 
For his entire career, Mr. Bill Lenzen has done nothing but give and has asked for very little in return. Mr. Jim Matheson, a Drivers Ed. Teacher at the high school, recognizes Bill as "one of the most consistent, defining people of this building. If you don't know Bill, you haven't been around very long. He does whatever is needed–whatever you ask–and does it all with the respect, integrity, and honesty that only a throwback, salt-of-the-Earth serviceman can do." 
"It's hard to imagine this building without him," mentioned Lori Stoller, Mr. Lenzen's right-hand-gal in the Building and Grounds Department. "It certainly wouldn't be the same. His fingerprints are everywhere, his impact on the people here is astounding. People love Bill, as they should. He's the best."
Kaden Locey: It may have been his southern upbringing in Texas until the 6th grade, or perhaps the influence of his parents, JR and Laurie Locey, but to junior student Kaden Locey, being polite still matters. In a world where informal emails to teachers and other adults have become the norm in a can-you-do-me-a-favor driven world without any thanks for students, you'll still hear "sirs" and "ma'ams" from Kaden Locey.
"Not only is he polite to adults and parents, but he always puts you before himself in simple conversations," added junior Trisha Bhagat. "It's refreshing–he's always in progress of an attempt to make you feel important." Specifically, Kaden made quite the impression on his Spanish class last year, a class he shared with Baghat and some twenty odd other students influenced by Kaden's constant enthusiasm. "He's just the best person you'll ever meet," added another junior. "He has the best attitude and a constant enthusiasm that is present every single day, no questions asked."
Like politeness, enthusiasm may just be another trait that runs in the Locey lineage. Kaden's sister, Maddie ('15), was one of the first pioneers when Scout Nation took off during the 2014-15 school year with the arrival of P.E. teacher and Scout Nation Adviser Mr. Joe Busse. 
Often, our elders complain that the phones in front of our eyes are draining our ability to have face-to-face communication and practice simple friendliness and geniality with each other and with adults. Kaden Locey, however, is proof that hope still exists for us millenials. He plays football, succeeds wildly in the classroom, and most of all, is considerate of the people around him in his conversations and everyday actions. Thank you, sir, for showing us the way. 
Mr. Phil Woodruff: For a teacher of an allegedly dead language, Mr. Phil Woodruff is keeping Latin very much alive at LFHS. Mr. Phil Woodruff, one of LFHS' longest tenured teachers, has been a pillar in the Foreign Language Department for nearly three decades. At Lake Forest High School, Latin is one of the most popular languages offered by the school. According to a source, Mr. Woodruff emphasizes that mastering Latin can help you achieve mastery of the etymology in all languages. Much of Latin's popularity in this building can be attributed to Mr. Woodruff, who takes young students, sprinkles them with all of the worldly wisdom that he imparts to them on a daily basis, and the next thing you know, voila! (or more aptly, muraculum!) you have a junior student wearing a Latin Club t-shirt with "YOLO" in Latin scribed across their chest. 
Alec Brandel and Nicole Becker, former students of Mr. Woodruff, both mentioned that he is, "perhaps the smartest and most knowledgable man [they] know." In describing the aforementioned compliment, Brandel added, "He has so much info. He somehow relates what we are learning in Latin to Greek culture and Roman culture on a whim. His 'Word of the Day' activities are facets of the class that only Mr. Woodruff can create." Becker, who has now had Woodruff as her guide for two separate Latin classes, added, "he explains things at length to deepen our understanding and has the capability to go off on a tangent with information on just about anything." A man with so much knowledge takes his talents to the chess board after school, heading the school's Chess Club on Wednesdays and Thursdays after school from 3:20-5 o'clock. Although many have learned chess under the tutelage of Mr. Phil Woodruff, they would undoubtedly admit that he is still king. Check and mate. 
What is perhaps most resounding to these students, however, is the way Woodruff treats them long after they are on his caseload. "He is such a nice person and always sparks a convo with me (sometimes in Latin) about how things are going for me," Brandel mentioned. "He is serious in class, but has a smart and intelligent sense of humor that keeps the classes entertaining," Becker added. 
Clearly, for as long as Mr. Woodruff has been teaching the students of Lake Forest High School the Latin language, he still finds fresh and exciting ways to convey course material. In his case, it goes without saying that although his venerable career has spanned almost two generations of Latin learners, "optimum est alius nondum venit (the best is yet to come)"
Sophie Noble: A close friend and comrade of many,  Sophie Noble may come off as a quiet or reserved person. But to her friends and family, Noble is a reliable, trustworthy, and optimistic person to be around at all times. Not only is Sophie a smart and dedicated student, but a heavily involved character in many extracurriculars as well. She is a part of NHS and on the exec board, no small feat considering the amount of highly-qualified applicants each year. She is also heavily involved in COR and Kairos through The Church Of Saint Mary, and spreads her values to each person she encounters. Aside from her faith and leadership service, she is a Varsity Cross Country runner and a captain of that as well. Above it all, though, Sophie is a trustworthy friend whom many people turn to for advice or help in a situation they are presented with.
Sophie has moved around a few times in her life, living in Germany through some of her middle school days and moving back here for high school in time for freshman orientation. She has seen it all and experienced the world as much as one could in her short 18 years. A close friend of Sophie's, Wesley Dixon, now a junior, shared, "Sophie's one of the few people that you can always count on no matter what. Her inspiring words for a bad day or mature wisdom for tough situations is what makes Sophie an incredible person and I am blessed to have her in my life."
Another close friend and partner of Sophie's is TJ Dasso. Dasso, now a senior, only had great things to share about the lasting impact Sophie has had on him and the things he has learned from her in their time knowing each other. TJ shared, "Sophie has an endless optimism that never fails to brighten people's days. Whether it's seeing her in the hallway or sharing a class with her, she always seems to radiate happiness towards everyone around her. Sophie's contagious optimism is a wonderful characteristic and because of this, every minute spent with her is time well spent."
Sophie is a model to emulate and the epitome of a positive role model at this high school and I am able to see the immensely positive impact she has on others each day. Sophie values many things in her life, but she truly values the importance in relationships and trust above all else. She is without a doubt someone you have to reach out to given the opportunity, and get to know before she takes her next step onto college somewhere and starts impacting those around her in a new setting. 
Matthew Carr: If you rolled out Matt Carr's high school resume to someone from outside the boundaries of the Lake Forest and Lake Bluff areas, it would look like something out of a movie. A universally well-loved, excitable young man who was a member of a record-setting basketball team that was also elected Homecoming King? It almost sounds too good to be true. But for Matthew Carr, he lives life like every single day is, in fact, too good to be true. 
"Nobody loves Lake Forest High School more than Matt Carr," added Mr. Graham O'Connor-Brooks, a Special Education teacher who worked with Matt extensively during his time at LFHS as well as in the summers at Camp Hope. "This place means everything to him."  
Although Matt technically walked in graduation with the class of 2015, he can still be found at Friday night Scouts football games in the fall, rallying Scout Nation from the basketball stands in the winter, and doling out high fives in the hallways during all of the hours in between. Matt now spends his 8:15-3:20 school day in the Transitions program with Mrs. Stender at West Campus and his Scout pride is beaming brighter than ever.
"Nobody loved our team more. He was just as much a part of our group's success as any other member of the team," shared Evan Boudreaux, a close friend of Matt's who helped captain the Scouts to a record-breaking 28-3 basketball season in 2015 and is now a student-athlete at Dartmouth College. "Every time we saw him, he was smiling–that's just who he is."
A perennial crowd favorite in the annual ELS game, the spring semester means one thing to Matt–a chance to showcase his talents in front of a school-wide audience. "It's all he'll talk about for weeks. That day means the world to him and he shares that energy with others," revealed one of the organizers of the game. 
Matthew Carr is perhaps the most famous and recognizable Homecoming King in the 82 year history of LFHS not because of All-State athletic accolades, his ACT score, or any of the other benchmarks we high school students sometimes measure ourselves by. It's because of his happiness. When Matt Carr moves on from the high school environment, he'll undoubtedly go kicking and screaming because of just how much fun he had. His pure and boundless happiness inspires all of us to introspectively ask ourselves, "would we feel that same way?"
His essence exudes pure enjoyment; he makes all of us strive to enjoy the simplest of things at the same level in which he does. If we could all channel just a little bit of what Matt brings to us each day, this school might be the most enjoyable place we've ever come to know. 
About the Writer
Ghost, Author
Ghost is a section of The Forest Scout that chooses to publish material anonymously in order to increase the depth of their investigative reporting. Ghost...