The Forest Scout 2022 Thespian of the Year: Amelia Myers
It all started with the Yellow Brick Road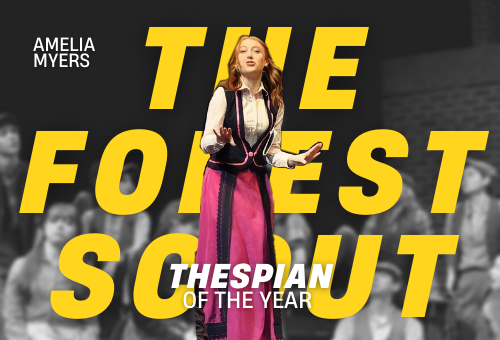 It was while getting swept up in a magical tornado, skipping along towards the Emerald City, and escaping an army of flying monkeys that senior Amelia Myers discovered her love of performing.
"When I was seven, my mom and I watched The Wizard of Oz together, and I wouldn't stop singing the songs or talking about the movie," Myers said.
Noticing her daughter's interest in acting and singing, Myers' mother signed her up to act in a children's performance of The Wizard of Oz.
Myers' habit of ceaselessly belting "Over the Rainbow" was more than just a childhood phase, it was the earliest sign that she was destined for the stage. Eleven years after her acting debut as Dorothy's Aunt Em, Myers has amassed a list of credits that rivals the Yellow Brick Road in length.
In high school theater, underclassmen often must wait their turn in line behind veteran upperclassmen when it comes to casting. Myers, however, hit the stage early on in her time at LFHS.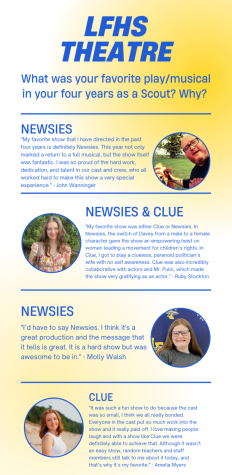 Even as a freshman, Myers displayed maturity in her craft, allowing her to keep up in shows where her castmates could often be up to four years older than her.
The Forest Scout's 2021 Thespian of the Year Kailey Albus recalls interpreting Myers' remarkable poise at a young age as an indication of her potential for stardom.
When Myers was an incoming freshman, Albus acted alongside her in a production of "You're a Good Man, Charlie Brown" at Skokie Theater.
"Her performance as Snoopy was both hilarious and insanely impressive given her age at the time. She has always been a singer, but she stepped up in this show and took on the sophisticated wit of the character with ease," Albus said. "That's exactly when I knew that she was a smart actor, one that could take LFHS Theater by storm in due time."
But Myers' emergence into the spotlight was more than just a matter of time, it was the product of her hard work and commitment to excellence.
Myers continuously sought opportunities to improve outside of just her required rehearsals for the school productions, performing over summers and with other production companies, but also taking theater classes offered by the school.
In LFHS theater classes, directors teach students the Meisner Technique– a unique training form that teaches actors to trust their instincts and react to their environments to produce more authentic, compelling performances.
"She has just really come to life on stage due to her training. I've seen her really change in terms of her abilities. As she's gotten older in school, she's learned more techniques for acting and she's become much stronger on stage," Director Joe Pulio said.
The confidence that Myers has gained as an actress is evidenced by her willingness to take risks and fail.
"She's not afraid of someone giving her feedback or criticism. I've never seen her ever get negative," Pulio said. "Whenever she's given feedback it's like she learns from it, adjusts to it, and she doesn't personalize it, and to be a really good actor you have to learn to take feedback and not personalize it and she's tremendous at that. She's probably one of the best students in my career at that."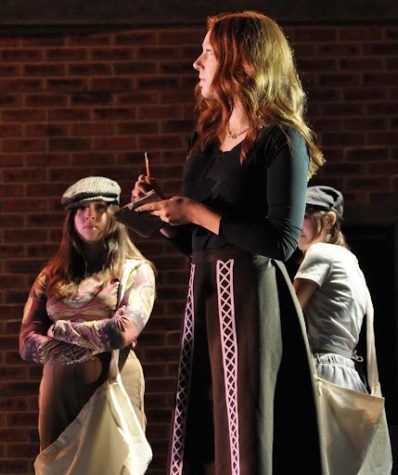 Myers is equally willing to embrace challenges, and an opportunity to do just that presented itself during this year's winter play, Lost Girl, where her role as Wendy Darling required her to remain on stage for the entire duration of the show.
"My proudest accomplishment in theater/acting would have to be making it through Lost Girl without completely losing my mind," Myers said.
Myers' performance as Wendy was the pinnacle of her acting at LFHS, Pulio said, "because of the quality of her work and stage time and just the intricacy of [the role]."
"She carried that show," Pulio said.
After a remarkable four year run in the Raymond Moore Auditorium, Myers is set to attend Syracuse University next fall, where she will be working towards a BFA in Musical Theater.
Despite a high school career marked by achievement, Myers wasn't always certain that she wanted to pursue Musical Theater in college and as a career.
"Honestly, if you had asked me junior year what I was going to major in in college I would have no idea," Myers said. "I didn't realize [Musical Theater] was what I wanted to go to school for until the summer before senior year."
"
She is such an observant and curious actor, always making discoveries in the creative space and demonstrating to others what it takes to know a character.
— Kailey Albus, Class of 2021
Luckily, in her times of uncertainty and through other everyday challenges of high school, Myers had a community behind her.
"LFHS theater has been a huge support system for me throughout high school. I made a lot of friends and created strong bonds with my directors," Myers said. "I've been able to fall back on these relationships when needed and have not only grown as a performer with them, but also as a person."
Myers attributes much of her success to these relationships, including those with her directors at LFHS, her vocal coach, her friends, and her family. "Everyone has been extremely supportive and encouraging and has pushed me to become the performer I am today," Myers said.
But Myers' relationships are not one-sided exchanges.
"Amelia has certainly been a leader among the theater community," junior Connor Boyle, a longtime friend of Amelia's, said. "She's always a constant presence of positivity, always smiling and laughing. She was such a great figure for the underclassmen, showing them the ropes and showing them how we all work together as a group."
Pulio identifies the same leadership quality in Myers.
"I think when kids look at that, the quality of her work, it's something to aspire to," Pulio said. "I would say that probably the underclassmen look up to her because of her work ethic and because of how dedicated and committed she is to what she does on stage."
While Myers' absence will be felt in the LFHS Theater Department next year, those who know her are certain that her presence will be felt at Syracuse, and agree that the best is yet to come for the budding actress.
"Amelia has more conviction than anyone I've ever met," Albus said. "She is such an observant and curious actor, always making discoveries in the creative space and demonstrating to others what it takes to know a character. Regardless of her future involvement in the arts, curiosity and conviction will take her far in life."