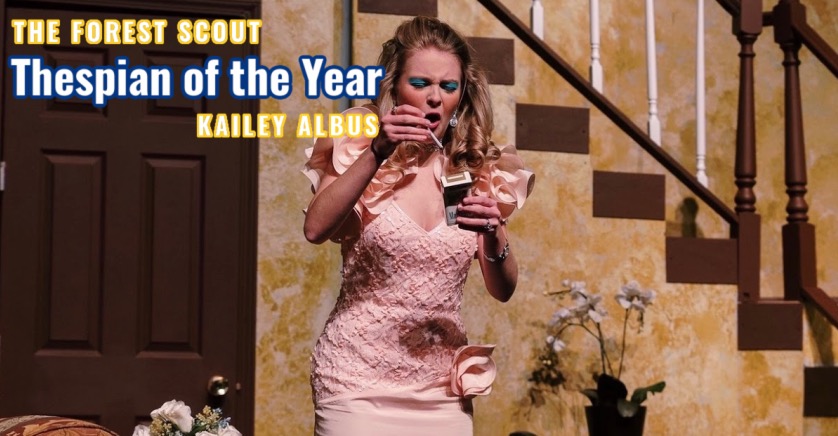 The Forest Scout's 2021 Thespian of the Year: Kailey Albus
June 6, 2021
If you have seen any theatre shows over the course of the past four years, chances are you've seen the one and only Kailey Albus on stage. 
From making a strong impression as a freshman to refusing to let a global pandemic ruin her senior year,  Albus has garnered a legacy at the high school that will not be soon forgotten.
Her senior year she shined in every production of the 2020-2021 theatre season: directing a hilarious One Act in the late summer, playing the crazed Muddy Townsperson of Elephant's Graveyard in the fall, a high strung wife in Reunited Shorts, and of course, playing Patsy, King Arthur's right hand servant, in Monty Python's musical Spamalot.
"She is creative, committed, passionate, and has brought tons of shows to life," said theatre teacher Joe Pulio. "A lot of abilities come naturally to her, but she also is willing to really do the work on a character to understand the why and how she's doing something."
When asked about what Albus loves the most about acting, she responded with, "I love how therapeutic it can be to take on another persona for just a brief moment."
"I'm pretty non-confrontational and I hate saying 'no' to people," she continued, "but my favorite characters are the aggressive, badass girls who get what they want simply by the way they carry themselves. Maybe I love them because I want to be like them."
Though Albus had an astounding four years at LFHS, her start in theatre began long before her time at the high school.
"I started when I was nine in an "acting for the camera" class through a community theatre. I really thought I did a horrible job in my final performance, but I ended up getting a call from a talent agency the next day," said Albus. "Once I signed with them, I just started to audition for everything I could. I learned early on that rejection was an inevitable component of being in theatre and film, which really helped me adjust to seeing it in everyday life."
It comes as no surprise, considering her already strong background in theatre, that she excelled on the stage during her time at the high school, which Pulio heartily echoed. 
"I think the biggest way I've seen her grow is in her confidence in her own skills," said Pulio. "She's always been a strong risk taker and she takes direction really well, but I think when she was younger, doubted herself, and it's been really cool to see her grow into a really confident actor who knows what she's doing and is confident in her work."
But Albus stated that she believes her time at LFHS has not only allowed for growth as an actor, but it has also had an effect on her as a person.
"For four years I surrounded myself with genuinely good people, and even though they came and went with their graduating classes, I felt at home no matter how often our group changed. I walked into LFHS feeling guarded and terrified of my peers, and I'm leaving knowing that I've opened up to nearly every theatre student and director in some way," said Albus. "Every opportunity taught me something about myself: 1984 taught me patience, Love/Sick taught me vulnerability, and this year's Spamalot taught me how to enjoy the ride, even when a pandemic may cancel your fun at any moment."
Although Albus has had a killer four year career in the theatre department, she said Rumors, the 2019 fall show, was the pinnacle.
"Not only did I love my role–a neurotic drunk with the world's worst poker face–but I absolutely adored the cast," she said. "Our rehearsals started with a social "snack break," and our group chat popped off every night after we left. The Rumors cast reminded me every day exactly why I do theatre: an ensemble doesn't only last on a stage."
Despite all the challenges that high school can throw at you, even before you factor in a global pandemic, Albus proved her dedication to performance with her passion for the art itself. She is not only capable of capturing an audiences' heart on the stage, but also on screen, having recently booked a recurring guest role on an upcoming HBO show. 
"It still feels surreal even now that the process has already started," Albus said regarding the experience. "It serves as a constant reminder for me that opportunity is almost always paired with persistence."
She continued: "Even more surreal was the support I received from everyone in the theatre community when I found out; I had to miss a portion of Spamalot tech in order to attend a table read, and Mr. Wanninger completely overlooked my absence and celebrated my opportunity with me. I will never forget that."
In the fall, Albus will be attending Emory University in Georgia and plans to study Film and Media. No matter where her future takes her, she seems to have a bright one awaiting her on the silver screen.