Sea of Red Welcomes Senior Dance Captain Home From Surgery
Douglass is home after two open-heart surgeries
A sea of red flooded the hallways last week as students showed their support for senior Ava Douglass who underwent two open heart surgeries in just 10 days.

The avid dancer and pom team captain, who returned home Thursday, was diagnosed with Scimitar Syndrome earlier this year, preventing her from finishing off the final days of her senior year. She was able to complete her last dance season, holding off on the surgery until this month. 
Douglass's first surgery took place on April 5 at the Mayo Clinic in Rochester, Minnesota. The purpose of the procedure was to heal her congenital condition, allowing her to continue her life knowing she has a healthy heart.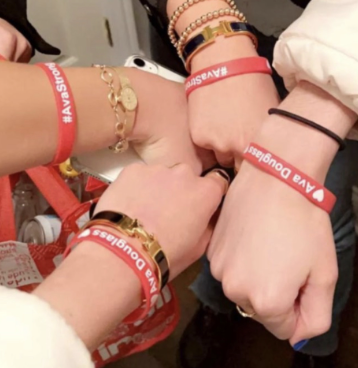 Students came together in order to show their support for Douglass, proving the strong willed reputation and love she holds at LFHS. For her first surgery, Douglass's friends and family wore bracelets inscribed with "#avastrong" to communicate support and love. 
"Throughout our dance season, Ava was lighthearted and strong willed. She believed in each and every one of her teammates, which gives us every reason to repay that favor for her," friend and dance teammate Lauren Milanak, said. "Ava went through something so unimaginably tough, so it's inevitable for us to come together and show our support for her."
While in Rochester, Douglass said watching her friends from home send her love and luck added some needed positivity to her days spent in the hospital. 
"Seeing everyone back at home, and even people far away wearing the wrist bands, made me feel so loved and truly brought light into my days. I feel so lucky to be a part of a community so amazing as this," Douglass said.
Despite the first procedure being mostly effective, doctors took her in for an unplanned second open heart surgery April 14—the day she was supposed to depart the hospital. 
Douglass said she did not let the second surgery defeat her spirit. Instead, she maintained a positive outlook on her positive health and future that would follow.
"I couldn't be more grateful to be in the hands of such amazing people at Mayo Clinic. Although hearing I needed a second open heart surgery the day I was supposed to leave was probably one of the hardest things to hear, it comforts me knowing that they wouldn't allow me to leave the hospital without knowing I'm 100%," Douglass said. 
Friends who were able to communicate with Douglass throughout her journey said they noticed her incredible optimism, although they expected nothing less knowing her typical cheerful spirit.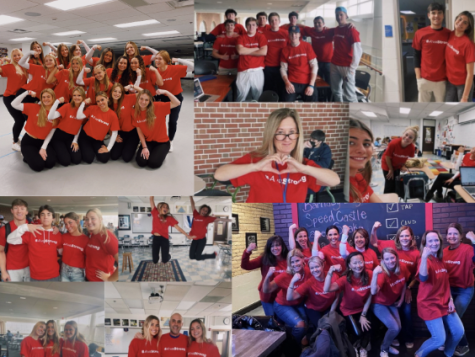 "I was lucky to talk with Ava before, between, and after her surgeries. No matter how tough the news was, she always held her head high and seemed in bright spirits," Milanak said. "She has an impressively high morale and great support system which is what I believe carried her through this tough time."
After hearing the news of her second surgery, Douglass' supporters came together to wear red in honor of her strength during this difficult time. The overwhelming amount of bright red that packed the halls clearly represented how many people were looking out for Douglass. 
 Douglass was cleared to come home and continue her recovery in the comfort of her own house surrounded by her family. She was welcomed home by a crowd of her close friends and teammates.
Her strength and perseverance has made for a remarkably fast and healthy track to recovery. Despite some unexpected challenges, Douglass took everything that came her way with incredible positivity.
"This journey has truly tested me. I learned to trust in my doctors, my surgeons, the process, but most importantly my faith," Douglass said. "I had to remind myself of all the amazing things I will get to do once I'm done with all of this. I hope that if I can get through this not once, but twice, I trust that I will be able to get through any other hardship that life throws at me."