The Forest Scout Friday Five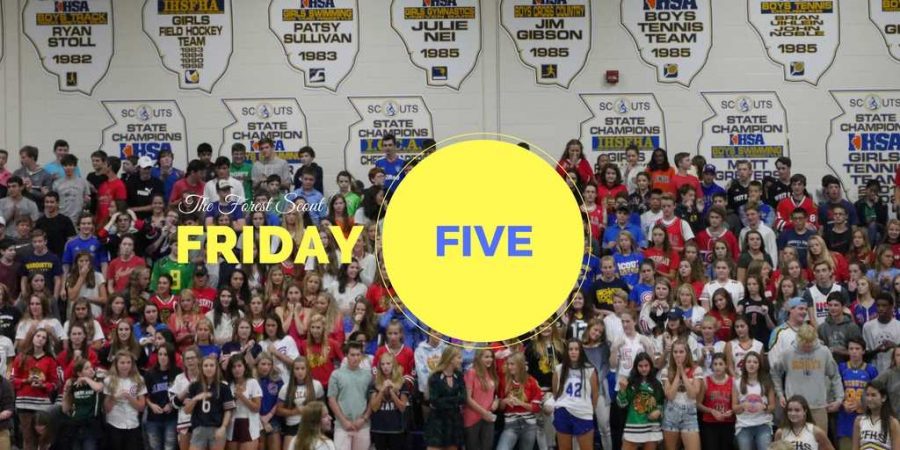 The Forest Scout Friday Five is a weekly segment that celebrates five people making a distinct, profound, and positive difference in the Lake Forest High School community. To visit our most recent installment, click here. To recommend a student, teacher, support staff, or community member for inclusion in The Forest Scout Friday Five, please email [email protected] 
Mrs. Peggy Talbot: It is no secret that the Lake Bluff/Lake Forest community is one that is entrenched in service. That is inevitable to anyone who has grown up or raised children in this area. Service opportunities abound in these communities and ventures for young and old are made possible seemingly every weekend. Although most at some point volunteer for hours–whether it be for NHS, their parish, a Boy Scouts troop, or for the pure beauty in the act of selfless service–few fail to build their life around the idea of giving back. Mrs. Peggy Talbot, however, has become a pioneer for service in Lake Forest, granting thousands of young men and women from the community the opportunity to give back through her non-for-profit community center in Waukegan, Beacon Place. 
Although she would certainly deflect the fanfare, Mrs. Talbot's organization that she has helped build from the ground floor has become perhaps the most popular service center in Lake County for Lake Forest's youth. LFHS students go there to assist the youth with their homework, make snacks, participate in arts and crafts, or help first generation Americans develop the language skills necessary to be a positive and productive member of society. In other words, Beacon Place is your one-stop service shop. Although there are many directors, volunteers, and sponsors that make up the lifeblood of Beacon Place, Mrs. Peggy Talbot's presence and influence in this esteemed enterprise is undeniable. She is continually reaching out to the high school community to get involved in new and innovative ways to help Beacon Place "bring people together for good."
Outside of the countless hours that Mrs. Talbot spends at Beacon Place, she, like all of us, needs to unwind. For that, she has yoga, a practice that has become more than just a hobby for her as she has blossomed into a leading instructor at the Shri Yoga Studio in downtown Highland Park. Her Vinyasa Flow classes are always a hit, filling the studio each week with people she has met over the course of her years in Lake Forest. It helps her, as her bio suggests, "enjoy the other aspects of life at a higher degree." 
And if all of that simply wasn't enough, Mrs. Talbot has raised four upstanding boys (no small task as they are all close in age), Ethan, Christian, Matthew, and Mitchell, who have all developed into reputable servanthood junkies in their own right, undoubtedly under the guidance of the sagacious nurturing from their saintly mother. Her son Matthew, a 2015 graduate of LFHS summed up his mother the only way he knows how. "She's an outstanding role model. She embodies the attitude of relentlessly working to better those around her. Whether it's me, my brothers, my dad, or the community at large."
Nobody in the Lake Forest community goes above and beyond–on the yoga mat, in the home, or in the community–quite like Mrs. Peggy Talbot. 
Billy Gardner: Very few at the age of 15 have the bold courage and zeal to showcase an interpretive dance for their peers in an Honors-World Civilizations class in the first semester of their freshman year. Very few, though, have the confidence and amicability of freshman William (Billy) Gardner. 
When walking down the basement hallway through the conglomerate of freshman boys engaging in the debauchery that often takes place in that area, you may find Billy Gardner standing a head taller than most of his classmates. Billy Gardner, who stands about 6'1″, played on the offensive and defensive lines of the Scouts' freshman football team, but he is much more than just a football jock. He also plays the bass in the concert orchestra under the direction of Mr. Robert Bassill. For this well-rounded 9th grader, he plays scales, can play the guitar, reads books, reads opposing defenses, and can share with you just how his day went in Latin when it is all said and done. But the work that he shares on the page is just the beginning. The presence that Billy brings to class each day is what makes him truly a one-of-a-kind student. 
"He is never afraid to go out on a limb. In terms of originality, he is off the charts," mentioned Billy's freshman English teacher. Between his trademark accents during class read-alouds for the characters of Noah and Odysseus to the intelligence conveyed behind his now-famous interpretive dance, Billy, like his class schedule suggests, can do a little bit of it all. As his World Civilizations teacher Mr. Joe DeRosa put it, "Billy's an amazing kid: he's smart, funny, and a leader in the classroom. But I think his greatest strength is the joy and excitement he brings to everything he does."
Freshman, as we all once were, are just starting to scratch the surface of figuring out this whole high school thing. With only one short semester behind them, it often takes time to come to grips with your identity, your true personality, and who you will be from 8:15-3:20 each day, as well as your role within each class or extracurricular activity you are a part of. We've all been there and can understand the difficulty of that time. Still, some are just ahead of the curve and take naturally to the high school setting. From the looks of it, Billy Gardner just may be one of those people. 
Mrs. Mary Beth Nawor: More often than not, students will admit to completing courses without the sense of having learned anything applicable beyond the classroom. Whines—"but, when are we going to use this in the real world?"—of the woeful students remain the quintessential anthem of high schools' bustling hallways. While many educators let their passion for the subjects they teach fuel their lessons and lectures, that same energy and excitement doesn't always inspire the hearts and minds of students. Fortunate for students of Mrs. Nawor, situations like these are not, and never will be, something they can relate to.
Quite the opposite, in fact, is true for those under the instruction of Mrs. Mary Beth Nawor. Lessons remain relevant yet entertaining for students at all times. For topics such as climate change and toxicities, Mrs. Nawor "teaches students ways to prevent harming themselves," according to junior Trisha Bhagat, as well as how they "can make a better impact on the environment, while at the same time keeping class interesting." Speaking to the applicable and inspiriting nature of her class, junior Ellie Thomas imparted how Mrs. Nawor "is always telling us to take action, that we are the future of the country. She shows us that we can make an actual difference on the environment through the knowledge we're gaining and the skills we're learning in her classroom."
Seen in her tireless involvement in the school's Environmental Club, Lake Bluff Lands Association, and orchestration of enviro "work-days," Mrs. Nawor's passion for the earth is one extended to her students as well.  According to senior Riley Kenehan, she "seamlessly and gracefully integrates environmental science into her personal life," setting a model for students to similarly assume roles of "pragmatic and practical environmentalists." Ellie Thomas recounted the effectiveness of Mrs. Nawor drawing a personal connection between their geology unit and an azurite-mining experience she had in Arizona. Though a topic many might find difficult to inspire enthusiasm for, "she somehow manages to make learning about dirt fun," imparted junior Grace Duggan. "We always end up laughing in her class."
Whereas many teachers may not consider students' workload and emotional state in assigning projects and homework, Mrs. Nawor expresses "genuine concern at how stressed and overworked" students can be. Being an understanding teacher that "cares about her students and what she teaches more than any other teacher at Lake Forest High School," Mrs. Nawor is universally described by students to be an engaging and compassionate light in the community. "Her charisma and warm personality allow her students to form personal connections with her not likely to form with other teachers," recounted senior Riley Kenehan. "You get the impression that she genuinely cares about your well being and happiness."
In a class concerning all things dirt and water, Mrs. Nawor assures that 45 minutes in AP Enviro goes deeper than the mere surface-level topsoil. Her ceaseless passion for the well-being of the planet and her students alike instills a motivation and sense of duty in the minds and hearts of Lake Forest High Schoolers that can't be found anywhere else.

Stephanie Raupp: Stephanie Raupp, a senior, is somewhat of a hidden gem at this high school. Though her name might not be as well known around here as the quarterback of the football team or the star of the spring musical, in the eyes of those who are lucky enough to know her, she shines. Her infectious kindness and generosity make her an indispensable part of any and every community she joins. She currently TAs for Mr. Lubliner's sophomore 2H class, and both teacher and students alike consider her an integral part of the course. Sophomore Eilise Lynch called her "the glue that holds the class together."
In typical Stephanie Raupp fashion, she goes above and beyond the expectations for the average academic TA. She works towards making sure every person in that class is achieving their best, and would go to bat for anyone of her students. Eilise added, "I always joke around with her, but she's really helpful to talk to when you need to. She believes in you, even if you don't believe in yourself." The good she sees in everyone is part of what makes her positive energy so contagious; Steph is someone who makes you want to be a better person. She's got a quiet kind of power, a more subtle form of influence, one that lies in the art of analytical essays and the complexities of the English language.
"She thrives off it," remarked Elizabeth Kelley, a junior, about her copy editing abilities. "It just clicks with her." In addition to helping others in every way she can, Steph has maintained top-notch grades despite a crazy-challenging course load. Friends recall skipped lunches and late nights junior year in order to tick every box, but in spite of it all, her contagious positivity never faded.
"Steph's one of the hardest workers I know," said Clara Finley, a junior, in awe. "She just refuses to let things drag her down." Those closest to her look up to Stephanie in admiration, at her altruism and brilliance and overall charm. It's people like Steph who embody the idea behind the Friday Five, people who give so much to this high school and all that walk through its halls and don't necessarily receive the credit they deserve. Stephanie Raupp is an incredible human being, one who, in the words of Mr. Lubliner (one who is not quick to dish out glowing compliments at all times), is "an awesome, awesome kid."
Mr. Brian Runft: Known for his quirky go-with-the-flow kind of attitude, and comments with sarcastic undertones, the man behind those infamous Math Analysis videos is Mr. Runft, an LFHS math teacher who not only has a passion for teaching, but also a strong motivation to help each and every one of his students.
It's likely you have seen him before, walking through the halls of the second floor or catching a quick workout in the weight room at seven in the morning. However, the hard work he puts into his lesson plans and creating a better classroom atmosphere goes unnoticed by those who don't have him as a teacher. Formerly an engineer who never once thought of a teaching career, he has completely transformed the lives of everyday high school students without even realizing it.
Those in his Algebra ll class have experienced firsthand the acts of kindness he displays. By keeping his students engaged and focused, they are more motivated to learn and willingly participate. While Mr. Runft is a great math teacher in all sections, he best known for teaching the rigorous course of Math Analysis Honors, a class comprised mainly of juniors and sophomores. He takes time to fully understand and get to know all of his students, accommodate their needs, and work with them to ensure they have a better understanding of the material in order to be successful in his class. His bright attitude always shines through in his flipped classroom videos for MAH.
There is no doubt Mr. Runft writes a large number of college recommendations as he is considered to be most influential to his juniors. A current junior in one of his MAH classes, Grace Duggan, shares her experience in the class and her thoughts on Mr. Runft: "He has a big impact because he really tries to connect with us, and does his best to connect math with real life so we're really interested. He cares so much about his students; he jokes around and makes everything fun for us, but still manages to teach us really hard math and stay on topic." Mr. Runft's positive attitude and determination to work on math in class rubs off on all his students. Even though the topics covered in his classes can be difficult, he manages to make students laugh and put them in a better mood to de-stress.
Another one of his students, junior Delaney Weiss, is very fond of Mr. Runft's videos and believes his unique style and qualities as a teacher really help him stick out from other teachers she has had in the past, "I can be very busy, but I always have the time to watch his [math] videos. I'll be watching one at 11pm, taking notes, and he'll insert a joke that is laugh-out-loud worthy. Mr. Runft makes people look forward to coming to math and always makes class a great time. He's just a really great teacher and cares about the wellbeing of his students by putting the time in to be a better teacher and mentor." Mr. Runft provides his students with the tools to be successful in the future and manages to never get bored teaching or helping. You would think on Wednesdays after teaching Math Analysis for nearly six hours straight he would run dry of things to say, or feel like a broken record–but he doesn't. The same energy he comes to school with leaves with him at 3:20pm.
Those who have Mr. Runft view him as a teacher who leaves a lasting impact on his students. They won't necessarily remember exactly what he said, or a specific math problem from class, but his general presence and understanding for his students throughout the course of the school year allow him to be influential and inspiring. So, if you ever get Mr. Runft as a teacher, consider yourself lucky, because you will be in a class filled with knowledge, laughter, and (most importantly) bad math jokes.
About the Writer
Ghost, Author
Ghost is a section of The Forest Scout that chooses to publish material anonymously in order to increase the depth of their investigative reporting. Ghost...