Concert Going: My Experiences at Chicago Concert Venues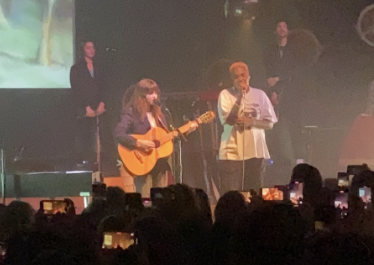 There is a light feeling that fills my stomach every time I get ready to go to a concert. I have a  routine I follow before every concert. I even have specific earrings that I make sure to wear because it keeps one thing consistent about each show.
Besides blasting every song to properly prepare, I religiously study the set list, hoping they will play my favorite songs.  Sometimes, if I am really excited, I'll even design a concert poster just for the event.
To be completely clear, I have only ever been to four concerts in my entire life. But each and every one has instilled such full and exciting memories. Bopping to a song from my Discover Weekly while brushing my teeth is entirely different from watching a singer belt out the words right in front of me. 
No feeling compares to knowing you are in a room filled with people that share this love for something. And, for a mere two hours, you are in the same room as someone whose art reached you through the depths of the internet. 
As COVID restrictions have changed, more and more artists have scheduled and completed tours, booking venues in every city. My obsession with attending concerts and spontaneously buying tickets has only been fueled by  living just outside of Chicago, where concert venues are abundant. 
I thought sharing my experiences, excitement and ideas on this current obsession would prove helpful in not only your future concert endeavors but also your ability to critique the common architectural styles of concert venues. Each new place I see surprises me and makes me more excited to come back again. 
My first official Chicago concert venue, the Metro Theater, has hosted not one, but two of my current favorite artists.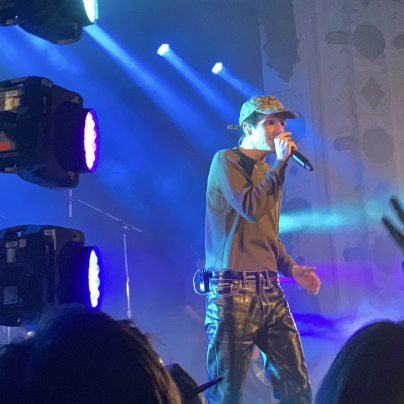 First, I attended an October concert for Los Angeles based Tucker Pillsbury, better known as his stage name, Role Model.
I started listening to him a few winters ago and quickly became obsessed with his sound and the consistency of his lyrics. I almost lost it when he announced tour dates in late July. Setting an abundance of phone alarms to make sure I would not miss the tickets dropping, I soon began a four month countdown until concert day.
This concert was my first experience at a smaller venue, and I was able to get very close to the stage to truly take in the music. I donned a bedazzled cowboy hat  that I hand painted and made by channeling the excitement I felt in the weeks leading up to the show.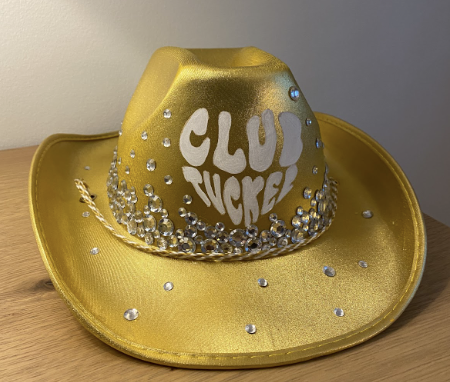 A lesson quickly learned: Never wear a bedazzled cowboy hat to a concert, no matter how perfect it may seem. You'll end up having to hold onto the hat for dear life as you jump up and down screaming each lyric way louder than you should. 
The Metro Theater was a great venue and fulfilled my goal of attending a smaller venue that only really had standing room. I was able to return to this great venue in early February to see Remi Wolf.
 Not only did this concert give me a different perspective on how the space can be utilized but I was able to get a new view of the stage.  For this show, I hung towards the back with a great view of the entire stage.
Wolf delivered an upbeat setlist, and as always, my favorite part was her chatting with the crowd. 
A bit further from my first Chicago venue, I didn't quite know what to expect from the Bottom Lounge. In anticipation of any concert, I often look up the venue, map out the directions and study the history of the building. Okay, I do not research so extensively, but I do like to check things out.
The concert was in early March to see Claire Rosinkranz and her opener Aidan Bissett. 
Arriving a bit into the opening set, I was consumed by the warm lights, vintage photo booth and restaurant options in the lobby. There were even pinball machines—an instant win. 
Jogging to the pounding music, the stage came into view. I realized how much smaller the venue is than Metro Theater, there was an easier and closer connection to the artist. 
Despite being a shorter set, I really enjoyed hearing what inspired each song and even hearing an unreleased one. 
My most recent concert, Clairo at Riviera Theater, has been my favorite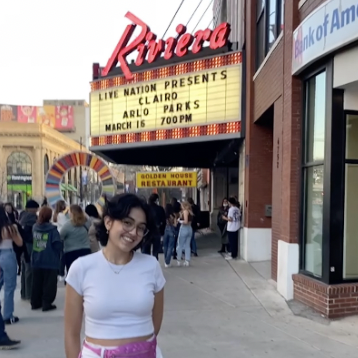 concert to date. The size of the  Riviera Theater along with the architecture and stage made the concert so much more enjoyable. The value of the lighting throughout the show went right along with the beat and transitions into each song. 
Her opener Arlo Parks, a British singer songwriter, made me speechless. Her angelic words filled the room, mesmerizing me for her entire set. Despite her success in Britain, had never heard of her as an artist until the announcement of her as Clairo's opener. I have quickly become obsessed with more of her songs, especially  Too Good." I think she was a perfect match for this tour, and I hope to see her in concert again. 
Clairo is an amazing performer and graced the stage by playing many instruments. Starting on the keys and jumping onto different guitars throughout her set, Clairo provided a fun, unique experience. 
The songs took on more of a jazz feel which complimented the dim lighting and foggy stage. While the last ten minutes of most concerts contain the most popular songs, Clairo's take on "saving the best for last" was unmatched.Despite my looming homework awaiting me, I forgot about almost everything I was worried about as "Sofia" and "Pretty Girl" blasted throughout the theater at the end of the set. 
So, what is my next concert? Which artist will soon become my new obsession? I guess that's the fun of music now: how fast we can connect with a new narrative and type of music. I may not have any concerts on my calendar quite yet, and I do have a bad habit of missing tour date announcements, but will keep looking for whatever strikes me.
For now, I plan on shuffling and trying my very hardest to stop listening to my current ten songs. If you ever have the chance to get a last minute ticket to a show downtown, take it.