A Bibliophile Recommends: The Best of December
It's officially December, and the holiday season! Students are currently experiencing one of the most stressful times of the year: finals. But, students are also looking forward to the light at the end of the tunnel: winter break! As I have mentioned in the past, I firmly believe that there is no such thing as "not having time to read."
Sure, everyone is busy cramming in last minute information and meticulously planning the next few days, but reading is the perfect way to destress. And if you still can't fit it in, there are 19 full days of vacation coming up. If you can't find the time to read then, it's seriously a sign to reorganize your schedule! So when you're ready to curl up by the fire with a great book and some hot cocoa, here are a few recommendations to enjoy!  
#5. Dancers Among Us by Jordan Matter
This book is unique for a lot of reasons. Author and photographer Jordan Matter is extremely well known, mostly for his success on Youtube. Some of his most popular videos are his "10 Minute Photo Challenges,"one of which has racked up over 27 million views.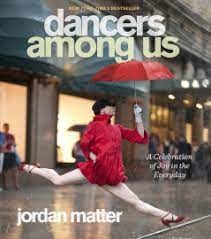 Matter uses his amazing photography skills to capture professional dancers throughout New York City. The dancers are dressed as everyday people, and posed as completing everyday activities. There are businessmen with briefcases exiting office buildings, and pedestrians with raincoats and umbrellas.
But Matter puts a twist on these everyday activities. Instead of simply walking across the street, a dancer is shown leaping down the crosswalk. This book is full of stunning photos, and will definitely leave you inspired to become more flexible!
#4. Wendy Darling Series by Colleen Oakes
If you couldn't tell in the last edition, I love retellings of stories! Wendy Darling is a retelling of the classic Peter Pan story, originally written and published by James Matthew Barrie in 1904. This retelling is similar to the original story, taking place in both London and Neverland.
It does, however, have some differences. The biggest is a complete role reversal in two of the main characters, Captain Hook and Peter Pan. They take on the other's roles, redefining which side is good, and which is evil.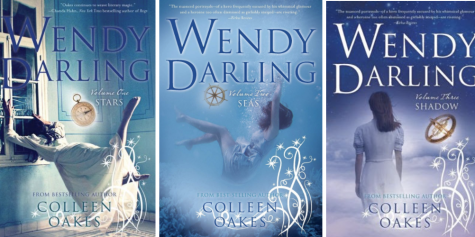 Through out the three editions, we follow the story from the point of view of Wendy Darling, who is still the matriarch of Neverland. While this isn't the first time that this story has been retold, it is one of the first to paint Peter Pan as a villain. By the time you finish the third book, your view of the classic story will be very different. 
#3. Taking The Lead: Lessons From A Life In Motion by Derek Hough
Here's a quick tip: you probably don't want to bring up Derek Hough in a conversation with me. I will, without a doubt, talk you ear off.
Hough is an extremely accomplished man in all genres of life. He holds the record for most pro wins on Dancing With The Stars (he's won six times) where he is now a judge, was a judge on World Of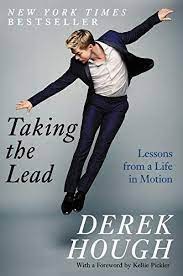 Dance, has won multiple Emmys, and to top it all off, has starred in multiple movies and TV specials. As if it weren't enough to just be the most nominated male choreographer in history, he is also the author of a New York Times best selling autobiography!
In his book, Hough details the many lessons he has learned throughout his impressive life. Starting out in the ballroom at an early age, he recounts dancing with all four of his sisters, some of whom are also accomplished professional dancers.
He also describes the hardships he experienced. Whether it be the competitiveness of the dance world or simply the troubles of growing up, Hough is extremely honest. This book allows readers a glimpse into the life of one of the world's most successful dancers.
#2. The Lost by Natasha Preston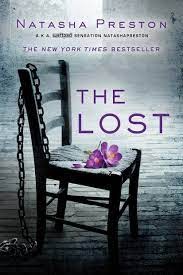 And she's back! After not having a Natasha Preston book on the list last month, I just know that everyone is having serious withdrawals. But here she is again, this time around with The Lost, which is another example of an amazing thriller! Teenagers are going missing at an alarming rate in a small town, and two best friends decide to investigate. However, it's not long until they join the missing population themselves.
Preston does an outstanding job of keeping the reader in suspense; even I didn't know what was going to happen. The characters are developed beautifully, and their personalities play heavily into the dynamic of the story. The events of the book are akin to an episode of Criminal Minds, and will definitely give you chills!
Although I am quite a bit biased when it comes to any Natasha Preston book, I truly do believe that this is an amazing book.
#1. A Good Girl's Guide To Murder Series by Holly Jackson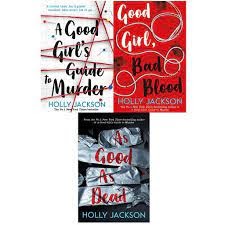 I can't thank my dear friend Megan Parsons enough for introducing me to this series. I read all three books in about a month, which is saying something considering they total to a combined 1,280 pages! But I seriously could not put any of them down!
Each of the books is a different mystery, solved by the best teenage detective since Nancy Drew: Pippa Fitz – Amobi. Author Holly Jackson does an outstanding job of intertwining all the elements of the best mystery novels: suspense, (what seems like a million) twists and turns, and even a bit of romance.
The book also has very unique formatting, written in both regular chapters and multimedia designs. With each installment you will fall more in love with Pippa, and may be more inclined to solve your own mystery…