A Bibliophile Recommends: The Hits of November
And we're back! Next week, students and staff are rewarded for all their hard work with the ultimate prize: Thanksgiving break! Five days off to spend with family, eat good food, relax… and read! In the spirit of giving, I've compiled some of my favorite books this month. They're seriously addicting, and you might have a hard time putting them down at the dinner table (although pumpkin pie is serious competition)!
Some of these books have been made into movies as well, but you're doing yourself a serious injustice if you watch them before reading. Even though Lake Forest Library is closed on Thanksgiving, there is still plenty of time to check out these books. Speaking of libraries, let's all be thankful for our amazing librarians, both at LFHS and in Lake Forest. Without them, I would be nowhere near the experienced reader I am today. So on behalf of everyone reading this as well as myself: thank you librarians everywhere! 
#5. The Illuminae Files by Amie Kaufman and Jay Kristoff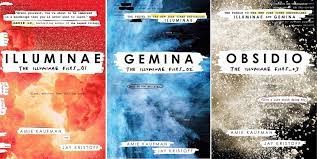 If you're not a huge reader, this series is a great place to start. It's told in a very untraditional way: through memos, security camera footage writeups, notes, and more. There are no chapters, long backstory, or the same thing over and over. Authors Amie Kaufman and Jay Kristoff will keep you interested with the story of a dystopian society in the middle of a war. Packed full of both humor and heart, the story continues to unfold throughout all three books. With different characters as the focus of each novel, the reader gets different perspectives of the situation. While their dialogue tends to be very colorful, the characters are easily likeable. They're smart, resourceful, everything you want in a dystopian character. This series is truly something you've never read before. 
#4. All Your Twisted Secrets by Diane Urban
Of course, I had to include at least one mystery on this list! Author Diane Urban paints an impossible picture of six teenagers forced to make a terrible decision: who to kill. Under the guise of attending an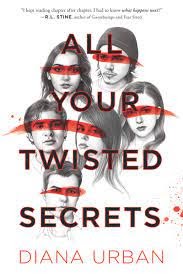 exclusive dinner, they are subsequently locked in a rapidly heating room with a syringe of poison and a bomb. They're told they have to choose one person to kill before the timer runs out, or they'll all be stuck in the explosion. Between twisted relationships and secretive connections, I truly had no idea how it would end. This book will challenge your detective mind, as every page has a new turn. However unrealistic the circumstances are, Urban's characters react realistically as teenagers, if not a bit over the top. With a shocking ending and crazy plot twists, you won't know what's coming.
#3. The Maze Runner Series by James Dashner
What would you do if you woke up in the middle of a landscape that you can't escape, with no memory of who you are or how you got there? As an added bonus, there are 25 other people in the same situation! Though it seems that the only possible outcome is utter chaos, author James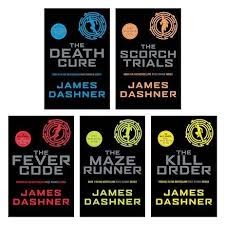 Dashner describes a community called "The Glade." The story is one of survival and perseverance, not to mention witty dialogue and loveable characters. Dashner successfully creates a dystopian society with questionable methods of research. Each book adds to the climactic tale, all told from the perspective of the main character, Thomas. Readers are audience to his journey of finding his identity, and learning who to trust. You will be immediately wrapped up in the tale, and five books won't seem like enough! 
#2. The Ballad Of Songbirds And Snakes by Suzanne Collins
At this point, it would be hard to find someone who doesn't know the basic premise of the famed Hunger
Games. Author Suzanne Collin's wildly successful book series has become a pillar of YA book culture. But in 2020, 10 years after the last book was published, fans were shocked by the release of a prequel to the Katniss Everdeen era. This book focuses on President Snow and how he became the heavily despised villain of the series. Collins does it again with this intricate tale, answering lots of questions and posing new ones as well. She creates a perfect origin story for everyone's least favorite character. A recent announcement that this book will be turning into a film has launched Hunger Games fans back into the arena, and ready to volunteer as tribute.
#1. Disney's Twisted Tales
Before you say a word, yes, these are Disney books, about the same hit movies from your childhood. Here's a controversial opinion: I vote we bring them back, but this time, with new stories! Authors Jen Calonita, Liz Braswell, and Elizabeth Lim craft exciting new tales of everyone's favorite characters, still set in their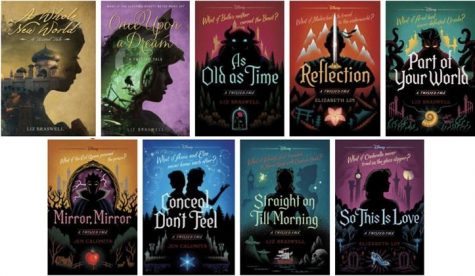 original locations. However, in these instances, the circumstances have changed. Anna and Elsa have never met, Sleeping Beauty never woke up, and Cinderella never tried on the glass slipper. The authors successfully weave brand new tales, full of challenges and magic. Twelve of Disney's classics have been rewritten, with the most recent being released in September of 2021. How will the characters be victorious without their usual stories? These books challenge everything we thought we knew about the childhood tales.