The Forest Scout Friday Five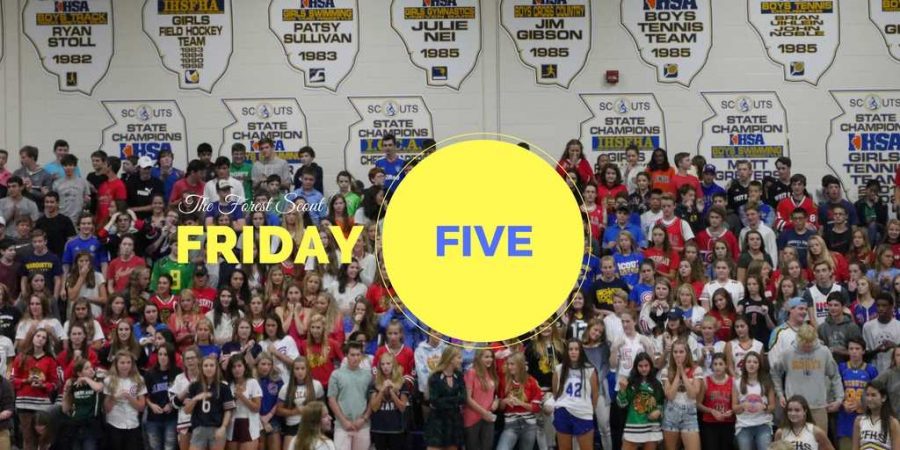 The Forest Scout Friday Five is a weekly segment that celebrates five people making a distinct, profound, and positive difference in the Lake Forest High School community. To visit our most recent installment (before Holiday Break), click here. To recommend a student, teacher, support staff, or community member for inclusion in The Forest Scout Friday Five, please email [email protected] 
Giorgi Ballis: In traveling to any high school athletic event, you'll find a teenager at the front of the crowd, raucously riling up his classmates to participate in cheering for the home team. That much is expected. The leaders are usually outgoing, loud students comfortable in their own skin; that much can be said of the leaders of Lake Forest's Scout Nation. But there is more. Few, if any, execute the archetypal chant leading and spirit rituals with the humor and flair of senior Giorgi Ballis.
The body paint, uniformed t-shirts, and even the theme-based outfits had all been done before, so Giorgi took a different approach.  If you are to attend a home basketball game, you'll find Giorgi Ballis dolled up, akin in uniform to the game's officials–black shoes, black slacks, and a striped official's shirt. But it is what Giorgi extends his dramatic performance into that extends beyond expectation. Oftentimes you'll find him casually conversing with officials during breaks in the action (who also get a kick out of Ballis' outfit), but one thing is always certain: He will find his way to get his hands on the ball. When executed, Giorgi will deliver the game ball back to the officials, never short of a wry comment on a call they may have missed in the Scouts' favor, and return with great fanfare to his passionate group of classmates cheering on the blue and gold. "All of the refs comment on it," Assistant Varsity Basketball Coach Austin Scott mentioned. "They get a laugh at how much he looks like an actual official and how he gets into their conversations and such. He's got it down pretty good from head to toe, even into their mannerisms. I have to give him credit–his accuracy is no accident."
Ballis' boisterous and fun-loving personality is present at more than just at home basketball games, however. His lively and excitable effervescence is a staple in the commons, hallways, and basically any other destination Ballis travels toward. Noted specifically for his dancing ability, Ballis is certainly no stranger to busting-a-move, no matter the time or place. "Best dancer in the school. Period." added Justin McMahon, a senior who knows Giorgi quite well. "He's got the dab, the whip, the nae nae, he can hit the quan–the man does it all." Giorgi and his older brother Yanni, a 2016 graduate of Lake Forest, both played football for the Scouts and are prideful of their Grecian heritage. In high school, the everyone-is-watching-and-judging culture has a tendency suppress the personality and originality of the individual and lead towards mainstream assimilation. There are those like Giorgi Ballis, though, who remind us that high school is supposed to be a fun time and on occasion, you just have to show it off. 
Tucker Strang: If you have been a Lake Forest High School student in the past couple of years  and you have a Snapchat (I feel as if I am not talking to a small number of students with that statement), chances are you follow  the user "t_strang." That's the snapchat handle of Tucker Strang, a 2016 graduate of LFHS and a freshman at Lake Forest College. At the high school, Tucker was somewhat of a celebrity in terms of filmography. As a Junior, Tucker started a trend on his Snapchat story called "Green Day." No, not the dying alternative band; rather, Tucker started the trend of wearing green on Monday. Although simple and seemingly arbitrary, the idea spread virally throughout the student body. Tucker explained the tradition in a Facebook status from last winter:
"It is an annual tradition I created that runs from January 4th 'til the last day we are seniors are at LFHS. If you wear green, I will find you, and I will put you in my story. Why? Because it's so silly! If you would like to witness this greatness follow me on Snapchat: t_strang. Happy Green Day!"
Tucker's Snapchat stories, at their peak a year ago, averaged 620 views per post. The t_strang account created a world within a world at LFHS and always promoted a potential for hilarity. You never knew what would come on the stories or who would be featured. And you never know what would come next with Tucker.
Tucker Strang is a busy man these days and he does much more than just post Snapchat stories. Tucker is the official videographer for the Lake Forest College Football Team, traveling with the team and creating high quality video content. Tucker also somehow finds time to also be a radio DJ, and host of the Tucker Talks show for WMXM 88.9 FM, Lake Forest College's student radio station.
Whether it be radio, video, or Snapchat, Tucker Strang has been, and will continue to be a valuable member of the Lake Forest community. I know I'm not alone in my excitement to see what comes next in the "t_strang-sphere" as he aspires to keep us laughing, and ultimately, keep us tuned in. 
 Mary Claire Simutis: Be somebody who makes everybody feel like a somebody–a cliche easier said than done. People scratch it onto cute sticky notes, recite it in their heads when they wake up in the morning, toss it across coffee mugs and feel like they've somehow made the world better. It can be easy to have a painted picture of what is right and feel as though you've done it, simply in understanding what that thing is. Treat others as you would like to be treated, be kind whenever possible, be the reason someone smiles today; to spew inspirational mottos is effortless, and most are unable to abide by the proverbs unfailingly. And then there is Mary Claire.
Senior Mary Claire Simutis is undoubtedly one of the best students at Lake Forest High School to encompass these virtues. Of being kind, of being inclusive. Of treating all as friends, of helping classmates even if it may not be convenient. Always inclusive and thoughtful of peers, the example she sets in her demeanor, tireless work ethic, and genuine kindness is one that encourages others to strive to do the same. Expressing her admiration of Mary Claire's determination and hard work, junior Grace Bentley explains, "she knows what she's doing. She wants to be a nurse and ROTC, and it's really inspiring." Her name is one to unfailingly elicit a sea of positive responses from peers ("I love Mary Claire!" is a commonplace reaction), her smile and greeting (always an enthusiastic, "hey, girl!") in the hall is one to make even the worst of school days just a little bit brighter. Despite having gone to a small grade school, East Lake Academy, until her freshman year, Mary Claire has made her name into one well known and well loved during her years at LFHS.
Going beyond the impact that she has on classmates while within Lake Forest High School's walls, Mary Claire's influence on the school's cross country and track teams is remarkable as well. "She was voted to be captain as a junior for a reason," says junior Grace Bentley. Having held the LFXC team captain position for two consecutive years (an achievement rarely attained), Mary Claire's strong leadership, intuition, and love for the sport are qualities that the team would be lacking without. For runners, the anticipation and anxiety of standing at the line with ten seconds to go is simply dizzying; meets can be chaos. The possibility of breaking into tears isn't a fear uncommon, yet Mary Claire somehow manages to stay levelheaded and calm throughout the storm. Walking around to teammates and calming and motivating other runners is a trademark of the captain. In the bustling crowds and clamor that accompany every cross country meet, Mary Claire's cheers and encouragement to other runners after her own races are sounds sure to be heard.
First impressions (especially bad ones) are typically some of the most important aspects in making important decisions. For junior Grace Scheidler, a bad shadowing experience with the high school as an eighth grader led her to lean towards Woodlands Academy, where her visit had been smoother and overall more enjoyable. Typically with a story like this, the outcome would most likely be that the school with the better first impression would be the pick. But thanks to Mary Claire, Grace's story was something different: "She's the reason I came to this school." After having sat down for lunch, hearing and seeing how a year at LFHS had been for Mary Claire, Grace had made her mind. Sure, first impressions are strong. But a little bit of Mary Claire is stronger.  "She's a leader," Grace explains. "You can't help but love her. She just makes the people around her better."
Eliza Hoobler: They say to get the most out of your own life, you have to live your life for others. That's a tall order for anyone, especially for a high school student balancing the pressures of junior year and all that comes with it. But for junior Eliza Hoobler, that's just what she does; it's an innate part of who she is. As fellow junior Erika Marchant put, "She really is just the best example I could think of for a person that's a friend to all, and she puts her whole heart into every activity she does." In addition to balancing a challenging course load, Eliza is an avid member of the Integrated Wellness Class. According to friends, she really works to get to know and understand the kids, putting time and effort and love into the relationships formed within such a unique class. Not only has she been helping those at the high school, but she's also been teaching religious education classes at her parish since the 5th grade to kids of all ages, and has participated in multiple service projects through her youth group, SHYG. You'd think, what with the amount of time and effort she's given to those around her, Eliza would be stretched thin as is–but even with all of her service at home, it only begins to equate her true calling in Haiti.
Her passion for giving back started when she was eleven, an interest which led to a mission trip down to Haiti with her family over spring break. They went back not long after over the course of that following summer, and then again in October, and, well, you get the picture. To her, it's more than a service trip, a week-long affair she can plot on a college resume. Haiti has become her second home, a place where the culture and the people and the blazing tropical sun and the Chaîne de la Selle mountains are as familiar to her as Market Square. She's continued to go down to Haiti multiple times a year, doing whatever needs to be done. Typically, these tasks involve helping out at the local school, spending time at an orphanage, taking trips with the kids to the beach, celebrating their birthdays, braiding their hair, and simply being their friend. Haiti has become her passion, one she wishes to continue on for the rest of her life. This is all in addition to being the honor student, talented linguist (Creole and French), and ceramicist that she is. Erika summed it up perfectly in saying, "Eliza is always willing to extend her help to anyone, whether that be responding to questions someone may have in a class, to imparting classic Eliza-advice. Having a class with Eliza is always the best part of the school day."
Mr. Tom Gigiano: Walk past Social Studies classroom #368 any given period, and you may hear some shouting from Mr. Tom Gigiano's room. Don't be too worried, however, because it's just part of the day-in-the-life for his students, who have long grown used to Mr. Gigiano's unconventional lecturing style of yelling and excitedly pacing about the classroom.
The cause of his yelling isn't anger (at least, most of the time); Mr. Gigiano just cares deeply about history. No matter the subject–he teaches a variety of classes, from US History to Political Science to AP Modern Euro–you can expect three things from Mr. Gigiano: he knows about the subject, has at least 10 pages of a personally-written set of lecture notes about it, and that by the end of his multiple-cups-of-coffee-fueled lecture, you too will know about that subject. That much is guaranteed. No stone is left unturned.
The amount of unbridled passion Mr. Gigiano infuses in his lessons are unparalleled throughout the rest of LFHS. It's obvious from side tangents that range from the defenestration that sparked the 30 Years War to how they did, in fact, read the classics in the Middle Ages that not only is Mr. Gigiano educated in seemingly all things historical, but he loves it, and genuinely wants you to love it, too.
Junior Clara Finley takes his US history class, and is admittedly not the biggest fan of history. "His passion, however," Clara remarked, "has made me fascinated with the subject."
His classes are jam-packed ("No time!" being a particularly famous phrase of Mr. Gigiano's) and are quite difficult. His high-standards are the stuff of legend at LFHS. While his classes span many levels and difficulties, he holds all of his students to the same bar: he expects greatness from each and every one of them. While they may doubt it possible at first, he knows that they are capable of working hard and rising to the challenge he gives them. With his passion and full dedication to his work, he is the perfect teacher to push you to greatness.
For a subject typically seen as boring, and that can be the case with the wrong teacher, Mr. Gigiano's teaching brings history alive to his students. While his classes may be difficult, and his yelling may be, at times, terrifying, he creates students with writing/note taking skills to last a lifetime, a newfound gratitude for coffee, and an appreciation for unbridled passion that only Mr. Gigiano can provide.
About the Writer
Ghost, Author
Ghost is a section of The Forest Scout that chooses to publish material anonymously in order to increase the depth of their investigative reporting. Ghost...