HOCO: Best Dressed 2021
Of all the beautiful ladies, here are some highlights of the most memorable looks from Homecoming 2021
Of all the beautiful ladies, here are some highlights of the most memorable looks from homecoming 2021. 
Mourning the loss of Homecoming 2020, we were back with a bang and dressed to impress this year. Hands down, we had some of the best dresses from any dance in my high school career.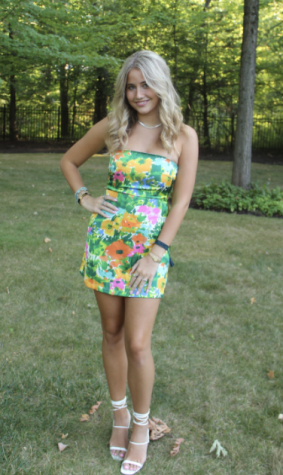 From freshman to seniors, every grade blew me away with the variety of unique dresses. Everyone put so much thought into their outfits, pairing the perfect pair of shoes and accessories. 
I love all of the different styles and colors we had going on, and each outfit portrayed each person's personality perfectly.
Not that I play favorites or anything, but Senior Jacqueline Rubin takes the prize of my all-time favorite dress.
Jacqueline's colorful dress fits her bright and outgoing personality like a missing piece to a puzzle.
She accessories with sage, gold, and green jewelry, along with her go-to turquoise rings, which are absolutely a Jacqueline staple. 
For some reason, I was absolutely fascinated by her choice of shoe wear. 
Her simple, white, strappy heels were the perfect pairing with this dress. With hints of white in the dress, it's such a great way to compliment the outfit without overpowering it.  
Well done, Jacqueline, well done.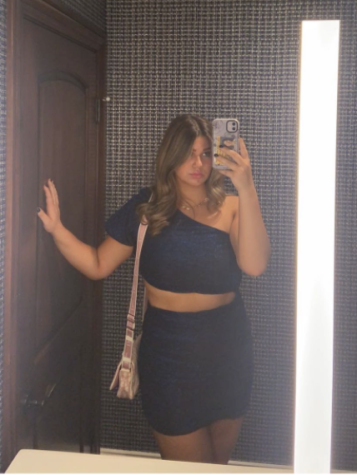 Next we have Junior Mariella Haubner who demonstrated an absolute power move.
I wonder if she intentionally picks out clothes that make her eyes stand out, or just has super pretty eyes. Let us know Mariella. 
She wears a navy blue dress with a nice hint of glitter.
What a great way to incorporate some of our favorite trends! We have the one-shoulder look, but also a puffy sleeve moment. 
Not to mention the slit in the middle, which she absolutely rocks. Genius. Girboss vibes.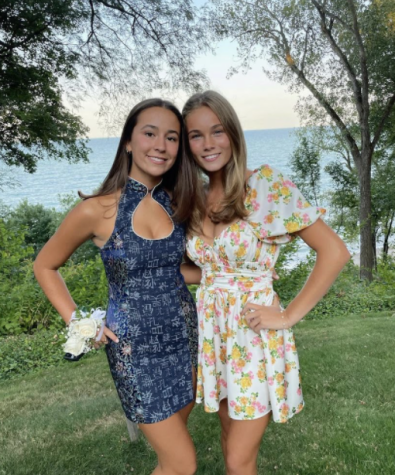 Next up is junior Sophie Delhey. I am obsessed with her dress. 
If you know Sophie, you should know this dress is perfect for her. Sophie always finds a way to incorporate "cute" and "sophisticated" into one look, and this was fully represented at homecoming. 
She is never slacking, and always standing out. 
Her dress was a really pretty navy blue with light blue detailing of Chinese characters.
I have no words for the high neck with the open chest. It's absolutely stunning, and so different. New trend? I think so.
Great job Sophie, you trend setter you. 
When I first walked into the dance, sophomore Megan Duncan was one of the first to catch my eye.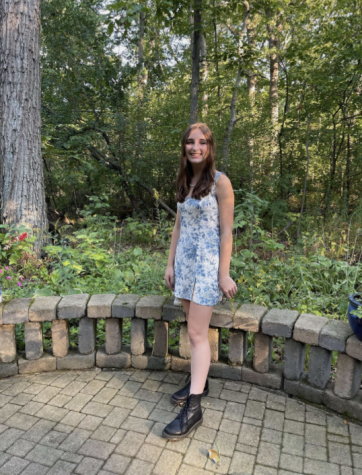 I can't even describe how much I love this dress. I first read about it in Maeve Bradley's homecoming forecast, and was hoping someone would be wearing it. 
This slim-fitting dress is white with blue floral detail. It gives off a stunning dainty vibe; I absolutely adore it. 
This looks amazing on Megan, and matches her hair tone perfectly.
Megan paired the dress with some cute combat boots. Again, bringing back what I said about personality!
Sorry Megan, I might have to steal this dress for Turnabout. 
Obviously saving some of the best for last, senior Louise Brickman absolutely amazed me. Louise pulls off bright colors like nobody else. 
Louise is always wearing something that stands out, and this was definitely the most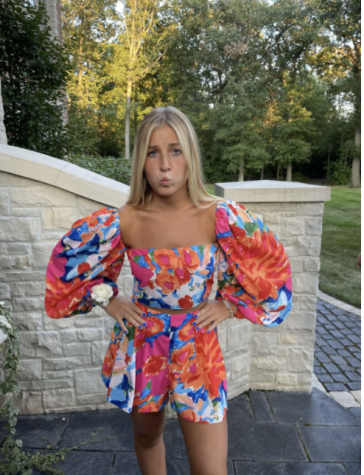 unique outfit I saw. 
While getting ready, I was casually scrolling through TikTok when I came across a video Louise posted. I literally stopped and showed all my friends how cute she looked.
Only Louise could pull off a two-piece set like this. She wears a cropped long sleeve with matching high waisted shorts. 
Senior Jake Milliman loved this look, too. 
"She got those big puffs on her arms," he said. Great input Jake!
Senior Bea Pierce looked so stunning and original. Not many people could pull off this look the way she did. 
Bea's dress had mid length puff sleeves, and a low neck which tied at the bottom.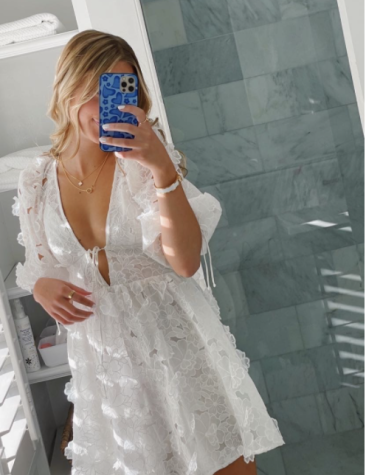 This dress is so flattering, and it looked amazing on Bea. 
I love the detail of floral lace throughout this dress; it's so dainty and effortless!
Bea accessorized with gold jewelry containing hints of white to match her dress. I love color coordinating, especially with jewelry. Bea portrayed this look perfectly. 
Overall, I think this was a Homecoming for the books. I couldn't be more proud of our looks this year. 
Narrowing down the best dressed was definitely not easy considering every single one of you looked amazing. For us seniors, this was a great way to end our homecoming careers. Well done.