Forecasting Homecoming Trends 
Last year students were deprived of a treasured school event as the school adjusted to stricter Covid restrictions. Although many students sought alternatives to homecoming, it just wasn't the same. 
This year we are back on track to a full and fun school dance. And for my fashion lovers, this school tradition is another excuse to dress up and show off your outfit for the night. 
If you're like me, very picky and a major procrastinator, you'll find that choosing an outfit can be stressful. Whether you're ordering a new look, or scavenging through your closet, narrowing down the options might be tricky. 
In lots of cases, many students lean towards ordering a new dress for the night. After asking a handful of girls from each grade, Revolve, For Love and Lemons, and Princess Polly were the biggest hits this year. With this event just around the corner, let's preview a few popular trends we might be seeing. Granted, if you still haven't put together your full attire, these four looks (along with examples) might give you some inspiration.
Summer Floral Print
It's hard to think that floral looks will go out of style. 
Not only has this print been around for so long, but it comes in a wide variety of colors, styles, and textures. As of now, the forecast for Saturday is looking like a typical summer day. Fingers crossed that the 80's and sunny weather doesn't turn into something worse. 
Lighter floral looks are popular within our wardrobes in summers and springs, but I wouldn't consider it a year-long trend. Homecoming is a great last "hurrah" to wear bright floral patterns before styles change within the upcoming season.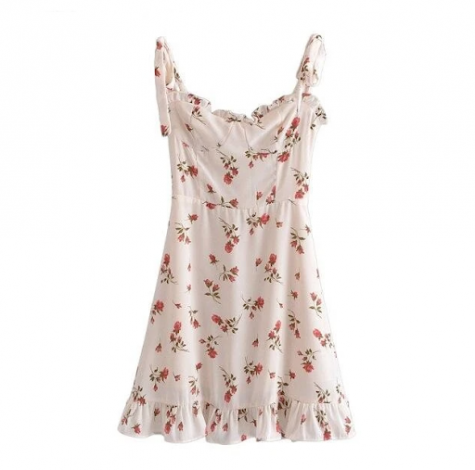 The "Aria Dress" from Strangers & Lovers showcases a simple floral dress. This dress is more subtle but still has that summer look. I love how the flowers are spaced out, making the dress classier.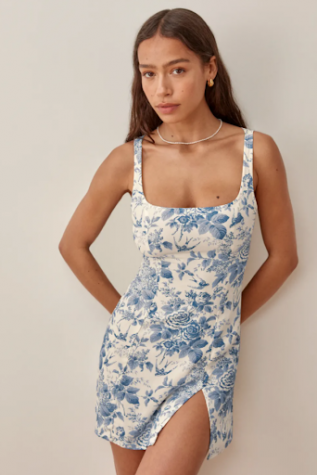 The "Noha Dress" from Reformation also embodies a light floral style. This dress shape is sophisticated but the mixed floral print brings it to life. Another type of summer floral we'll be seeing this Saturday. 
Puff Sleeve Dresses
Taking after the '80s, I feel like I've seen puff sleeves everywhere lately. 
Even last year, we saw a handful of these dresses making appearances. They've regained popularity as many adore the definition it adds to shoulders and the style's uniqueness. So many stores are carrying or adapting this trend as it continues to become more popular. 
Because this look only targets the sleeves, these dresses can all differ from one another which is why we can expect to see a variety of puff sleeves in different colors, prints, and more.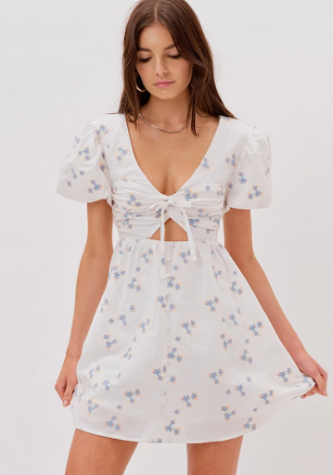 The "Callie Swing Dress" from For Love & Lemons is a great example showing the flare the exaggerated sleeves add. If you're in need of more inspiration, For Love & Lemons has a great selection of puff sleeve dresses.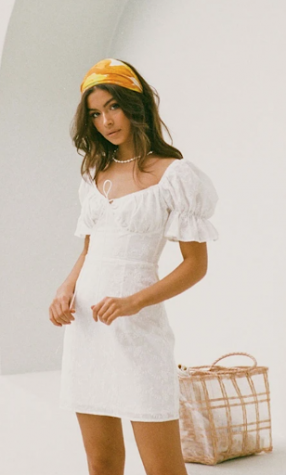 The "Arianna Dress- Embroidered" from Sabo Skirt shows short puff sleeves with frill cuffs. This white dress is super cute and dainty, but it wouldn't be the same without those sleeves! 
Statement heels
When it comes to events like these, shoes are typically the last thing I think about (and I know I'm not alone on that). But finding the perfect shoe can easily elevate the look. 
Now, the traditional neutral block heel – that's a staple we all need. However, this year, I'm expecting to see a lot more statement heels. Whether that's a colorful or strappy shoe, I'm sure we'll see a wide range of heels this homecoming.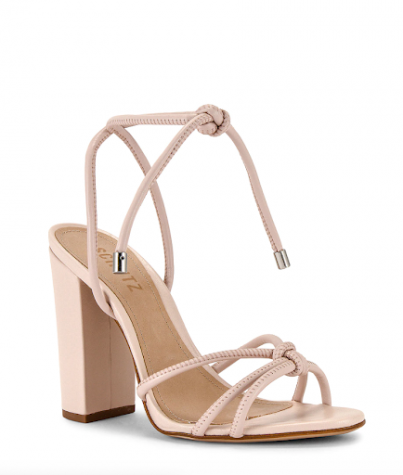 The "Symphony Sandal" from Revolve is a perfect example of a strappy heel.Especially if you are wearing more of a simple dress, straps, or anything that ties into a bow, is a popular look people use to accentuate their outfit.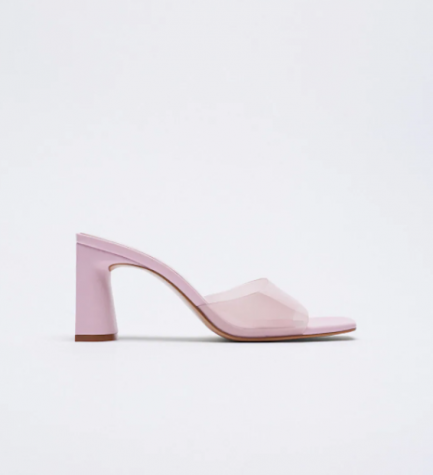 The "Wide Heeled Vinyl Sandals" from Zara (also in blue and off-white) is a style of heel that's been pretty popular recently.Not only are square toe sandals a major trend we saw this summer, but solid-colored heels. Colors are always a great statement with shoes, and I'm sure many will partake in colored heels to, again, accentuate their outfits.
Simple Jewelry
Because we're expecting to see a lot out of our dresses and heels, minimal and simple jewelry is forecasted this year. 
Little charms and tiny pendants in earrings, necklaces, etc, can top the look off, without overdoing it. Heavy layering necklaces are still a trend we see, but with all the prints and puffed sleeves incoming, keeping the accessories simple might be the way to go.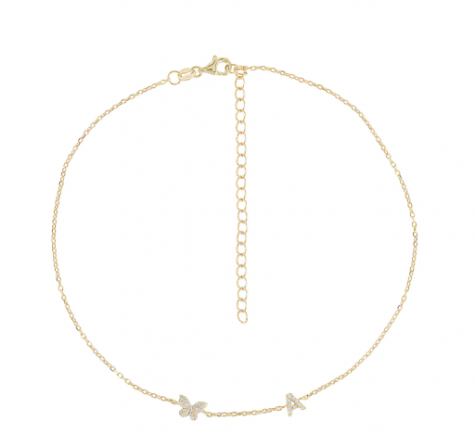 The "Pave Butterfly Initial" necklace from Revolve is a piece of Initial jewelry, of which is a timeless trend. A simple letter is a super cute add-on to your attire, without taking away from the actual outfit. Initial charms are worn on daily through necklaces, bracelets, and rings, making them an easy accessory to throw on for the night. 
The "Petal" necklace from Revolve is a charming necklace that doesn't necessarily need any more layering. Larger pendants stand out more, but because this necklace has a simple chain, it isn't overbearing. These necklaces, which come in many different forms/styles, are a popular trend to look for this homecoming. 
With just a few days until we're all dressed up, most are finalizing our looks for the night. I can't wait to see these trends stand out at this year's homecoming!