The Forest Scout Friday Five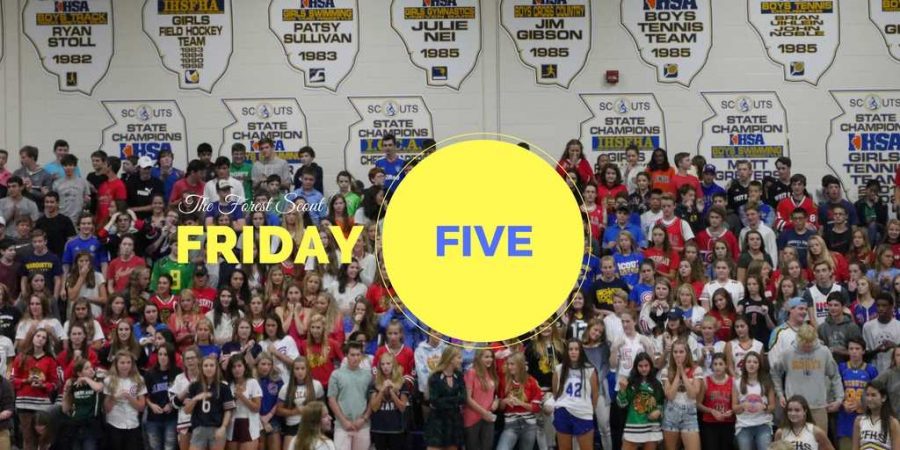 The Forest Scout Friday Five is a weekly segment that celebrates five people making a distinct, profound, and positive difference in the Lake Forest High School community. To visit last week's second ever installment, click here. To recommend a student, teacher, support staff, or community member for inclusion in The Forest Scout Friday Five, please email [email protected] 
Mrs. Kathy O'Hara: Even if you've never spoken to Mrs. Kathy O'Hara, you still have her email address. In a town where the opportunities to give back are abounding, Mrs. O'Hara is the engine behind the spinning wheel of service. Every week, Mrs. O'Hara diligently lets the student body know how to, where to, and when to give back in their own communities, the places that we call home. Little do many know, however, is that the deep and profound pride in the Lake Forest and Lake Bluff communities are woven deeply into the fabric of Mrs. O'Hara's life. As of right now, aside from her title at LFHS as the Student Service and Community Coordinator, Mrs. O'Hara is the President of the Village Board of Trustees in Lake Bluff, a community in which she has called home since 1976. That's right, 2016 marks the 40th anniversary for Mrs. Kathleen O'Hara as a resident of the homey community of Lake Bluff. In her own effort to give back, Mrs. O'Hara is the local historian for the Lake Bluff History Museum, an institution that she helped found, and she has also co-authored two books on the history of LB. Needless to say, for all things Lake Bluff, Mrs. O'Hara is a catch-all resource. Having serviced Lake Bluff Middle School for 36 years (19 as a Social Studies teacher and 17 as a school principal), Mrs. O'Hara still enjoys watching the young people of the community grow into honorable young men and women that this community can call its own. 
Whether it be the Halloween "Ghost Walk", the 4th of July Lawnmower Parade, the Gazebo lighting ceremony, or Bluffinia, Mrs. O'Hara's steadfast dedication and longevity in serving the community is something to be celebrated. Over time, she has forged a reputation as "a pillar in the community," Lake Bluff advocate and former resident Michael Kopsick shared. Adam Mocogni, a Math teacher at LFHS who grew up off of Green Bay Rd. in the Lake Bluff community mentioned, "There is nothing that she has not seen or experienced. And she does it all in the exact style that Lake Bluff represents for so many–a neighborly, helpful friendliness." 
Ryan Burger: "Oh, Ryan? I could write a book." It takes a very special person to elicit such a response, especially coming from someone as esteemed as Mrs. Bielski herself. When asked what made this particular student so outstanding in her eyes, she replied, "Ryan is supremely curious." This simple phrase is at the root of what makes Ryan Burger so unique, what makes him stand out in the crowd. He is fascinated by the world around him, and possesses an exceptional gift in being able to capture it all within the lens of a camera. Mrs. Bielski, his photo teacher this year, raved of his command of the subject area, the depth of his knowledge when it comes to lenses and cameras and filters. He's poured his heart into this field of art, embracing the subject and all of its quirks, be it picking up cameras while volunteering at his Church's rummage sale, ordering special lenses from Japan, or truly investing in the classic, dark room process in an increasingly digital age. Friends commented on his phenomenal photography skills, how the unique perspective he has on life shines through in his works. This devotion has led to his work being featured in numerous shows and exhibits, but you wouldn't know it by talking to Ryan. Friends also noted that for as talented as he is, he's also incredibly humble. A girl in his photo class described him as being a "really chill guy", and multiple other students spoke of his dry sense of humor.
His innate curiosity has also manifested itself in other areas of his life beyond photography, like his love of the outdoors; he recently received his Eagle Scout Award. Music, also, is a passion of his, one that he expresses through a rather impressive sound system he's got set up in his room. A good friend of Ryan's, Reed Burke, recalled a conversation about said sound system: "He put it best by saying, 'I looked up at my clock and saw it was 12, and was like oh, crap, I need some sleep. But then I kept listening and next thing you know it was 2 AM.'" His sense of style is also an indication of the kind of inquisitive person he is, as according to friends, he's always on the lookout for new jeans or jackets at any given time. At the Church rummage sale where he picks up old cameras is another place for clothing finds, too, as he's found some of his more memorable threads that way. Reed put it all together perfectly when he said, "His quirky, yet cool, clothes and his obsession for good chill music sum up Ryan very well."
Mrs. Laura Grigg: The Lake Forest High School Library is a spectacle. It is, without a doubt, one of the crown jewels of a beautifully decorated architectural masterpiece. We, as students, at times take this learning place for granted. Every lunch period (or every period, for that matter) you can observe learning going on in the library. Whether it's a student hammering out the final sentences of an essay, a small group touching base in one of the individual meeting rooms, or students quietly searching for, and subsequently delving into, books, the library is never empty. The library's popularity is derived from its welcoming nature. Often frantic and crowded, kids are also learning other sorts of sentiments, like, "I probably should have done this sooner," or "five sources is more than I originally thought."
Through television, society has altered how we think of impactful teachers as the ones wielding their knowledge and power over a class in a lecture hall–commanding the presence of a room with their seemingly infinite knowledge of the Civil War, or molecular Biology almost ostentatiously, firing back thoughtful responses with deeper information on a whim when students pose tough questions. But stirring the pot for LFHS' epicenter of learning is a reserved, tranquil, understanding woman that goes by the name of Mrs. Laura Grigg. 
As the library's role has expanded in recent years, ushering in new additions like the Makers Space, the Yoga Studio, and Mixtape 1285, new faces have come along with it. From Mr. Juliano, to Mr. Holmer, to Mrs. Fumarolo, among many others, LFHS has welcomed in these new people and their skills appreciatively, but it is Mrs. Grigg, the library's savvy veteran, who has led by example in her helpful, compassionate way. 
Not only does Mrs. Grigg patiently help students trying to learn new programs on their Chromebooks, but she drives the training of LFHS' teachers as well. Often confused and aggravated implementing new benefits like Hapara and Google Classroom, Mrs. Grigg always is the first to visit a classroom and help out a teacher. "In my experience, there is nothing that she can't help you with," an anonymous teacher revealed. "She just comes in, explains it to you politely, troubleshoots any potential future problems, and smiles. It's a cathartic experience. And trust me, it's happened more than once."
Although you may not have known, Mrs. Grigg is instrumental in assisting Mr. DeRosa and Mr. Douglass, among many others, in putting on the TEDx production each year. "All these grandiose productions that the students love and are drawn to, Mrs. Grigg is behind them all– pulling strings, fixing problems, assisting patiently." Perhaps most importantly, through it all–the crowded library, the rushed students, and the stress of wearing multiple hats as a "fixer," Mrs. Grigg is never rattled. "I've seen her pregnant, during a long and stressful week, working with a teacher and a student at the same time fixing a problem. And I'm sure that she was bringing the one bringing peace to them," Mr. Scott added. 
So often we waltz through our two-floored, artwork-decorated library adorned with copious amounts of computers and books as a shortcut. We take it for granted. But perhaps the library's beauty isn't just in the way it was built and how it is bedecked with seasonal stylings, it is in its people. The calm, patient, helpful people; the ones that are always willing to help us when we need a paper, works cited page, and a JS Timeline all completed in the next 14 minutes. People like Mrs. Laura Grigg. 
Grace Gescheidle: Most people—sophomores, upperclassmen and beyond—recall freshman year of high school as one of misdirected shuffling and awkward adjustments, as a ceaseless pursuit in perfecting the art of "fitting in."
In a group predominantly yearning to avoid noticeability, kids that stand out aren't always so easy to come by. Leadership, optimism, and inclusiveness are, at times, rare characteristics for the ninth-grade class, yet freshman Grace Gescheidle somehow manages to personify each attribute. Having already established a presence in the school as an avid club-participator (such as in Women's Club) as well as being one of the youngest members of the varsity tennis team, Grace's can-do attitude and thoughtful demeanor have set her at the forefront of her peers. A model representation of Lake Forest High School's freshmen, Grace is described as a "friend to everyone."
While many may prefer to conform to the familiarity of their usual circle of friends, Grace "doesn't limit herself to just her friends." A classmate noted that she is "one of few to give smiles to everyone, even if she doesn't know them too well," before adding, "actually, she's pretty much friends with everyone." Junior Women's Club leader Camille Valentincic describes Grace as, "so energetic and bubbly. She has this really great attitude. She's very engaging and talkative, and doesn't let anyone feel left out." Having previously lead Deer Path Middle School's Student Council as president, Grace's leadership role has smoothly made the transition to her adjustment to high school; her trademark positivity and enthusiasm to better her environment inspire others to do and feel the same.
Energetic—a classmate refers to memories of her volunteering to help coaches in running to get things—and ambitious, Grace Gescheidle is someone that can do things that "a lot of other students can't." Being the ongoing and ambitious character (that all that meet her can agree) she is, Grace tackles daunting tasks with the slightest of ease, while at the same time imparting a good-natured laugh. Junior Morgan Kamholz describes Grace as, "just the cutest little thing I've ever seen. She's the kind of person you see in the hallway and she always smiles at you. Seeing her just makes your day better." Gracing all with her smile and exuberance, her lovable personality and strong example are qualities LFHS would be simply incomplete without.
Sarah Considine: As much as sometimes we think there is no way out, we always make it through. We make it through a tough week, a grueling unit, an especially trying month, or a long and seemingly treacherous Blue or Gold Day block period. There are differences in the way we handle it, however. There are those who complain mercilessly–loudly, mind you–about their problems or what made today inconvenient for them, and whine their way through the period, dragging down everyone's attitude in earshot along with them. And then there are those, often more sequestered and hard to find than the aforementioned type, that grind their way through with a perma-smile; the ones who can still make a joke along the way, laugh at themselves, and push through the mud and the muck into the celebratory light of completing something difficult. People like Sarah Considine. 
Just a sophomore, Sarah Considine has endured a lot in just her year and a half tour of duty at LFHS. She has cemented her athletic resume with a IHSFHA State Championship with the varsity girls field hockey team, participates in lacrosse in the spring, all the while concentrating on achieving success in the classroom first. Sarah is no stranger to hard work. Like her cousins Jack and Sutton Kauss and Scott and Jack Andersen before her, Sarah has embraced the family reputation that they have established and is continuing to push the needle forward.
Perhaps Sarah's most resonating trait is her unyielding consistency. When late November hits and most kids succumb to the cold for a few "sick days" out of school, you'll still find Sarah bright and chipper before the 1st hour bell, having pulled herself up by her bootstraps (although most Hunter boots don't have straps) to make it into school that day. Despite her weekend athletic schedules for lacrosse and field hockey that take her across thecountry on weekends, you'll still be hard-pressed to find her behind in any subject area. Still with the classic Considine smile permeating each room she walks into. 
In the amalgam of high school students that leave for days at a time, band-aid it with an email asking what they missed in class, and then complain about their teacher as they fall behind, Sarah keeps a levelheaded optimism that is to be emulated by all. The best part about it, though, is the fact that at most times she doesn't even seem to notice. That's simply Sarah. She's a no excuses, whatever-has-to-be-done-I'll-do, kind of gal. A girl the school–and the class of 2019, specifically–is lucky to have. 
About the Writer
Ghost, Author
Ghost is a section of The Forest Scout that chooses to publish material anonymously in order to increase the depth of their investigative reporting. Ghost...