A Review of Lolo's Bowls
As the school year begins, I thought I would start off this year as I did last, with a smoothie review. If you do not follow the Instagram account ZoupaZoupa, feel free to give it a follow. There, you will see many impressive meals made by the chef herself, Sophie Doucette, but you will also see the majority of my contribution to the account: LOLO'S BOWLS.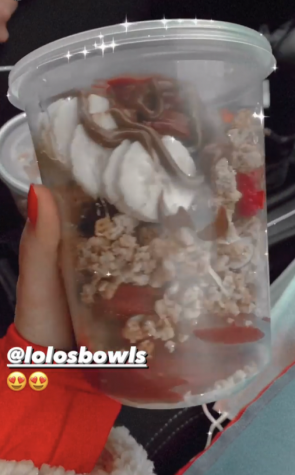 Hidden in the back of a pretty musty strip mall is the glowing light that is Lolo's Bowls. Family-owned and operated, with a growing staff and clientele, Lolo's has become a poppin' place. 
I first discovered this gem last year in the dead of winter when my friends and I were bored and tired of the familiar hot spots here in Lake Forest. 
I was kinda nervous because I was so used to the LF Juice bowls. What if I didn't like their granola? What if the acai tasted funky? All of those thoughts were put to rest when we walked out of Lolo's.
Their acai bowls are a work of magic. They use a froyo type of machine that you would see at Suzy Swirl for their acai base. I got the traditional Lolo's Bowl which consists of acai base, granola, strawberry, banana, and honey. I opted to sub the honey out for Nutella, because who wouldn't?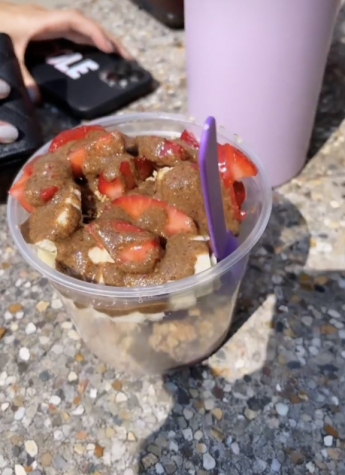 My friends and I drove to the beach back in Lake Forest and I was shocked at how, unlike other smoothie bowl places, it didn't melt. Major points in my book. 

The results after inhaling my first Lolo's Bowl have remained the same—10/10 always. My other friends have been more adventurous by trying the Berry Bowl, which seems to be similar to the Lolo's, only with different fruit. I have also heard that granola butter is the bomb. Personally, I have never tried it because it looks a little…interesting, but I am definitely willing to in the future.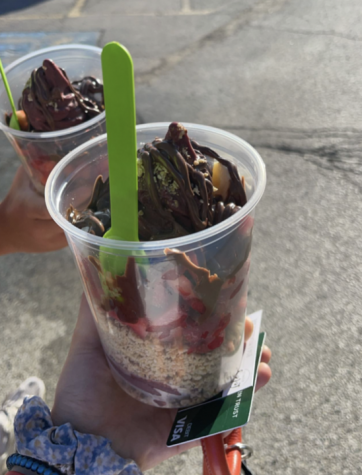 Lolo's Bowls smoothies are also supposed to be divine. It has never occurred to me to try one, however, because how could I go to Lolo's and not get my classic bowl?
The atmosphere itself is so cheerful and inviting. Right when you walk in, you are greeted by smiling (though masked) faces. The service is always so friendly and helpful, especially for new customers.

You know how all of your friends and family have a house smell? Lolo's has a distinct smell that puts its customers at ease. It's a combination of fresh and organic fruit and the smell of the Nutella. Great combo.
I hope that one day they open a storefront in Lake Forest, but until then, I have no complaints about making the drive to Libertyville. 
Lolo's Bowls
854 S Milwaukee Ave, Libertyville, IL 60048
About the Writer
Louise Brickman, Editor-in-Chief
Louise is so excited for her second year contributing to The Forest Scout, this year as an Editor in Chief! You may recognize her from the Bachelor series...