Back to School? Back to Fashion.
Ahhhh, we're back. Technically, we really haven't been fully at school since March of 2020—AKA— since I was wearing sweatshirts to school everyday. 
I guess you could say I would spice it up with a Brandy t-shirt and American Eagle jeans every once in a while. No hate to Brandy Melville or anything, but I'm just happy to have moved on past that stage of my life. 
So, now that we're officially back, we can finally start focusing on the more important things that come with back to school; outfits! 
I would have to say that Back-to-School is the best time of year for a few reasons. First and foremost, there is the excitement of planning out what to wear the first few days. Not to mention, it's basically the only time of year we can really wear shorts and skirts; fall and winter will come around faster than we know it. And lastly, the lingering tan from the summer boosts confidence and can make outfits look ten times better. 
Walking through the halls, I'm very impressed by the selection of clothes we have going on. So many new trends are being shown off! Ugh, just so exciting!!!!!
So, let's talk about it. 
1.  Puffy/Ruffle Sleeves! (aka.. Fun sleeves)
Puffy sleeves were super popular in the 70s, and I love a nice resurfacing trend. This one in particular is definitely one of my favorites. You cannot tell me puffy sleeves don't look good on everyone who wears them. 
The ruffle sleeves are definitely new, and I'm feeling like they started gaining clout when Zara put them on the shelves. Classic ruffle sleeve shirt; can't go wrong. 
You could also do whatever you want with them: jeans, shorts, skirt, anything. I would, however, caution against leggings(I mean unless you're feeling it, I guess. But don't get any ideas you cute little freshmen. LOL, just kidding.
Alright now let's get into who was stylin' these sleeves 
If you would kindly scroll down, you'll see 4 lovely ladies: Maggie and Bea rocking they're puffy sleeves, and Ava andWeez with they're ruffle sleeves. Yasss ladies, you strike those poses. (Unfortunately Ava's head is cut off, my apologies.)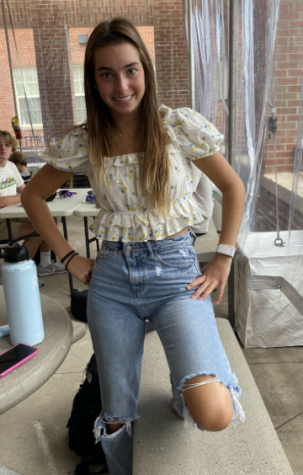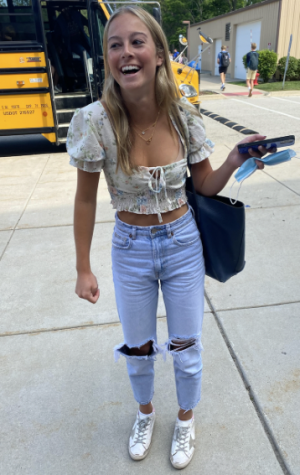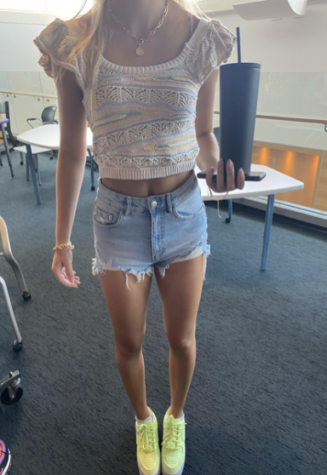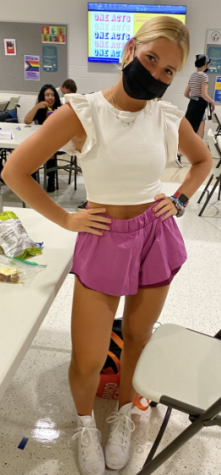 2.  Crop top+High waisted jeans!
Ugh such a classic. Basically what I wear to school on an everyday basis, not that I have a single problem with that. 
Crop tops are always cute, ESPECIALLY when they're paired with nice high waisted bottoms whether that's jeans, skirts, or shorts. But, I think jeans are a nice casual approach for the first few days of school. Yesss, the effortless but cute look. Slay. 
Shoutout to Ang, Katie, and Sophie for going off in these photos: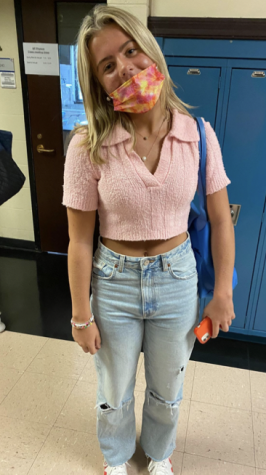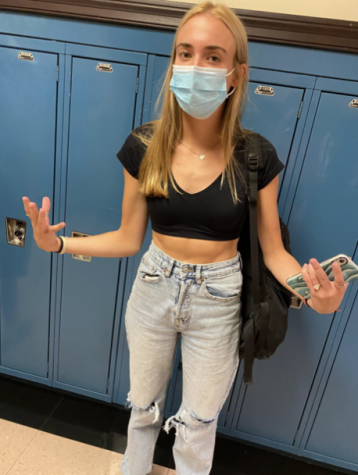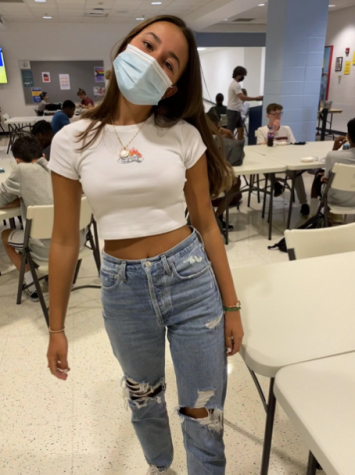 3.  Collared Shirts!
Collared shirts weren't something I had my eye out for, but I had to add them to the list. They're such a cute mix of preppy and stylish and can influence the entire vibe of your outfit depending on what you're going for. 
Here we have junior Caroline Stutz, with her cute pink collared shirt. The cropped look which makes her look cute and sophisticated.
Sydney looked so nice, I put her in twice. (Yes I meant for that to rhyme, and yes I'm proud of it.) Sydney, I love the dress with the collar. It's just amazing. 
Now close your eyes and imagine this dress without the collar;it just wouldn't be the same!
Sydney's look #2 is definitely one of my favorites. She has the little tank top under an unbuttoned-button down. Genius. I Love it, just love it.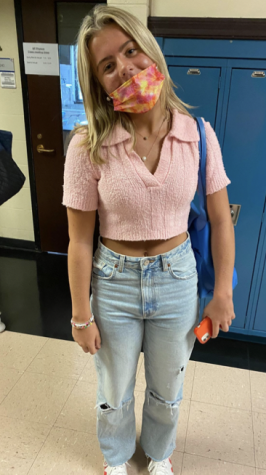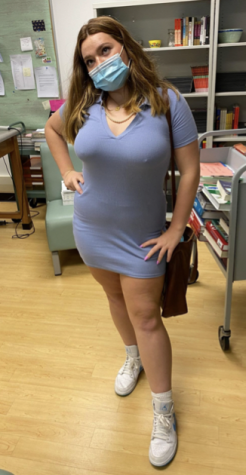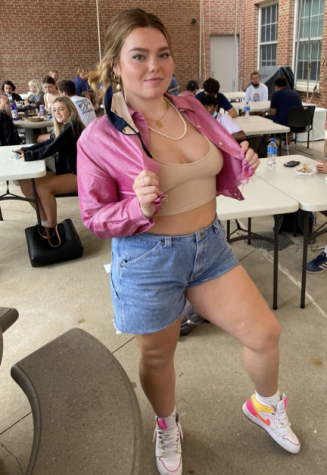 4.  Bright Colors!
Don't you just love a nice pop of color? I know I do. Neon colors are very much in, and totally make you stand out. They are also so perfect for summer because the bright colors make everyone look nice and tan. 
I looooove these outfits. Sophie's coordinating orange laces in on a whole other level.
I think Emily's outfit is perfect for her. It goes so well with her hair color and she pairs it well with straight-leg medium wash jeans. 
The pink color of Mimi's top is so cute and works so well with her little flowy shorts.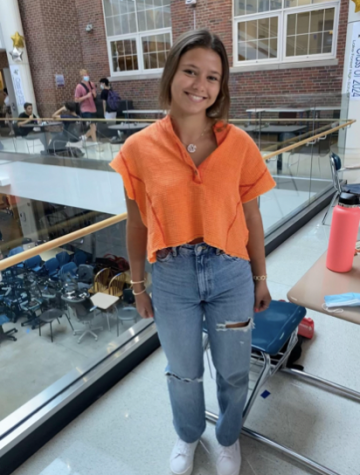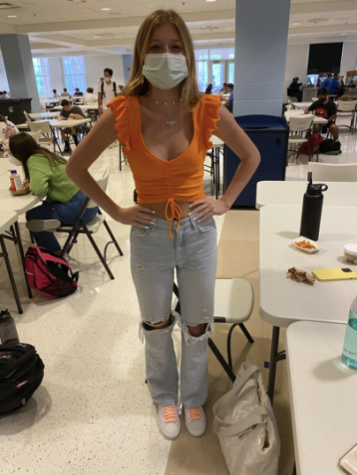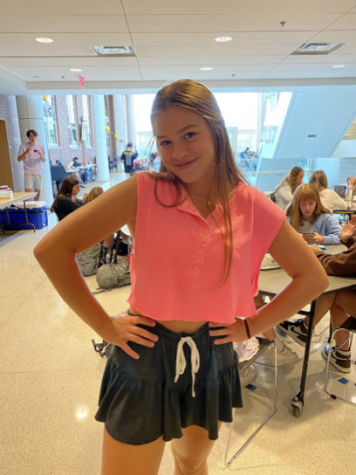 5 . Fun Shoes!
Fun shoes are so awesome. They have the power to salvage a completely boring outfit. 
Get this: You're wearing a plain outfit just like jeans and a normal white top. Okay, now say you're wearing the same thing but with fun shoes. Am I right?
High tops are definitely a move at the moment, and I also totally can get behind a little bright color detailing on a shoe. 
One of my favorite stayle choices is when your shoes match your fit. LUCKILY Sophie, Harriet, and Sydney demonstrate that perfectly below. 
(P.S. I just realized Harriet was also wearing a light pink top that matched her shoes. May I add that I am incredibly impressed with some of the freshmen's style this year? Again, I wore a sweatshirt to school everyday #embarrassing.)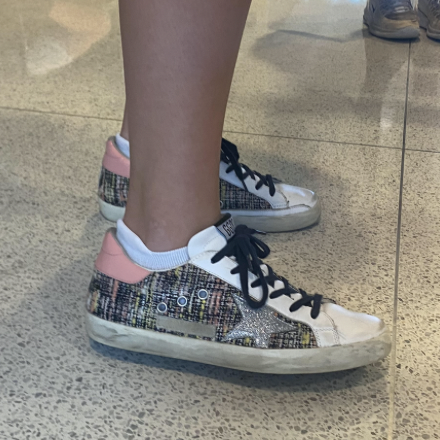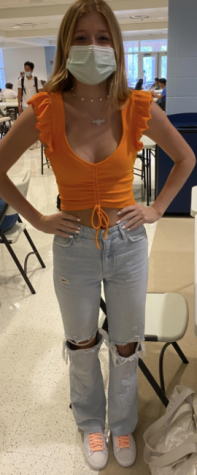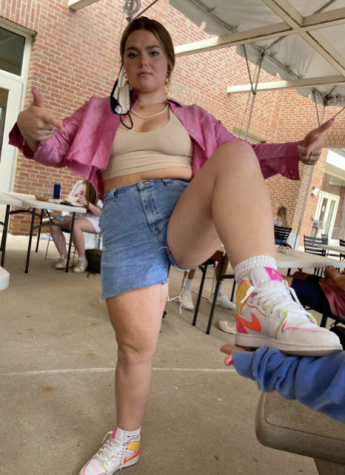 6. Cute Purses!
Do you want to know how many times I've gotten fun of for my stupid backpack? Whatever. It's not a big deal. I honestly thought the dark green mess of a bag was going to be cute when I bought it. 
While it's nice and durable, I feel like my backpack really throws off my outfit. How inconvenient! If only I had a cute little purse to carry around my books in! 
I've seen few people who definitely don't have that issue. Yeah, I'm a little jealous. 
First up, we have the Robbs. And yes, the first two pictures are actually of different people! Sascha and Chloe, I'm so glad you two beautiful, yet identical ladies have two different colored bags so I can tell you apart. 
And last but not least, Sophie of course! I love her and her cute little bag, so adorable.