Mrs. Carol Clark – storyteller, scholar, style icon – retires after 20 years at LFHS
Beloved English teacher, debate coach spent 20 years at LFHS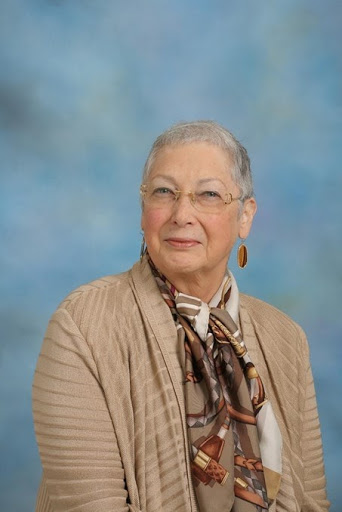 There's a full course worth of material in the oral tradition that English teacher Mrs. Carol Clark passes along to her students every year. After hearing stories of ghosts in Scotland, family lunches with Maria von Trapp, and the latest sentences formed by Bozie the parrot, a student might be forgiven for thinking "Homer's great and all, but Mrs. Clark tells us the real epics." 
After a storied 20-year tenure at Lake Forest High School, Clark retired at the conclusion of first semester this year.
Clark was a beloved and defiant force in the English Department. Most years, she taught some combination of English 1H, Poetry, and Creative Writing. She says she preferred teaching freshman because "the leap from junior high school to high school is a huge leap for students, and I really wanted to take that on and see if I could be a help." She gravitated towards senior courses as well because "seniors have a much more developed analytical sense. It's fun to see them reason with important things, characterizations, literary devices."
She spoke to me with a slow, deliberate pace, taking contemplative pauses to craft each sentence artfully.
She notably deviated from the traditional freshman English curriculum by pairing Margaret Atwood's female-led novella, The Penelopiad, with the course-staple, Homer's Odyssey, and by replacing Romeo and Juliet with Julius Caesar in the Shakespeare unit. Clark and fellow English teacher Mr. John Wanninger also found and integrated a new translation of the Odyssey into the English 1 curriculum — the first translation written by a woman — which Clark thinks is "fabulous and really works for the high school years." 
Clark said, "I've worked to try to make the books we read relevant and challenging. For example, Julius Caesar offers a much better study of how people think, back then and now, and the Penelopiad adds a new perspective to our study of antiquity."
Clark's typical slate of courses gave her countless opportunities to engage with students one-on-one in a writing workshop setting, which she says drew her to Lake Forest in the first place. "You can't just write one thing," she said, "it's like building muscles, you need to build your writing stamina with more writing and skill development."
"I love that time conferencing with students because that one-on-one with students is absolutely essential in building good writers." Clark said.  
She ran dozens of writing workshop conferences a week perched in her high-back, black-leather desk chair, organizing it all with the trusty, white binder that she either kept open across her lap or displayed at the front of her classroom. 
Former students described her as a comforting presence who, as an editor, never struggled to find upsides to a piece or spout compliments to its writer, and always left them with valuable insights.
Senior Morgan Bielski said about receiving a Mrs. Clark compliment, "It's a great feeling."
Mrs. Clark's ethos as a thinker and a learner certainly elevates her praise. She's written a Master's dissertation which earned her admission to a University of Chicago Ph.D. program, and reads one book a week, which she adds to her impressive home collection of well over 3,000 books. 
"
I love being a bit of a raconteur, but those stories always have a point to them that relates to the literature at hand. Sharing helps the bonding situation. All teachers ask students to share but I think it ought to be reciprocal."
— Mrs. Clark
Clark said she especially prefers works of history and nonfiction and emphasized the importance of studying a myriad of cultures and time periods.
Describing her teaching philosophy, Clark said, "I think the first thing is to get a class to bond. You do that by talking. The most important thing there is respect. Of course I want respect, but you also have to give respect and start out with the attitude that students deserve respect intellectually, humorously. That's why I tell stories. I love being a bit of a raconteur, but those stories always have a point to them that relates to the literature at hand. Sharing helps the bonding situation. All teachers ask students to share but I think it ought to be reciprocal."
Students of all kinds said that Mrs. Clark's stories were some of their most cherished memories from her class.
Bielski said, "Her life is so interesting. I know this might be a bad thing to share, but as freshmen, we made a list of questions to ask her about her life so we could find out more information about her rather than read every page of the Odyssey." 
Many of her stories reference her parrot, Beauchamp (a.k.a. Bozie), named after an old English Earl, and her beloved husband, Tony.
"The wealth of her experiences, the stories she can tell, she's lived a vast and varied life full of a lot of experiences that are unusual. So, when students hear those things, it can't help but broaden their horizons about what's possible to do in the world." Wanninger said.
Her personal style, profiled in The Forest Scout in 2019, could be described as eccentric, yet simple and sophisticated. Clark—an avid collector of colorful Hermes neckwear—often opted to match one of her prized scarves with the rest of her outfit and leveled up her looks with carefully selected shoes and earrings.
"I wear what I like and what I'm going to wear in the future. I don't like fads. I try to buy really high quality things and I keep them…and of course I love scarves. For years I have added one per year. I'm running out of room, though!" she said.
Her room was decorated with that very same eye for aesthetics. Framed artist renderings of her BMW Z4 and posters from Shakespeare productions in Stratford (which she and her husband Tony attended several times) hung on the walls—one signed by Christopher Plummer. A model ship, faded retractable maps of who-knows-where, a pedigree of English royalty, various 20th century art prints, and Clark-written haikus gave the room a simultaneously dated and timeless feel. 
"I wanted to keep the room interesting and friendly," Clark said.
Clark kept a refrigerator ("borrowed" from the Debate Team) in her room which she allowed students to use to store snacks and drinks for their after-school activities. She also maintained a bountiful supply of Earl Grey tea and all the fixings you could imagine. 
Senior Ben Andreesen remembers her generosity towards his freshman English class fondly.
"On Fridays, she would let us make tea. She had small styrofoam cups, a box of Earl Grey packets, and mini cartons of half-and-half laid out for us each week. Then, we would just relax and read our books, and because it was the last period of the week, tea day was the perfect way to start the weekend."
A Debate coach for 12 years at the high school, the elder stateswoman of the team oversaw meetings with a near-permanent smile—seeming to enjoy every second watching young people perform rhetorical gymnastics in their spare time. 
Wanninger, who served alongside her for much of her tenure as coach, said, "Mrs. Clark brought an insane level of intelligence to the Debate Team. She knows something about everything. She also brought a no-nonsense attitude, which doesn't mean she doesn't like to have fun and laugh because we all know she laughs all the time."
Incoming Debate Team Vice President Joey Nassar noted her supportiveness, "I remember giving an introduction to a speech at my first ever debate meeting coming into the club as a shy freshman. Stuttering and stumbling anxiously, I barely made it through giving probably one of the worst intros Mrs. Clark had ever heard. However, Mrs. Clark responded with support and positive feedback, looking past the countless mistakes I made to make me feel comfortable."
Clark said she loved working with the Debate Team because, "The idea of taking a question, analyzing it, and convincing people that your analysis is good and should be taken seriously, is fascinating and so important because that's what you're going to be doing your entire life."
She slipped this in nonchalantly, "I was a debater in high school, you know. I won State."
"
You're interesting people with interesting ideas that evolve at a rapid pace and to share in that is very exciting…That's why I eat lunch in my room with the door open, so students will come in and talk and play music.""
— Mrs. Clark
Her retirement plans include playing bridge with her husband, reading the stacks of books she's bought that have piled up around her house, painting, and traveling to Civil War battlegrounds, Italy, Ireland, and Japan — all places she's studied and read about extensively. 
What will Clark miss most about LFHS? Writing workshop, recommending books, and spending personal time with students. 
She said, "It was just so wonderful to have students come up and sit in the chair next to my desk and say, 'I need to talk about this.' It was such a joy because students are interesting. You're interesting people with interesting ideas that evolve at a rapid pace and to share in that is very exciting…That's why I eat lunch in my room with the door open, so students will come in and talk and play music."
Wanninger said, "She cared deeply about students. She cared deeply about their education. She is a great friend to me and she's an awesome person."
"We have similar tastes in just about everything — movies, books, politics, senses of humor — and when we get together, we just laugh all the time non-stop…Her laugh is very infectious. It's like a giggle, but much more deep and resounding. It's great."
Clark's advice to students, "You shouldn't limit yourself to one place, one area of knowledge. We should never stop learning. The world is wide and amazing. Even at my age I love trying new things."
"And if, at the end of the day, I've learned something from a student, something I didn't know, something they discovered, that is just pure gold."

About the Writer
Will Elliott, Staff Writer





Will Elliott is a senior at Lake Forest High School. He serves as the Student Body President and as Vice President of the Debate Team. He is...