Despite Circumstances, Boys Hockey Team Completes Strong Season
It seemed like just yesterday when the bleachers were filled to the brim at the Lake Forest College Ice Arena. Students couldn't wait to go to the games and experience a school sporting event like no other at LFHS. Fights, raucous cheering, chants — all garden-variety activities at a Scouts hockey game. 
Come for the fan experience, stay for the fast-paced, aggressive hockey.
Unfortunately, like so many other sports and activities, this season has looked a lot different due to the pandemic. Gone are the cacophonous crowds that once characterized every Scouts game. The team now has to feed off its own energy.
Still, the Scouts proved to be the same highly-skilled, hard-working, fast, and aggressive team that fans have come to know. In the past few weeks, they scored a combined 12 goals in shutouts of Loyola, Evanston, and New Trier. Winners of two out-of-state tournaments, the Scouts were a force to be reckoned with.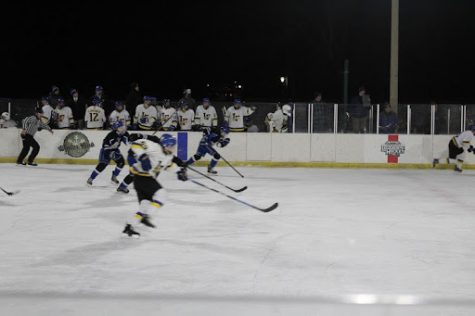 "You always start out with a little bit of doubt, but you see the unique roles each player starts to fill in," said senior captain Connor Kuchman. "That can either be through their personality — we have a lot of those — or through their style on the ice."
Despite all the logistical difficulties, they've found ways to consistently practice since the summer. That work has shown on the ice, as every player seems invested in contributing to the team. 
The Scouts' goalie, Grant Salanty, has had a huge impact on the team's success as a shutdown stopgap between the posts. 
"Grant has been a great team leader, he's played lights out, and he motivates everyone else," said sophomore Jack Carrabine. "When the goalie makes a big save, everyone gets so amped."
Another player who teammates have raved about is junior Rocco Feretti. 
"Rocco has been one of those grinders and has had a bunch of goals," said sophomore Austin Rice. "He gets in front of the net, takes hits, and gets rebounds."
On top of all these players, the team has credited some of their success to the fans who have supported them despite all of the restrictions. Chiefly, many players pointed to Kaden Wilhelm and Stewart Swift, two superfans who have attended every game this season.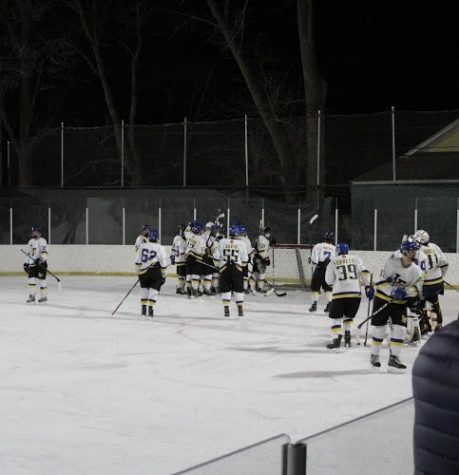 "They haven't missed any action and the team has had a lot of success ever since they have hopped on the train," said senior Charlie Haggerty.
For the Scouts, this season has been filled with tough opponents, but Salanty has helped the team stay on top, leading them to three tournament wins, two exhibition wins, and giving them a record of 5-1-1 in their league. 
On senior night, at a game played outside under idyllic conditions at The Winter Club of Lake Forest, they honored their upperclassmen with a 4-1 win against Highland Park. One last hoorah for the seniors who had a blast playing in front of their peers. 
"Senior night was a blast and I hope that energy continues as our freshmen [through] juniors enter the scholastic division in the spring league," said senior captain Connor Kuchman.
The Scouts entered the state playoffs on March 12 and went 1-2 against three strong teams, finishing off their season in the conference tournament with a 2-1 win over Libertyville 2-1, followed by a heartbreaking loss Evanston.
Although the season was swift, the team made the most of it, winning an abundance of games and tournaments. Through cold conditions, they got the 2021 LFHS sports season off to a hot start.
About the Writers
Nick Winebrenner, Staff Writer
Nick Winebrenner is a first-year contributor to The Forest Scout and a junior at LFHS. He focuses mainly on current events and the sports section. Nick...
Harry Hodgkins, Staff Writer
Harry Hodgkins is a senior at Lake Forest High School. This is his first year writing for The Forest Scout, and he is excited to be part of it! You will...