Rubinstein, McFadden, Jackson to Lead "On Air"
This year's Talent Show, though heavily altered for a virtual platform, will be full of surprises.
Check out staff writer Sarah Mack's article on how the LFHS Tech Crew has helped make the this year's show possible. 
Though the masks stay on and the audience is now limited, the LFHS 2021 Talent Show is well underway. Senior directors Ryan McFadden, Ian Jackson, and Lucy Rubinstein remain optimistic. 
"It's going to be a great show, even if it's virtual," Rubinstein said. "We're working on ways to add new ideas and features to the show every time we rehearse."
When asked to delve into the specifics of these new ideas, McFadden's face lit up with a grin:
"We want to play [music] on the roof," he said. "The roof would be so sick".
While the lofty location change has yet to be approved, it is just one of many adaptations awaiting the critique of Mr. Corey Holmer and the Talent Show parent sponsors. In an effort to reinvent the streamed showcase, the trio is holding themselves, the acts, and their fellow committee members to a higher standard of creativity.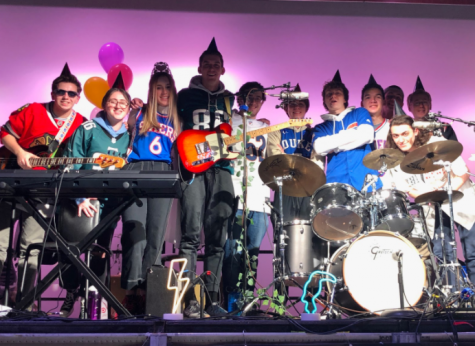 All three seniors were chosen for their positions based on their niches: Jackson's involvement in New Media, McFadden's prominence in Pit Band, and Rubinstein's love for the arts and ability to communicate and collaborate with her peers. Each one of the directors has participated in the coveted event since their freshman year, giving themselves three years of experience trudging through those February evenings rehearsals in the RMA. 
Still, even with plenty of practice under their belt, the team now faces the challenge of COVID-19, something that even the wisest of Talent Show alums never handled.
"Obviously, things are much more complicated than they would be in a normal year," McFadden said.
Rubinstein chimed in: "We've already had a little bit of trouble with exposure, but that's just part of our jobs now. We need to make sure that everyone is keeping themselves accountable, both in and out of rehearsals."
This year's committee adopted the theme "On Air", aptly titled to acknowledge the heftier role taken on by LFHS New Media. Jackson, an 8th semester student, knew the importance of his position well before the process began.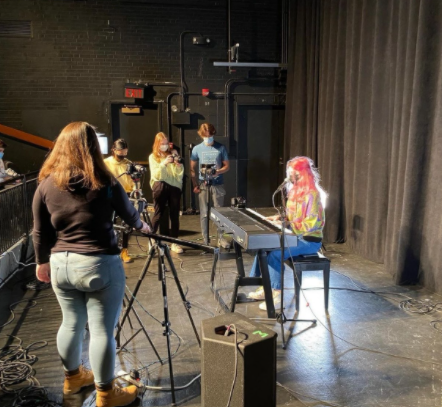 "In years past, the New Media director would only have to focus on the comedy videos," Jackson said, "but now, our whole team has to coordinate locations, angles, and lighting for each act."
Alongside the LFHS tech crew, the two departments have a mere three weeks to film and edit every act excluding the Emcees and Pit Band. Rubinstein compares the process to that of a "pro music video shoot".
"It's like every act will have their own New Media video," she said. "That's something that's so unique to this year's show."
Faculty advisor Holmer, who hand-picked his trio of directors, has full faith in their ability to take this production to further heights. 
"We're leaning on [the directors] a lot. It's their show; it's always been their show."
Holmer added that both he and the community have not only maintained their high standards for the show, but insist that it will be a historic event regardless of its outcome.
"Some people have been doing this for three to four years," he said. "I think we owe it to them to give them a product that they can remember." 
About the Writer
Kailey Albus, Editor-in-Chief
Kailey Albus is so excited to be returning to The Forest Scout - this time as an Editor-in-Chief! A senior at LFHS, you may find her in the choir room,...